Memorial Day weekend is upon us and today is a great day to think about desserts.  Preferably, summer desserts.
I have decided to use my oven at a minimal basis this summer so I had to find dessert alternatives.  Naturally, I thought back to my childhood – what did I eat for dessert in the summer, as a summer baby?
Ice cream cake on my birthday, and popsicles and icee pops every day that wasn't my birthday.  I am going to use these 25 popsicle recipes as inspiration for some icy dessert goodness and maybe even make a few (or all!) of them.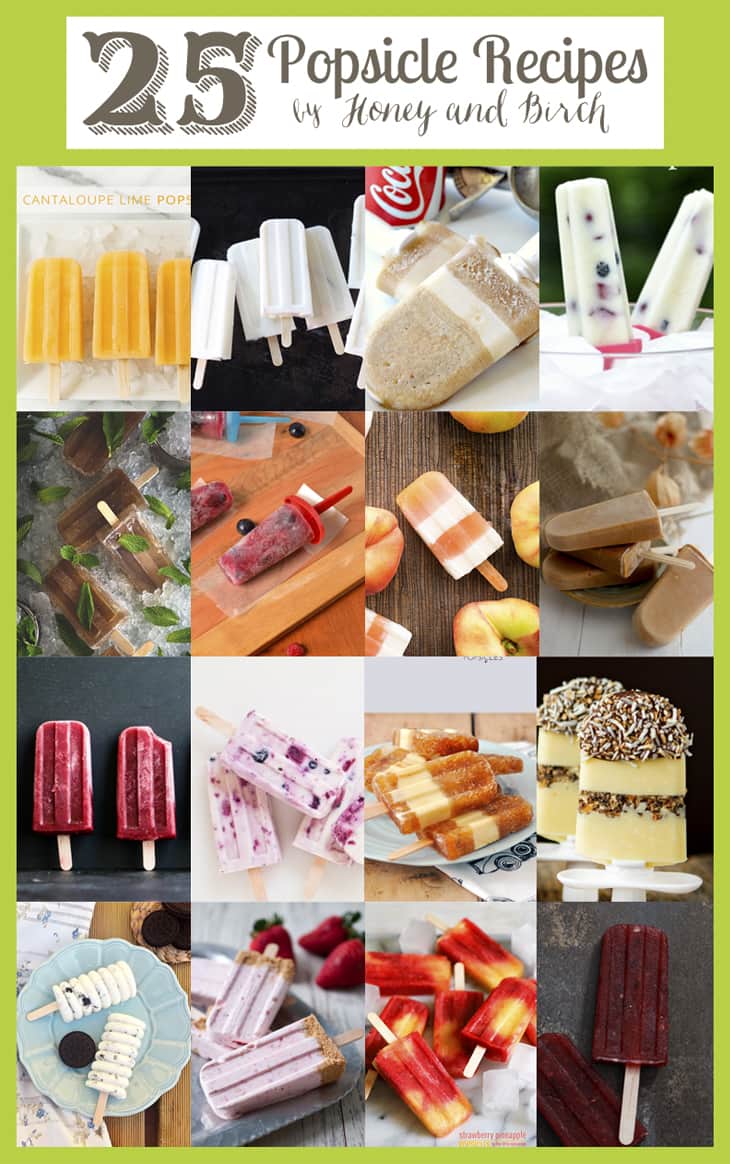 Blueberry Lemonade Popsicles – The Shabby Creek Cottage
Cantaloupe Lime Popsicles – Kitchen Confidante (pictured)
Cantaloupe Popsicles – Tutti Dolci
Coconut Ice Pops – Kitchen Konfidence (pictured)
Coke Float Popsicles – A Night Owl (pictured)
Fruit Popsicles with Coconut Milk – The Rawsome Vegan Life
Honey Yogurt Popsicles – Real Food Real Deals (pictured)
Mint Julep Popsicles – Honestly Yum (pictured)
Mudslide Popsicle – Endless Simmer
Oreo Pudding Pops – No. 2 Pencil
Peach Tea Berry Popsicles – Food Doodles (pictured)
Peaches and Cream Pops – Sugar & Cloth (pictured)
Pineapple Orange Banana Popsicle – Gimme Some Oven
Pumpkin Spice Latte Popsicles – The Purple House Cafe (pictured)
Pure Raspberry Pops – Cook Republic (pictured)
Raspberry Coconut Cream Popsicles – All Day I Dream About Food
Roasted Berry and Honey Yogurt Popsicles – Cookie and Kate (pictured)
Roasted Strawberry and Toasted Coconut Popsicles – Joy the Baker
Rootbeer Float Popsicles – Lark & Linen (pictured)
Samoa Popsicles – My Baking Addiction (pictured)
Skinny Oreo Cheesecake Popsicles – Honey and Figs (pictured)
Strawberry Cheesecake Popsicles – Domestic Fits (pictured)
Strawberry Orange Popsicles – Design Love Fest
Strawberry Pineapple Popsicles – The Little Epicurean (pictured)
Watermelon and Blackberry Margarita Popsicle – Bakers Royale (pictured)
Join the newsletter!
Subscribe to get our latest content by email.