Thank you for joining me at the Macy's Asian Pacific Heritage Month event!
Here is a rundown of all the camera phone advice I covered, plus advanced tips and advice.
Photo Lighting
Natural light is best. If you are at a restaurant or taking photos in your house, try to take your photos near a window. The shadows will be less harsh and shooting in the best possible light will create the best possible photos.
No flash. Never use the flash on your phone.
If you are unable to use natural light, you have a few options. One, add a candle or an alternate light source near your photo subject. Two, have a friend put the spotlight (constant light) from their phone on and have them act as the light source. Three, use an phone application like VSCO that lets you select the exposure.
Photo Angle
One easy tip is to take lots of photos and delete the bad ones. I like to move around using lots of different angles – sometimes I will like a plate of food much better from above and other times straight on will produce a better photo. Also, I like to share photos later (TBT anyone?) so if I take more photos, I can share different versions at later dates.
On to the angles!
90 degree angles. When taking photos, try to shoot from above and at a perfect 90 degree angle from your subject.
*Pro Tip* Flip your phone upside down. If you want to take your pictures straight on, turn your phone upside down.
Step back. Often, I see photos that are super close and it's impossible to tell what your subject is. With food, this often means photos of brown blobs that don't look edible or appetizing.
Today's phone cameras take big photo files. If you want to go closeup, you can use an editing application to crop your photo afterwards but you now have the option to crop less close thanks to stepping back in the first place.
Editing Applications
These are my favorite free phone editing applications:
VSCO. If you tap the screen using two fingers, you get a focus circle and an exposure circle. I often take my photos in this application when the lighting is bad so that I can get a good image right off the bat.
Snapseed. This free application from Google is similar to Photoshop and gives you an easy way to fix the photo temperature. Your goal is for the temperature to look white – as you scroll to the positive and negative side, the photo will have a blue or orange twinge. When you get to white, you can then change additional features until you have the photo you want.
Instagram. I never use Instagram filters but I do use the Instagram editing tools (the wrench to the right.) I usually move Structure to 20 and then move Brightness to 10-20. Then I publish!
Advanced Tips
Rule of Thirds. In your phone settings, turn on the camera grid. Use the lines and intersections as guides and focus points when taking your photos.
If you are looking to move to a DSLR camera, or want some advanced tips on food photography, check out my page "Food Blogging Photography Resources."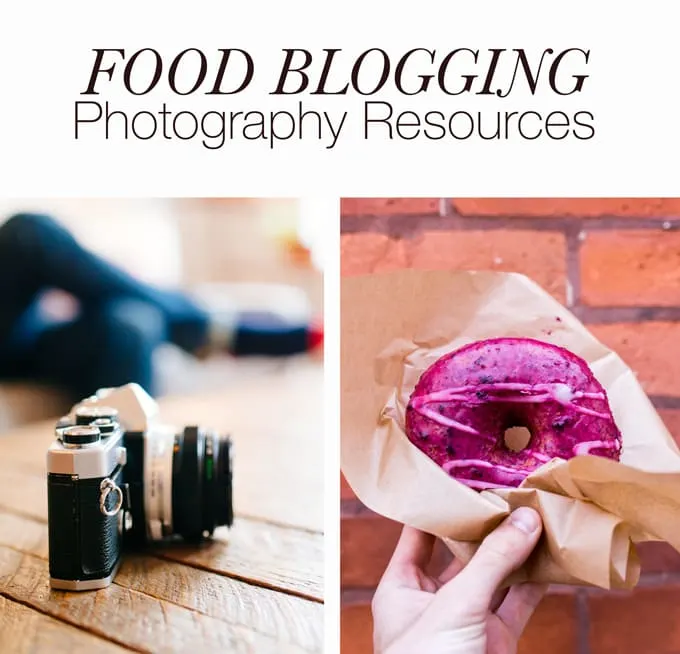 It includes camera recommendations, online classes, books (that I used to teach myself!) and free resources as well.
And if you have questions that I don't cover here, email me and we can set up a one-on-one consultation!