A recipe for an open face black bean cake breakfast sandwich and a Hamilton Beach food processor giveaway! Giveaway has ended!

I am a Hamilton Beach brand ambassador and I received a free Hamilton Beach Stack and Snap™ 10 Cup Food Processor to review. Hamilton Beach is providing the same product to giveaway. Yay!

This post contains some affiliate links for your convenience. Click here to read my full disclosure policy.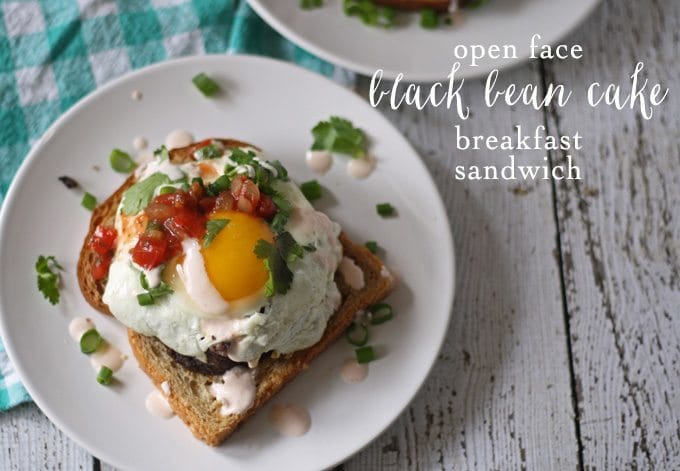 This is a doozy of a post. It's jammed packed with goodness and goodies.  We have a review of an awesome food processor from Hamilton Beach. We have a giveaway of said food processor. And then a recipe for an open face black bean cake breakfast sandwich.
Let's get started.
Hamilton Beach Stack and Snap™ 10 Cup Food Processor Review

First off, my review of the Hamilton Beach Stack and Snap™ 10 Cup Food Processor.
Loved it. Not only did I use it to make these black bean cakes, I also used it to make my red pepper and white bean hummus. I used it to chop up veggies for a soup. And to grate my cheese for my enchiladas.
This baby got quite a workout from me the past month or so – and is still going strong. The only thing that may be difficult for the average user is snapping the lid closed. The first few times, I had to really put the elbow grease into it. But gradually, it became easier and easier to close. If you have trouble closing the lid snaps, try removing the food pusher first and then try again.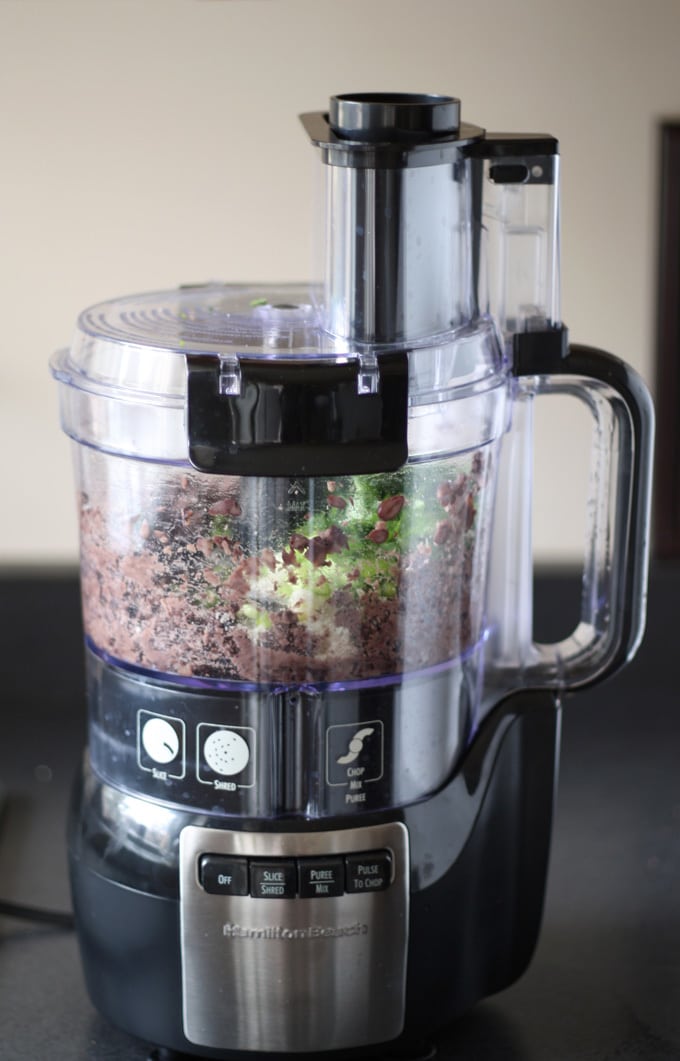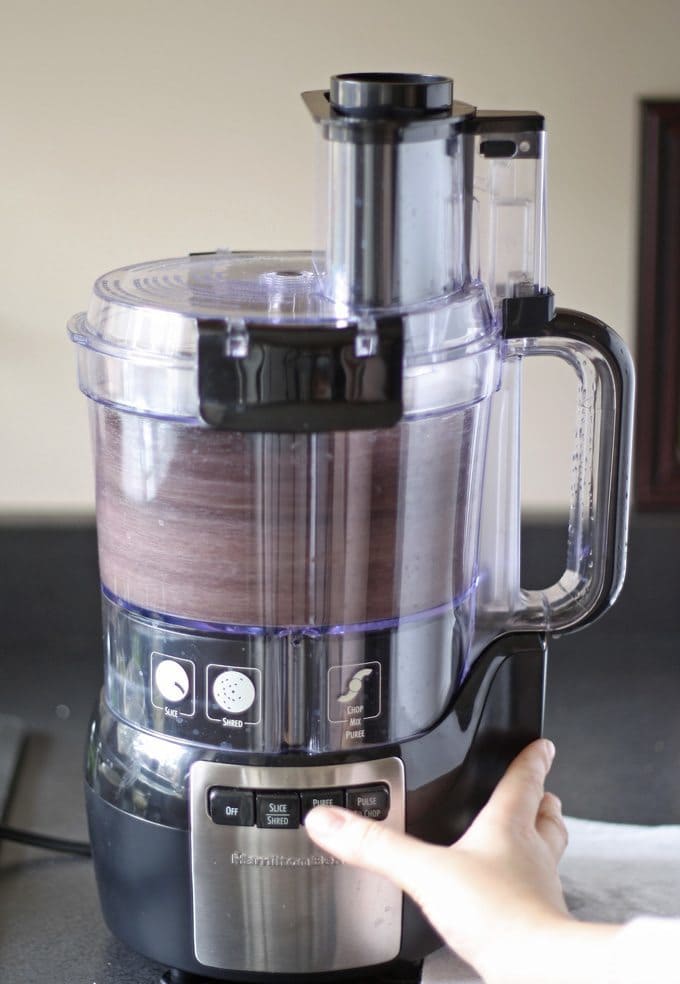 Once you are ready to use it, you'll notice that the use instructions are pretty cut and dry and it would be pretty hard to mess up with this baby. No speeds to worry about – the speeds are translated instead into what you are actually doing. Slicing. Shredding. Pureeing. Mixing.
And it does all of those well. Way more more power than I expected from a budget machine. Oh, did I forget to mention that? Not only is this food processor a power house, it's also very reasonably priced for $59.99 on the Hamilton Beach website (this price is current as of 12/17/14.) This food processor totally has my recommendation.
Lucky for you…. I'm giving one away, and just before Christmas too!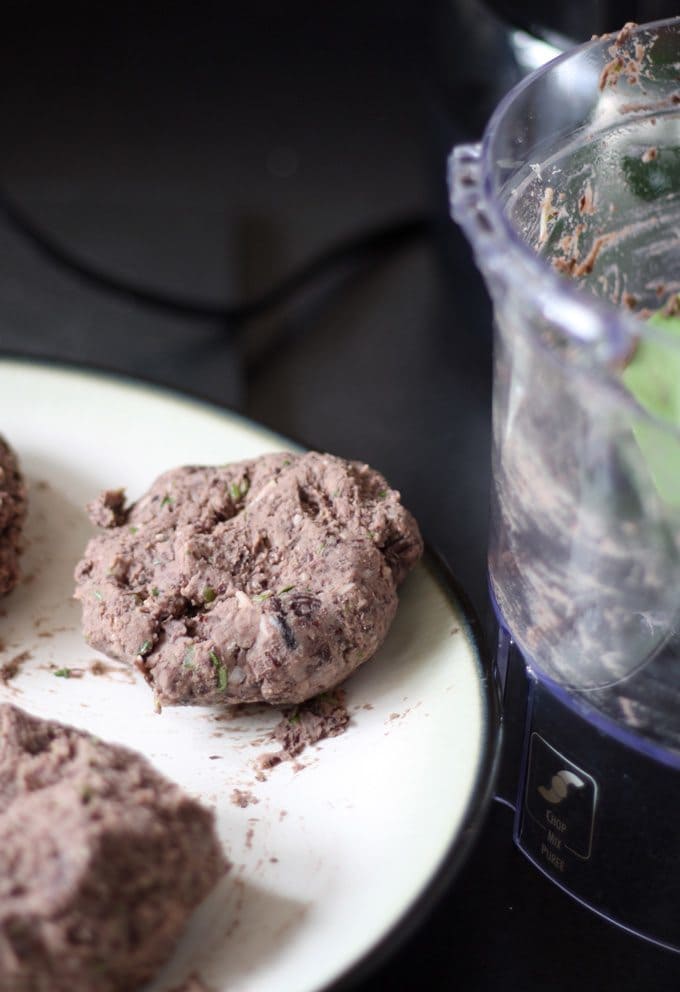 Hamilton Beach Stack and Snap™ 10 Cup Food Processor Giveaway
One lucky US resident will win one of these lovely food processors. Just fill out your information in the giveaway widget! As I like to do for all of my giveaways, there are lots of ways to enter and daily entry options. I'm from Chicago folks – that means vote… er.. enter early and enter often!
The giveaway has ended.
Open Face Black Bean Cake Breakfast Sandwich Recipe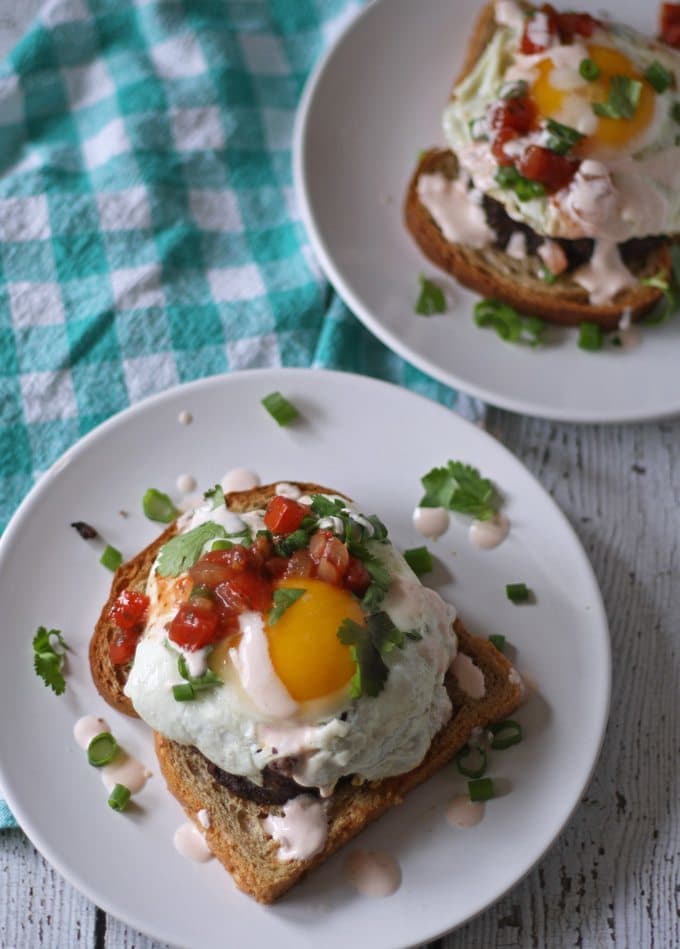 So we've had a review. And a giveaway. Now it is time for that recipe!
And this breakfast baby is a doozy.
You start off with black bean cakes mixed in the food processor, which I based off of crab cakes. I left out the mayo, because black beans and mayo just sounds gross to me. Instead, I use olive oil – just enough to hold the ingredients together, but not so much that it is nasty.
I started with the cakes, and planned to stop there. But I'm not the only one in my household with food weirdness. Mr. B didn't have to say it – I knew that he was going to want more than a black bean cake for breakfast. (Oh, wait, that's not weird?)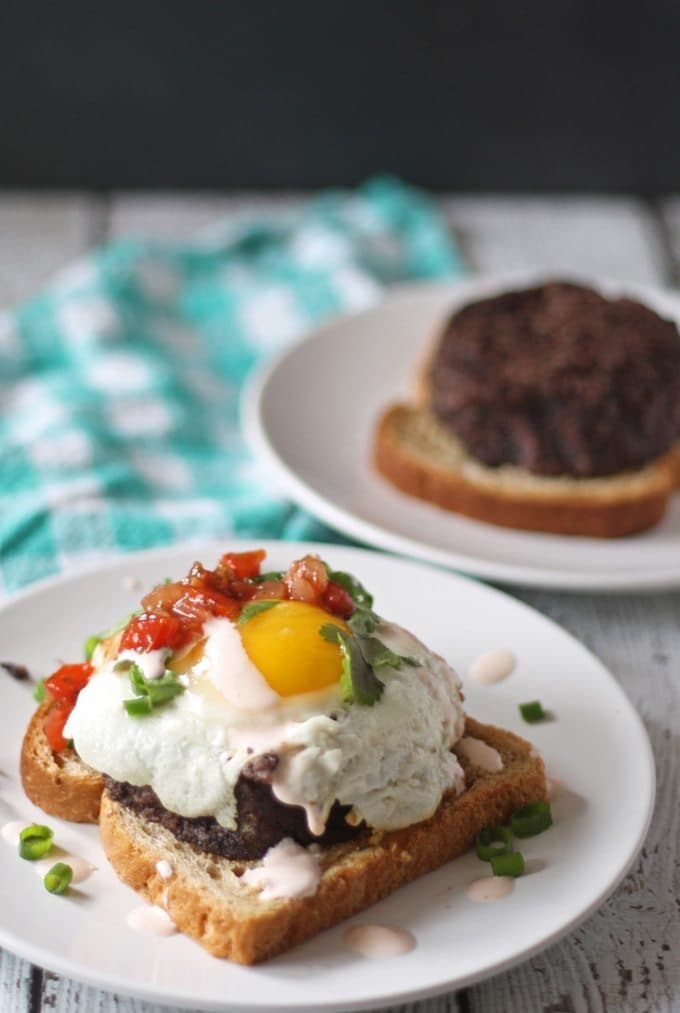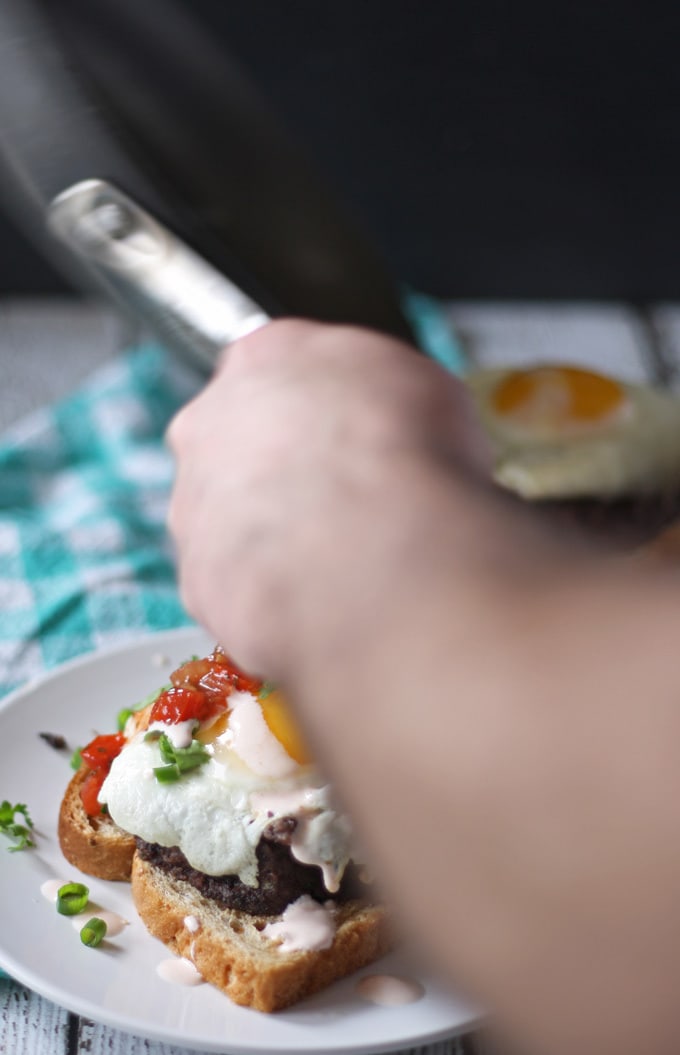 What better way to maximize the awesomeness of black bean cakes than to sandwich one between a piece of toast (carbs! carbs! carbs!) and some of my favorite condiments.
A little more cilantro, a pinch of green onion, a dash of salsa and some sour cream – I mixed a little sriracha in it for some added kick. Brunch is served.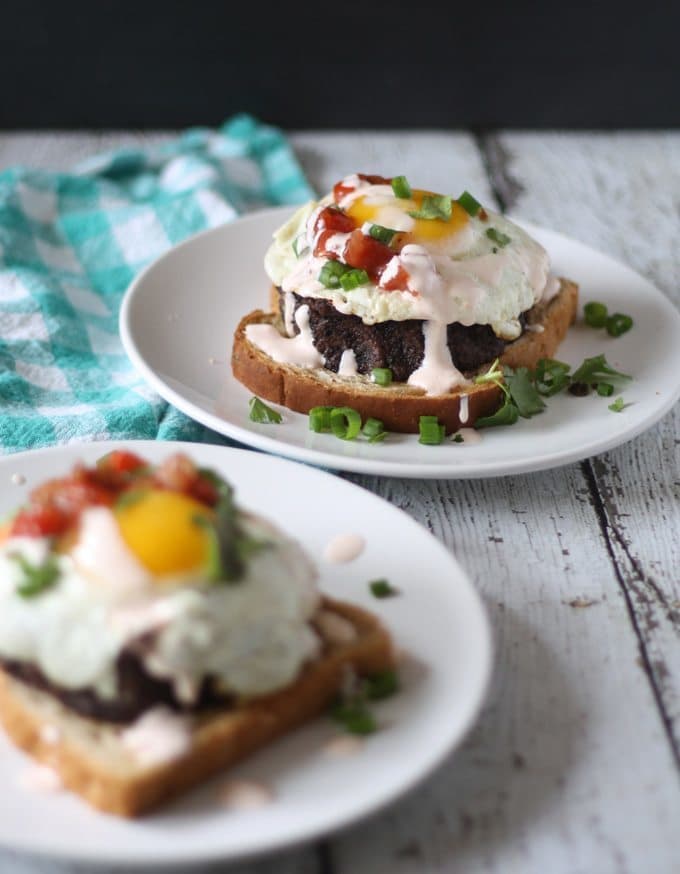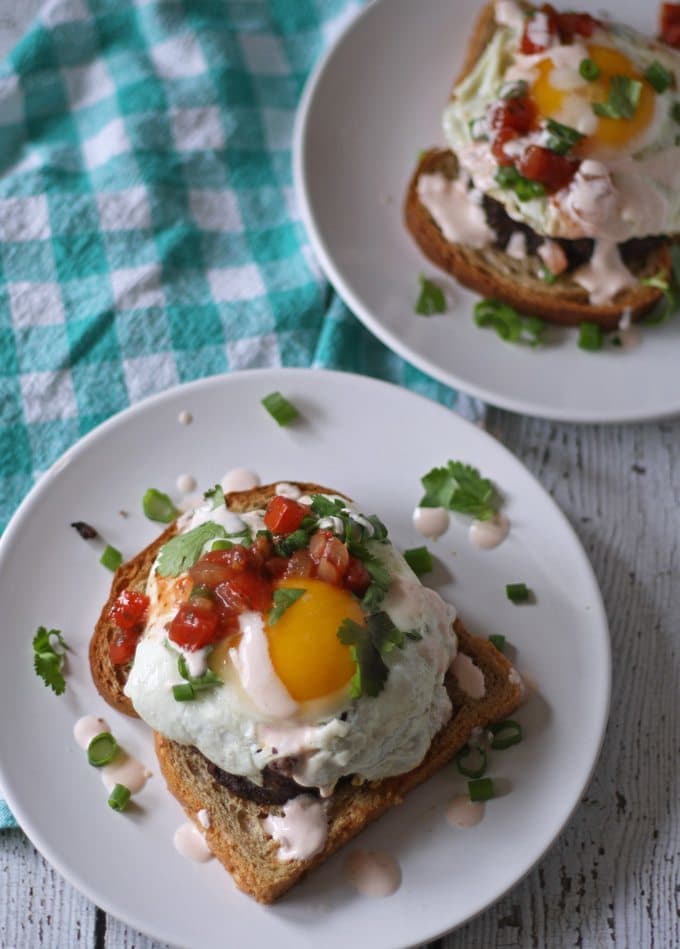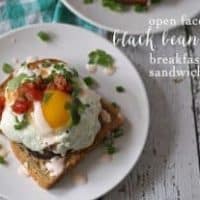 Open Face Black Bean Cake Breakfast Sandwich
Yield: 6

Prep Time: 10 minutes

Cook Time: 25 minutes

Total Time: 35 minutes
Ingredients
Black Bean Cakes
4 tablespoons extra virgin olive oil, separated
1 14.5-16 ounce can black beans, rinsed and drained
4 tablespoons diced green onions
2 tablespoons diced cilantro
2 teaspoons minced garlic
1/4 cup grated Parmesan cheese
1/4 cup panko bread crumbs
Sandwiches
6 fried eggs
6 pieces of toast
6 cooked black bean cakes
diced cilantro
diced green onion
salsa
sour cream
salt and pepper
Instructions
In the bowl of a food processor, puree the black beans until most of the beans are chopped. You don't want it to be hummus texture - you want it to have lumps. Then add 2 tablespoons of olive oil, green onions, cilantro, garlic, Parmesan cheese, and bread crumbs. Pulse until ingredients are well combined.
Pour out the mixture onto a piece of parchment paper. Separate the mixture into 6 even portions. To do this, cut in half, then cut the halves in thirds. Form each portion of black bean mixture into a burger shape.
Heat the remaining olive oil over medium high heat in a skillet. Fry the black bean cakes on each side for 5-6 minutes, or until the black bean cakes are crispy on the outside. Cook no more than 2 at a time. Place on a plate, lined with a paper towel, after cooking.
To Assemble Sandwich
Place a cooked black bean cake on top of a piece of toast. Lay a fried egg, yolk up, on top of the black bean cake. Put a dash of salsa and sour cream on egg, then sprinkle green onion and cilantro on top. Add salt and pepper to taste.
Nutrition Information:

Amount Per Serving: Calories: 1096 Total Fat: 29g Carbohydrates: 142g Protein: 58g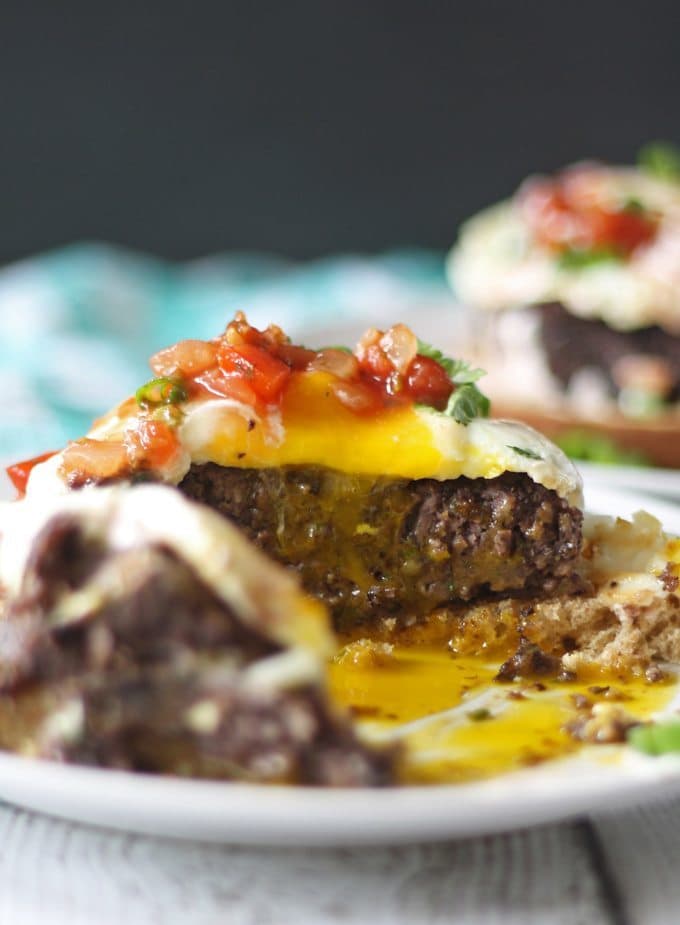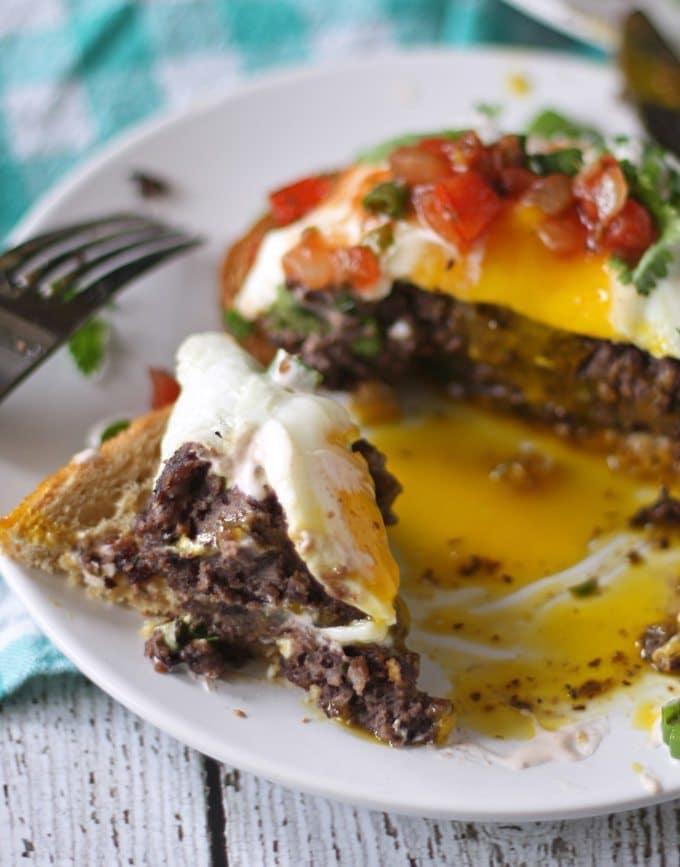 ---
Did you enjoy today's recipe for open face black bean cake breakfast sandwiches? Are you looking for more breakfast recipes? Check out this recipe for Leftover Herb breakfast scrambler. And this easy bacon and arugula breakfast sandwich recipe.
SaveSave
Join the newsletter!
Subscribe to get our latest content by email.