This one pot spicy Thai rice recipe is easy to make and full of flavor. Perfect as a side dish or a full meal. Add meat if you like!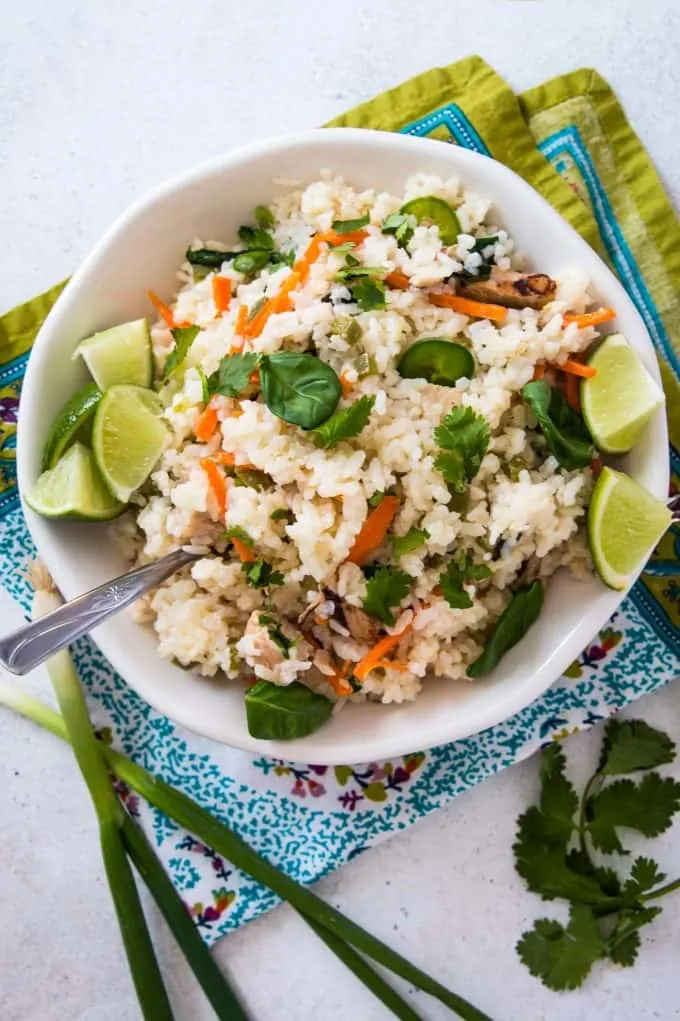 This post has been sponsored by RiceSelect. All options and my love for their products are my own.
I happen to know a few Thai chefs and I'm always surprised by all of the flavors of their dishes. Spicy, sweet, sour, salty and bitter – they manage to make everything work together. So I did the same.
Spiciness comes from jalapenos, sweetness comes from coconut milk and carrots. Limes add a little sour and bitterness and the salty flavors come from the fish sauce. A little bit of everything!
One Pot Spicy Thai Rice
I start cooking the rice while I'm chopping up all of the veggies. To make things interesting I used RiceSelect arborio rice.
Arborio rice is usually used to make risotto or rice pudding – it is what makes both so creamy! It goes well with so many flavors making it perfect for Thai-inspired dishes.
PLUS, adding cooked arborio rice to coconut milk creates a creamy mixture that reminds me of risotto – total win!
RiceSelect uses the finest all natural ingredients All of their products are clean of preservatives, chemicals, add substances and are non GMO verified. This is quality and flavor you can't get anywhere else
All of the RiceSelect products are packaged in clear, re-sealable, reusable, 100% recyclable BPA-free jars. Every jar is an invitation to inspiration!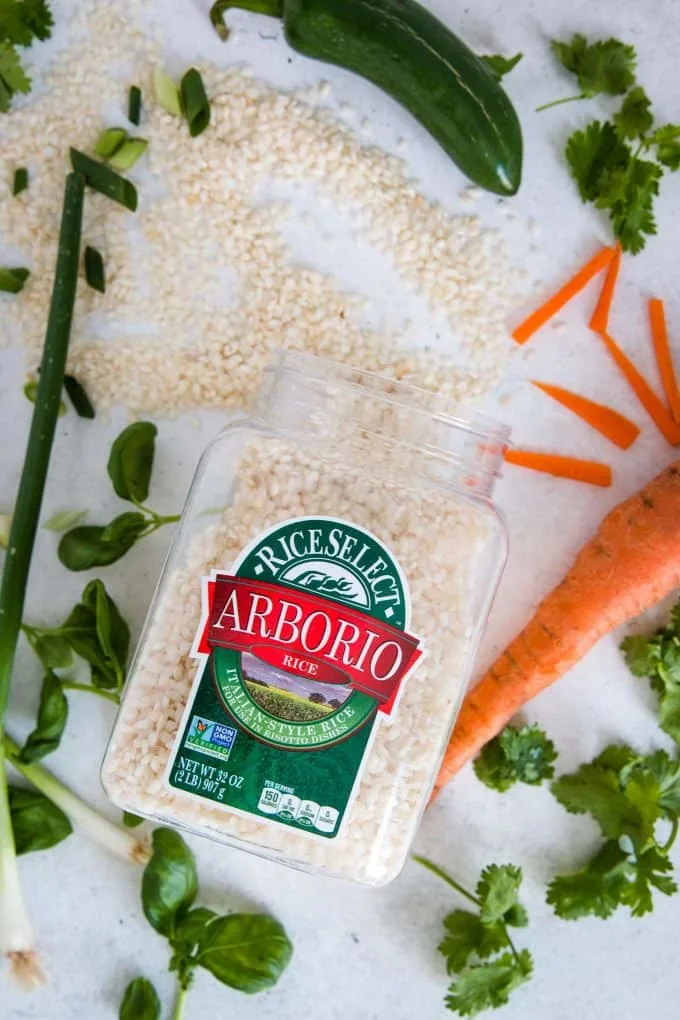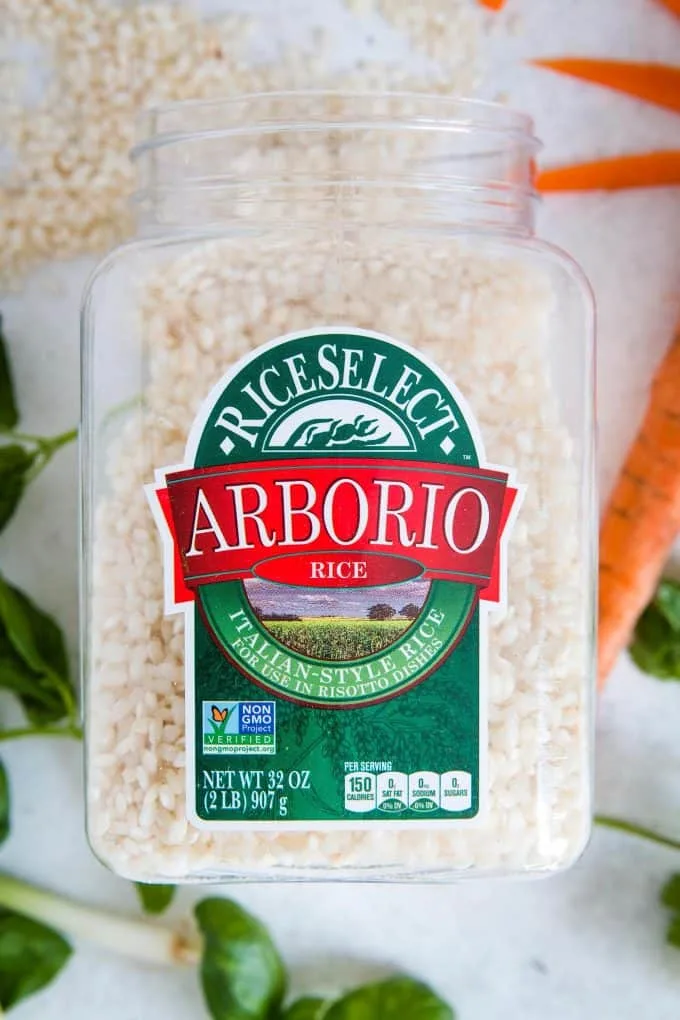 After you are finished chopping up your veggies (and while your rice is still cooking), add a little oil to a large pot. When its hot, add the carrots and jalapenos to the pot.
Then add the coconut milk and bring it to a boil. Reduce the heat to simmer and then continue cooking the coconut milk mixture until the liquid has reduced by half.
Add the cooked rice and any protein you might want to add and stir well. Turn off the heat and add the green onion, cilantro, and basil before you serve. Garnish with a lime wedge or two!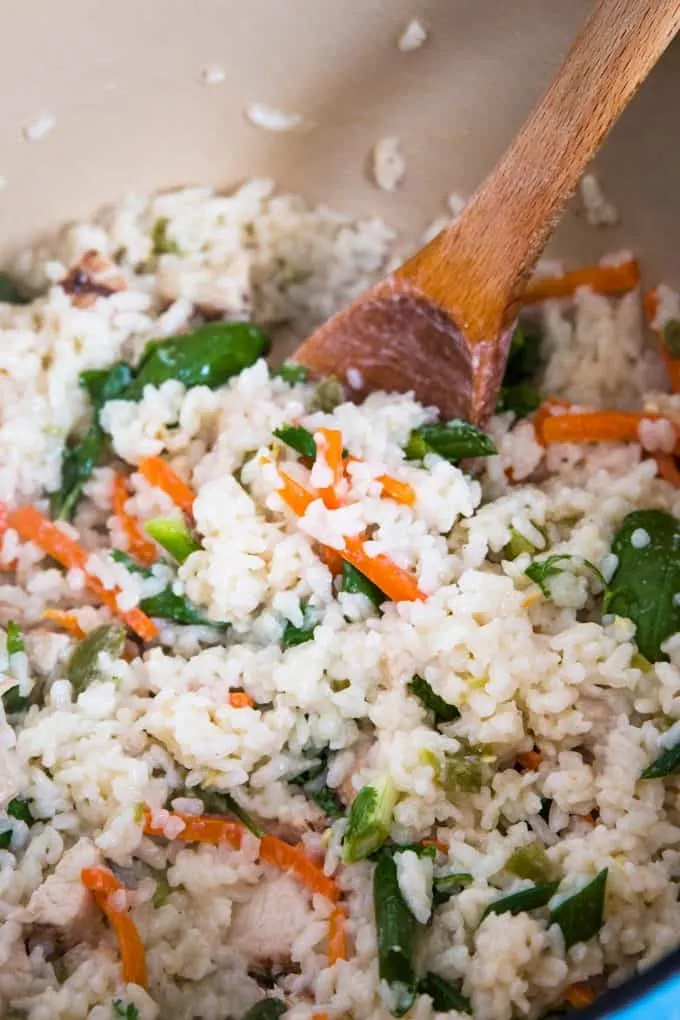 Can I add meat?
Absolutely! For this version I used 2 cooked chicken breasts. Chicken and pork are a good meat option for this recipe. You could also add seafood like shrimp or crab!
What kind of spicy peppers should I use?
I used jalapenos because they are readily available. If you can find Thai peppers, I would suggest using one of those instead. They may be small but they pack some heat.
If you're looking for less heat, remove the jalapeno sides before dicing. If you are looking for more, add an additional hot pepper or a teaspoon of crushed red pepper.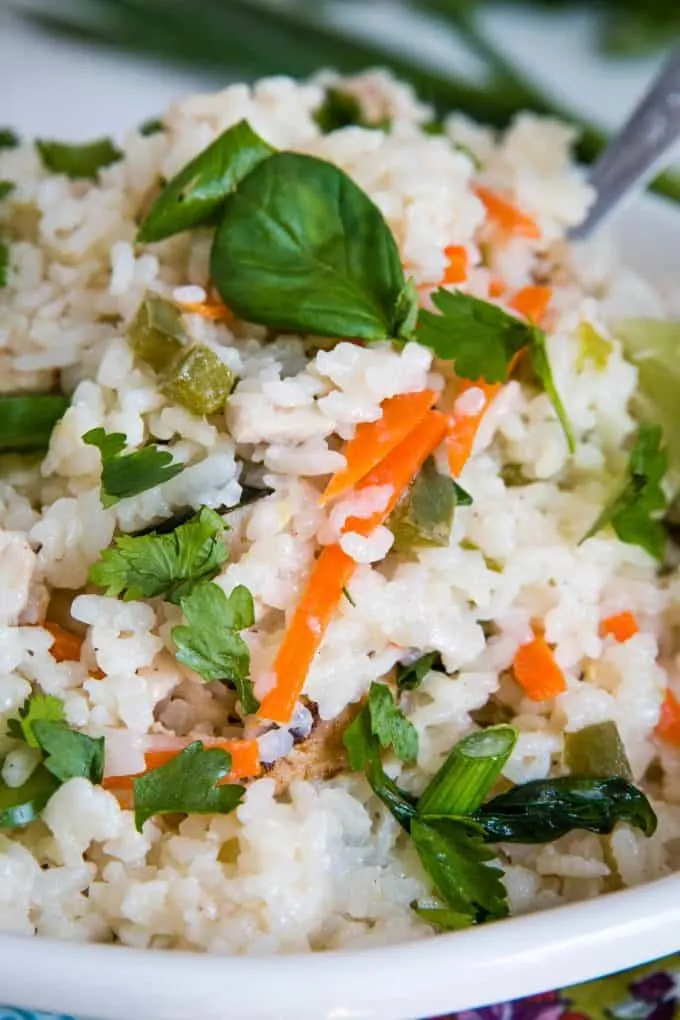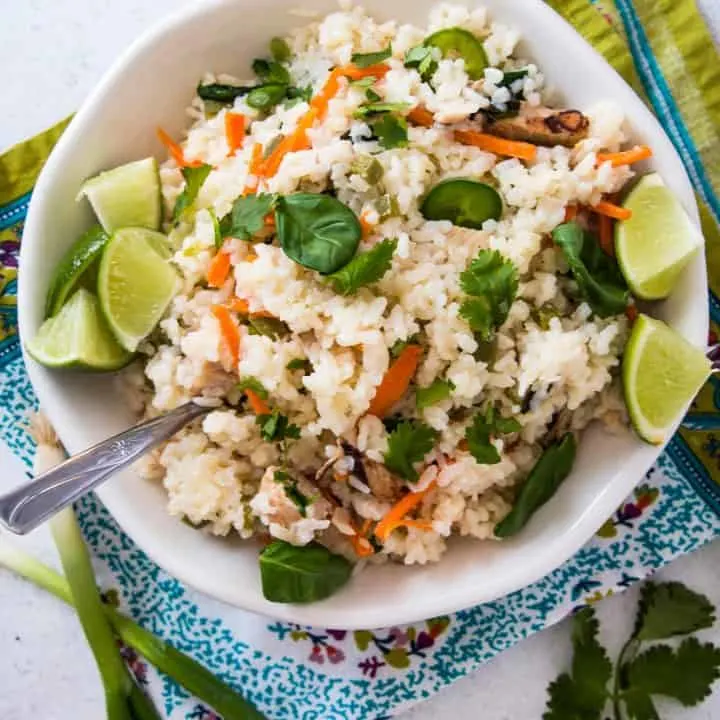 One Pot Spicy Thai Rice
This one pot spicy Thai rice recipe is easy to make and full of flavor. Perfect as a side dish or a full meal. Add meat if you like!
Ingredients
3 cups cooked RiceSelect arborio rice
1 teaspoon sesame oil
1 cup of carrots, cut into strips
1 jalapeno, diced
14 ounce can coconut milk
1 teaspoon fish sauce
1 lime half
3 green onions, sliced
1 handful of fresh basil leaves
1 handful of chopped cilantro
Instructions
Begin cooking 2 cups of rice per the package directions - this will be equivalent to 3 cups, cooked. Cut your vegetables while the rice is cooking.
Add sesame oil to a large pot over medium heat. Cook the oil until hot, then add the carrots and jalapenos. Cook for 1-2 minutes, then add the coconut milk, fish sauce, and the juice of 1 lime half. Stir well and bring to a boil. Reduce heat, then let simmer for 10 minutes.
Add the cooked rice and stir to combine. Add green onions, basil, and cilantro, then serve hot.
Notes
Optional: If adding cooked meat, add it at the same time as the cooked rice.
Garnish with lime wedges.
Nutrition Information:
Yield:

6
Serving Size:

1
Amount Per Serving:
Calories:

274
Total Fat:

15g
Saturated Fat:

13g
Trans Fat:

0g
Unsaturated Fat:

2g
Cholesterol:

0mg
Sodium:

108mg
Carbohydrates:

32g
Fiber:

1g
Sugar:

1g
Protein:

4g