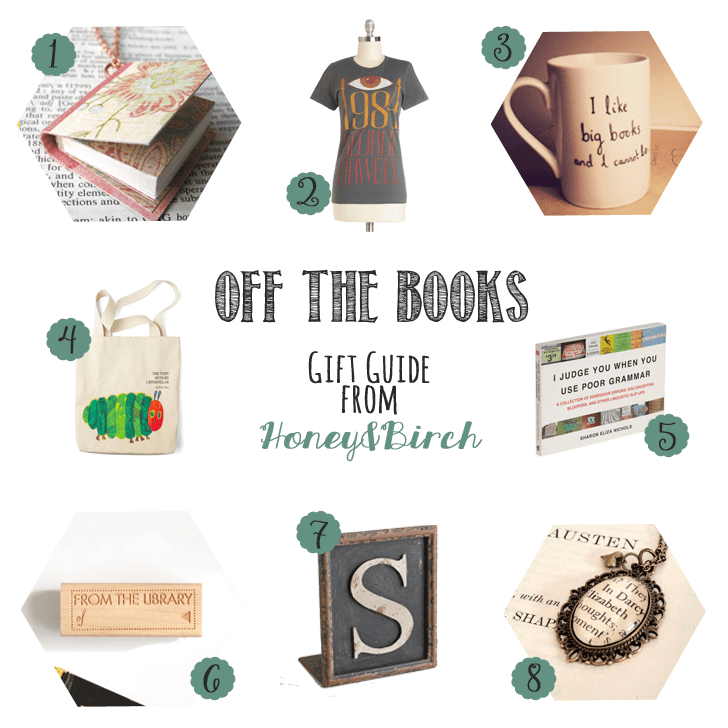 Today I'm bringing you gift guide #3 and this one is especially geared toward something I LOVE.
Books.
I've always thought that there aren't enough books in the world and that e-readers are blasphemous.  Yup, I said it.  You won't find me with a Nook or a Kindle.  There is something about the feel of a book in your hands as you read and read and read some more that makes me happy.  This guide is for people like me.
Next week will be the fourth and final gift guide of the holiday season.  If a particularly awesome bunch of products comes my way I will share another gift guide, but in the meantime, I'm going to bring on the book inspired gifts.
---
Book Inspired Gifts for Her Under $30
1. Mini Book Charm Necklace from AmbJewelry on Etsy
2. Novel Tee in Winston from Amazon
3. Hand Drawn Mug 'i like big books and I cannot lie" from MrTeacup on Etsy
4. Bookshelf Bandit Tote in Caterpillar from Amazon
5. I Judge You When You Use Poor Grammar from ModCloth
6. Bookplate Rubber Stamp from HunterandCoDesigns on Etsy
7. 'S' Letter Bookend from World Market (no longer available, other fun letter bookends from Amazon)
8. Pride and Prejudice Pendant Necklace from AuthoredAdornments on Etsy