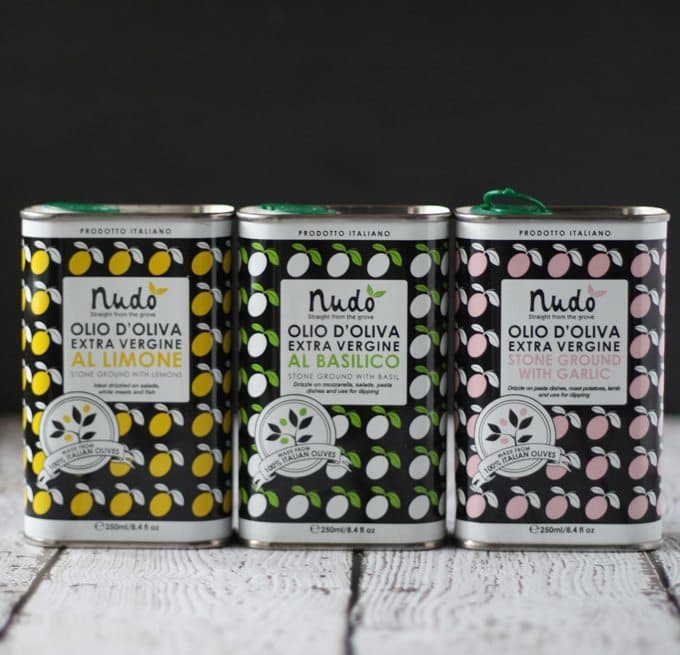 If you are like me, the origin of your food is becoming more and more important to you. Luckily for our kind of foodie, there are year-round farmer's markets, restaurants that source from local farms and companies like Nudo Italia Olive Oil.
The past month or so I have been cooking almost exclusively with Nudo Italia Olive Oil so I could share this review with you.  Not only did we enjoy the fresh taste of this olive oil – we also really like the company's history and story. Nudo Italia's story is partially what prompted me to participate in this review/giveaway.
Their website is www.nudoadopt.com because you literally adopt an olive oil tree.  How cool is that? The owners of the company restored an abandoned oil grove in Italy and then started the olive tree adoption program. The adoption program gives some of Italy's olive farmers financial security which lets them produce this delicious oil.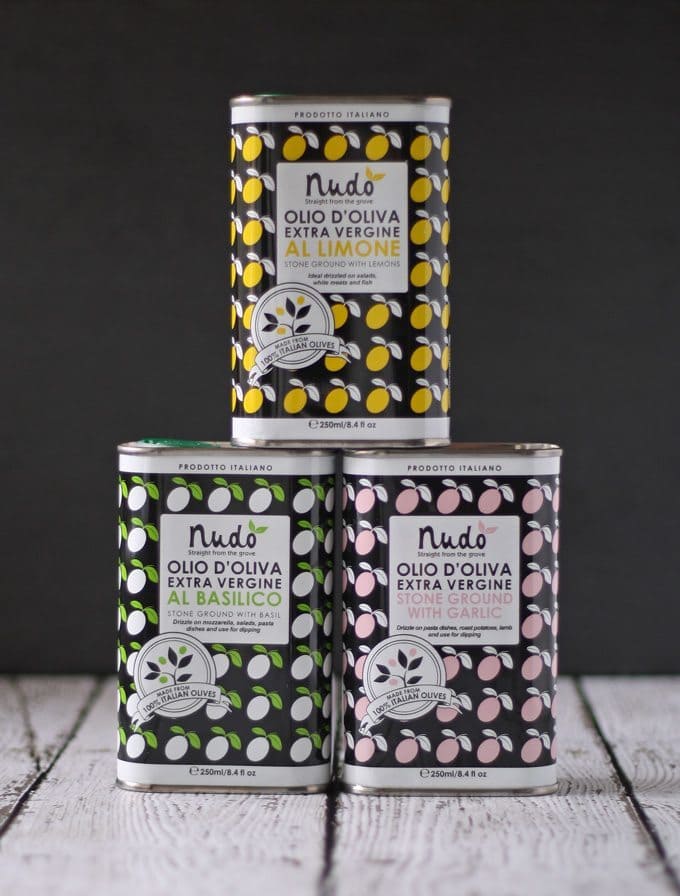 Nudo Olive Oil Review
For my Nudo olive oil review, I received three olive oil varieties – garlic, lemon and basil. It has been a yummy month at Casa de H&B.
I love how clean the oils taste and how each type has just the right amount of flavor. Have you ever been to a store that sells olive oil (not meaning your grocery store – a specialty oil store?) They often give you little cups or toothpicks so you can try a little bit of the oil. I set up my own taste station at home and did that right away. Right off the bat, you can tell the oils taste and smell clean. Good sign. 🙂
For a post discussing entertaining, I created two recipes using the Garlic oil. OMG – it was the perfect addition. Garlic infused olive oil is the type we normally buy so it only made sense to start there. At the end of our month-long test, we decided we liked the Nudo version better than the version we buy from a local oil shop.
The basil oil was delicious on a caprese salad – it was a perfect complement to fresh basil and the olive oil flavor wasn't over powering. I had to stop myself from putting more oil on top.
And we made a light hummus with the lemon version (recipe coming soon) – I was actually able to leave out the usual lemon juice thanks to the Nudo olive oil.
Join the newsletter!
Subscribe to get our latest content by email.