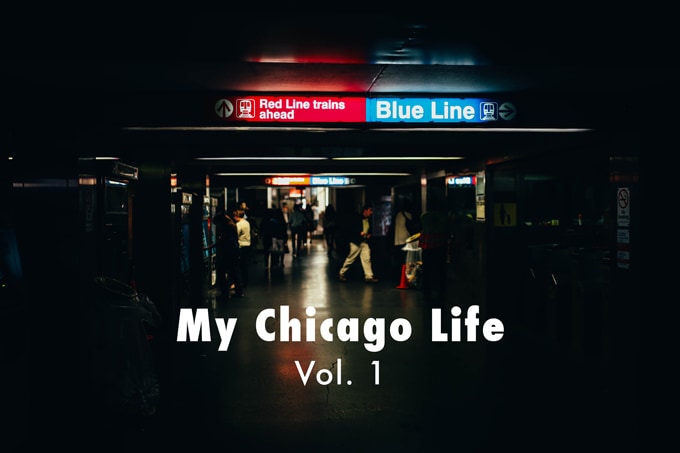 I have decided to start a new post series! Honey and Birch is, and will remain, a recipe blog but I live in Chicago -one of the best food cities in America. I am lucky enough to have some of the country's top restaurants a train ride, drive and even a walk away from my front steps. I have decided to share a little bit of that with you as I try out new restaurants or revisit old favorites.
These posts won't be scheduled for any set days/dates. Sometimes I will go weeks without going out to a restaurant or event and then hit up 4 places in a week. But I know that many of you either live here in Chicago or will visit here at some point.
I have felt particularly inspired by the food I have indulged in the last few weeks – here are a few highlights, from latest date to most current:
My Chicago Life Vol. 1
Thank you to all of the restaurants and PR firms for the invitations and opportunities!
Lyfe Kitchen – 259 E. Erie Street
Lyfe Kitchen is a fast-food chain unlike any chain restaurant I have ever been too. I'm a member of Windy City Bloggers Collective and they held their August Happy Hour there. First of all, if you're allergic to shellfish (like I am), you can eat everything at this restaurant. This was a huge deal to me, and it's going on my small (but growing) list of shellfish-allergy-friendly restaurants.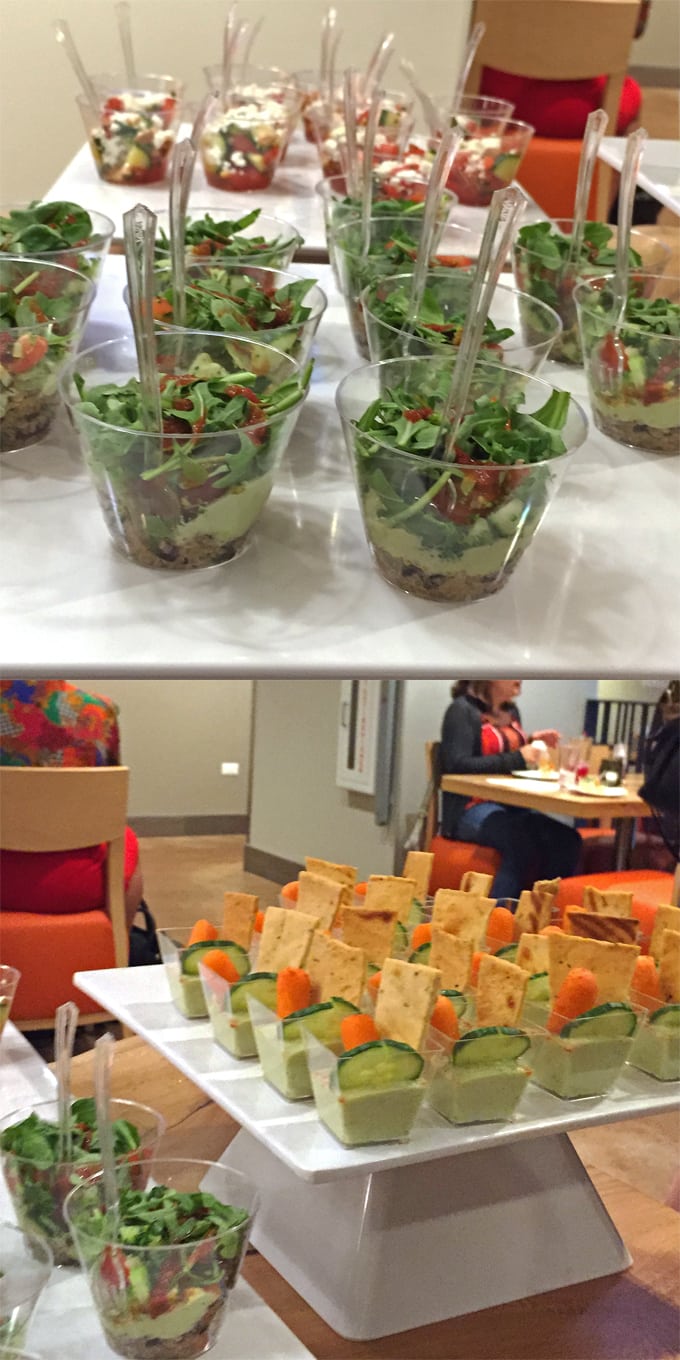 Secondly, it's all good for you. And the staff was super nice! I loved all of the delicious healthy food that was prepared for us, and the cocktails were delicious too. That quinoa salad above was so delicious.
Farmhouse Chicago – 228 W. Chicago Avenue
I had been hearing about Farmhouse Chicago (and it's Evanston location) for a while … and did a little dreaming about eating there. When the email came inviting me to a 5-course From the Farm Tasting and Midwestern Beer Pairing dinner, I jumped at it. Mr. B happily accepted my invitation to be my date for the evening.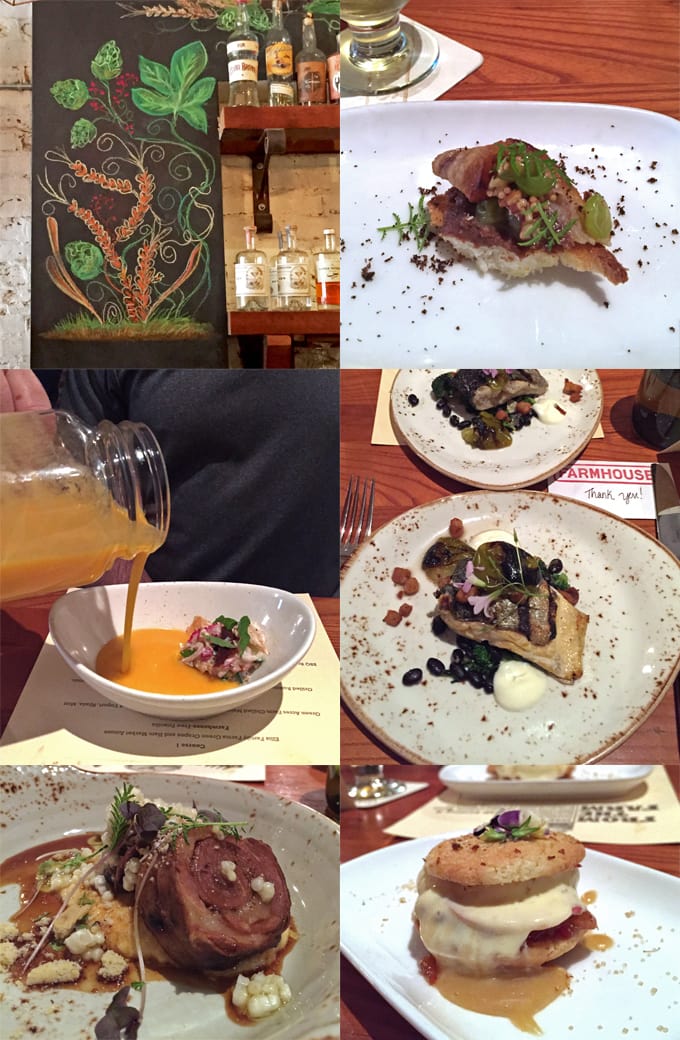 Our menu:
Course 1 – Ellis Family Farms Green Grapes and Ham Market Amuse, paired with Farmhouse's own Free Priscilla Cider
Course 2 – Green Acres Farm Chilled Melon Soup, Summer Poolish Salad, Spiced Yogurt, Njuda, and Mint, paired with 3 Floyds Calumet Queen
Course 3 – Grilled Rushing Waters Rainbow Trout, Black Garlic Roasted Tomatillos, Black Bean Relish, and Swan Creek Bacon Lardon, paired with Revolution Rosa
Course 4 – BBQ Braised Grassfed Shortribs, Butter Poached Indiana Shrimp, Hazzard Free Farm Pimento Cheese Popcorn Grits and Sweet Corn, paired with Dark Horse Smells Like A Safety Meeting (no shrimp for me but everyone was raving about it!)
Course 5 – Peaches and Cream Ice Cream Sandwich, Mick Klug Farm Michigan Peach Marmalade, Milk Jam & Ice Cream, and Vanilla Bean Shortcake, paired with Penrose Deminimus Mandarina
We loved every course and cannot wait until they open up their new location on Wellington (on the block that Mr. B. grew up on in fact!) I have a feeling we will be regulars, for the food and their fantastic cider.
Highlights – popcorn grits! and the table side soup service.  I also love that everything is sourced from the midwest.
Love Your Local event with The 
Laughing

 

Cow

 at River Roast

I asked my cousin Michelle to come with me for last week's Love Your Local event at River Roast, 315 N LaSalle St. They have one of the most beautiful event spaces I have seen, thanks to the river views, exposed brick and expansive ceiling. Also, there was tons of Laughing Cow cheese, which made us both very happy.

We really enjoyed the event – I love it when I get to learn a thing or two while indulging. There were 3 workshops throughout the night: Craft Delicious & Simple Snacks with Boarding House's Executive Chef Tanya Baker, Create Stop-Motion Snack Videos with Visual Country and Style & Photograph Snacks with Chicago Food Authority.

And the food! Laughing Cow cheeses were the highlight of course, along with specialty cocktails, Goose Island Beer, wine and a variety of light bites.
---
Thank you to all of the restaurants and PR firms for the invitations and opportunities!
SaveSave