If you're going to a Labor Day BBQ tomorrow and have to bring a dish to pass, today's post is for you.  I've compiled my favorite recipes in a special edition of my Friday weekly feature – "8 Great".  There are some really great side dish, main dish and cocktail recipes out there perfect for Labor Day – including some of my own: Potato and Egg Salad, Black Bean Burgers, and 8 Layer Taco Dip.
Look below for potato salads, alternative burgers, pasta salads, and some fun adult beverage Labor Day recipes.
8 Great Potato Salad Recipes | 8 Great Non-Traditional Burgers | 8 Great Pasta Salads | 8 Great Labor Day Cocktails
8 Great Potato Salad Recipes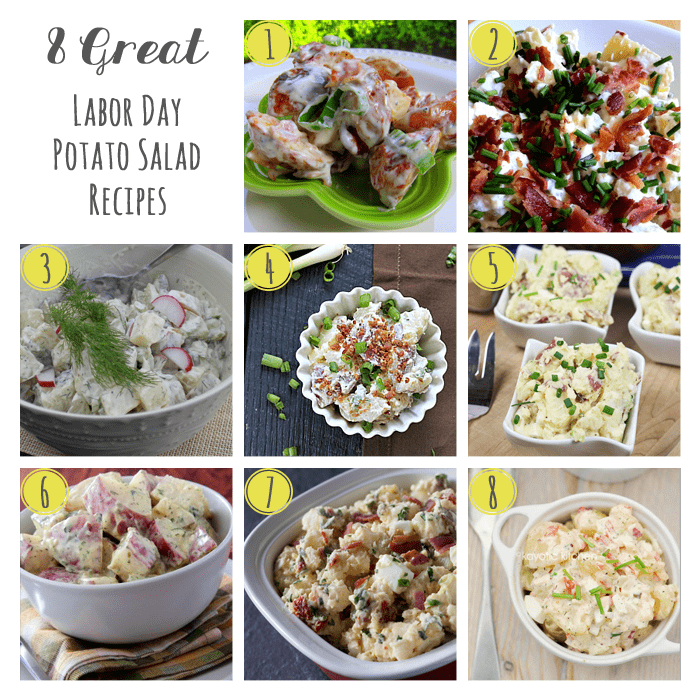 1. Bacon Ranch Potato Salad – Plain Chicken
2. Loaded Baked Potato Salad – Dishing With Leslie
3. Creamy Dijon Dill Potato Salad – Bakers Beans
4. Bacon Horseradish Potato Salad – The Country Contessa
5. Southern Style Red Potato Salad – Spiced Blog
6. Potato Salad with Green Dressing – Green Bean Delivery
7. BLT Potato Salad (with a pressure cooker) – Pressure Cooking Today
8. Summer Potato Salad – Kayotic Kitchen
8 Great Labor Day Non-Traditional Burgers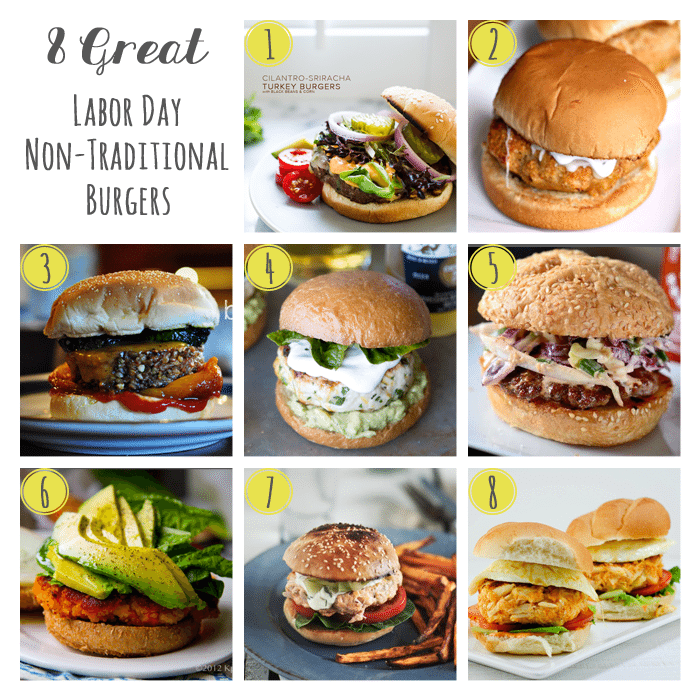 1. Cilantro-Sriarcha Turkey Burgers – Kitchen Confidante
2. Chicken Ranch Burgers – Julie's Eats & Treats
3. Smokey Bulgur & Buckwheat Veggie Burgers – Humblebee & Me
4. Cheddar Jalapeno Chicken Burgers with Guacamole – What's Gaby Kitchen
5. Garlic & Black Pepper Pork Burgers with Sriracha Slaw – Life's Ambrosia
6. Sweet Potato Veggie Burger – Lunchbox Blog
7. Salmon Burgers – Souvlaki for the Soul
8. Crab Cake Burger – Olives & Garlic
8 Great Pasta Salads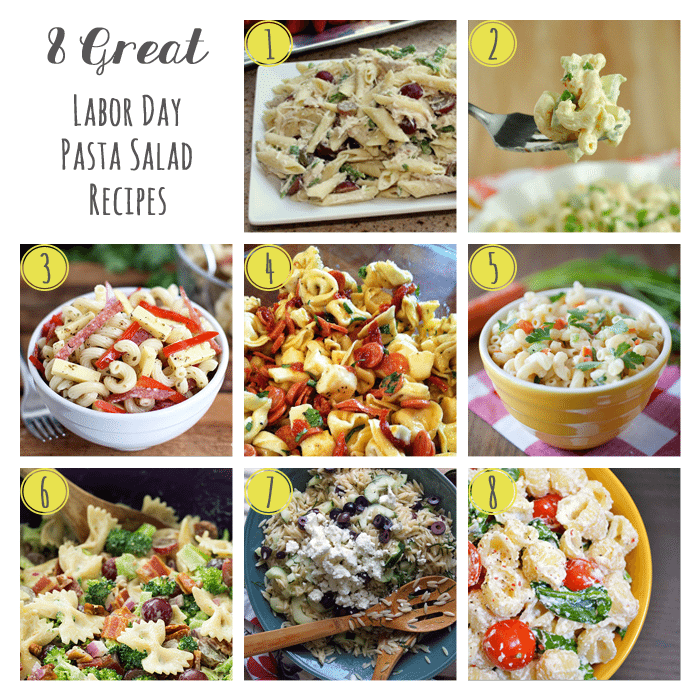 1. Toulouse Chicken Pasta Salad – The Creativity Exchange
2. Homestyle Macaroni and Cheese – Peas & Crayons
3. Pasta Salad with Pepperoni and Cheddar – She Knows
4. Tortellini Salad – Dream Home Cooking Girl
5. Lemony Macaroni Salad – The Crepes of Wrath
6. Lighter Broccoli, Grape and Pasta Salad – Cooking Classy
7. Lemon-Dill Orzo Pasta Salad with Cucumbers, Olives & Feta – Strawberry Plum
8. Roasted Garlic Pasta Salad – Budget Bytes
8 Great Labor Day Cocktails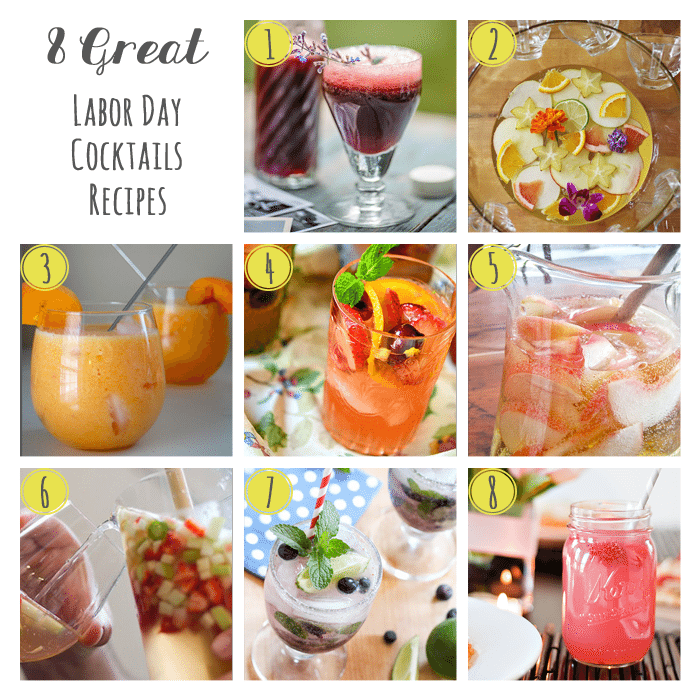 1. Spiked Cherry Lemonade – Sweet Paul Mag
2. Four Seasons Punch – A Beautiful Mess
3. Peach Lemonade Coolers – Cook Au Vin
4. White Sangria – Full Fork Ahead
5. Sparkling White Peach Sangria – the Kitchn
6. Strawberry Basil Sangria – Mother Nature Network
7. Blueberry Mojitos – Inspired by Charm
8. Raspberry Beer Cocktail – A Cup of Mai
xoxo,
Jenny B
SaveSaveSaveSave
SaveSave
Join the newsletter!
Subscribe to get our latest content by email.