I was provided with a free coffee maker to review from Hamilton Beach.
---
This post contains some affiliate links for your convenience. Click here to read my full disclosure policy.
Every single day, we make a pot of coffee in the morning. This is such a part of our routine that the only time we go to a coffee shop is when we are on vacation. Every morning while on vacation, we lament not having our coffee pot with us.
The coffee pot we had since we were married was on the fritz and I received an email from Hamilton Beach asking if I wanted to review their FlexBrew 2-Way Coffee Maker. The timing couldn't have been better.
When our new coffee maker arrived, we unpacked it and took a little peek.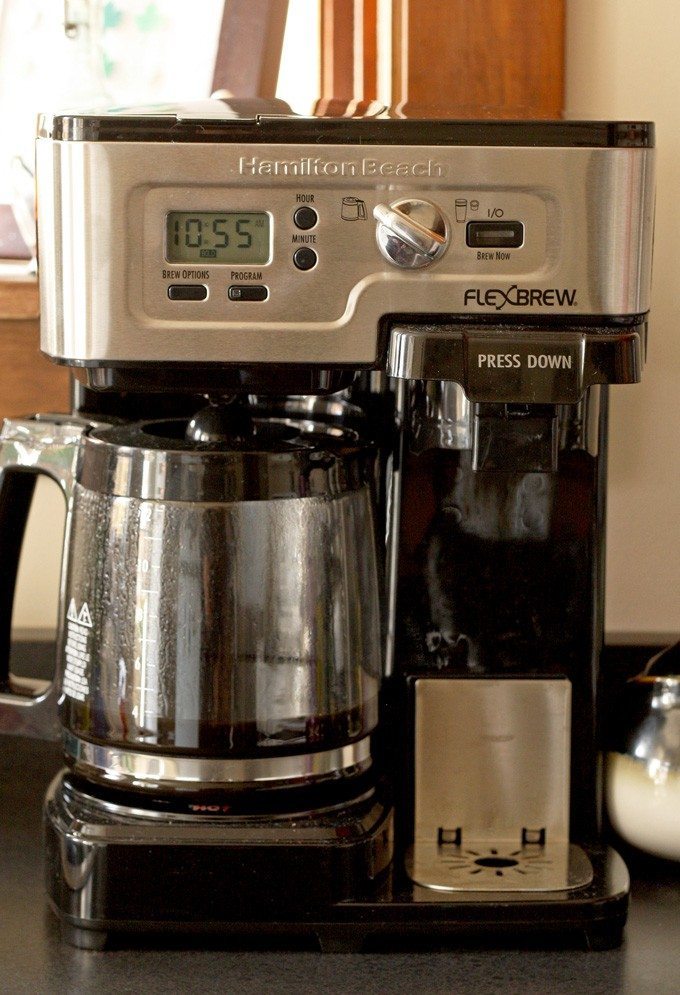 Not too shabby, right? It is slightly bigger than a standard drip machine, but not as big as our old, broken coffee maker so it fit right into our coffee nook. It is very modern looking and fits into our kitchen aesthetic well.
Hamilton Beach FlexBrew Review
Hamilton Beach asked for an honest review of the FlexBrew 2-Way Coffee Maker, so I would like to tell you about what I liked and didn't like.
Some of my favorite features about this coffee pot:
The K-cup feature – we love being able to make single cups of coffee, instead of having to make small pots. We had never used any machine that can brew K-cups before so we don't have a lot to compare it with. It also has a K-cup adaptor (I don't know what to call it), so you can brew coffee grounds on the individual cup side.
The Bold brew feature -I love the ability to make a stronger pot of coffee, without having to buy a different type of coffee. We usually buy French Roast but our favorite brand isn't always available at the store. This option allows us to brew a stronger cup of coffee with a weaker bean/brand.
Pause & Serve – you can grab a fresh cup of coffee while a full pot is brewing, without mess. The coffee stops dripping until you return the pot to the machine.
Some of my least favorite features:
When you pour from the carafe, the carafe lid swings loose when you get to the end of your pot. This was more annoying to Mr. B than me, but that is probably because I always get the first cup and he always drinks the last. We are creatures of habit.
Also,when using the single cup side, we were unable to use our travel mugs because they are too large. We had to remove the cup rest and place the cup in the reservoir that collects and spilt water. The specs for the machine say to use a 14 ounce travel mug – I guess ours are larger than that. Since both of our cups are the same size, I feel like we have the standard size cup and we will have to buy a non-standard smaller cup.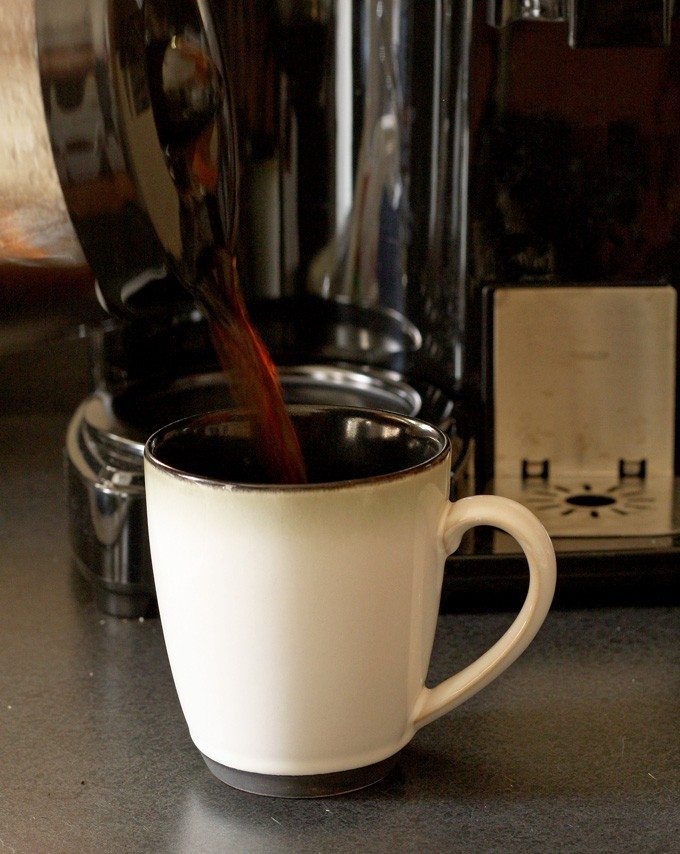 Bottom Line – we like this coffee maker and it packs a lot of features into a small multi-use machine. We would definitely buy one because the 2 things we didn't love were not deal breakers. If you are interested in buying one for your home, I know that they are available at Walmart.
SaveSave