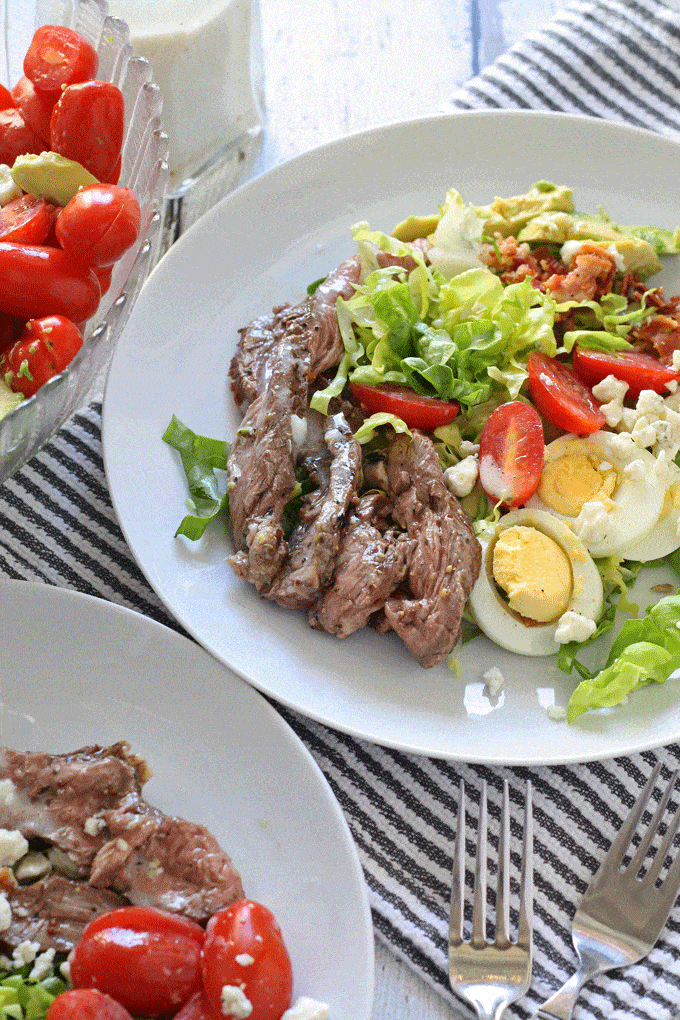 I have exciting news everyone! Today, I am guest blogging on Delish Dish over at BHG.com. That's short for Better Homes and Gardens for those not in the know. And no, this is not an April Fool's Day joke!
You know how I get all fan-girly about chefs? I get equally fan-girly about food and home magazines. Do me a favor and head over there and check out the delicious recipe I'm sharing over there for a grilled steak cobb salad with creamy dijon vinaigrette. It's an amazing recipe, straight from the BHG coffers!
Grilled Steak Cobb Salad with Creamy Dijon Vinaigrette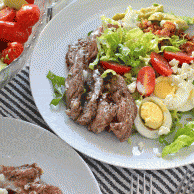 Grilled Steak Cobb Salad with Creamy Dijon Vinaigrette
Ingredients
1 pound boneless beef top sirloin steak, cut 1-inch thick
3 tablespoons salad oil
3 tablespoons white balsamic vinegar or white wine vinegar
2 teaspoons Dijon-style mustard
1 teaspoon dried oregano, crushed
6 cups shredded butterhead (Boston or Bibb) lettuce (about one 8-ounce head)
1 1/2 cups halved grape tomatoes or chopped, seeded tomatoes
1 medium avocado, pitted, peeled, and cut into wedges, or 1/2 of a small cantaloupe, peeled and cut into thin wedges
3/4 cup crumbled blue cheese (3 ounces)
6 slices bacon, crisp-cooked, drained, and crumbled
3 hard-cooked eggs, sliced
Dijon Vinaigrette
1/3 cup white balsamic vinegar or white wine vinegar
1 teaspoon Dijon-style mustard
1 clove garlic, minced
1/2 teaspoon sugar
1/4 teaspoon salt
1/4 teaspoon ground black pepper
1/3 cup olive oil
Instructions
Preheat broiler. Place steak on the rack of an unheated broiler pan. Broil 3 inches from heat for 15 to 17 minutes or until medium doneness (160 degree F), turning once halfway through broiling. Cool slightly; cut into thin slices. Place steak slices in a resealable plastic bag set in a shallow dish; set aside.

For marinade, in a screw-top jar, combine oil, vinegar, mustard, and oregano. Cover and shake well. Pour marinade over steak slices. Seal bag; turn to coat steak slices. Marinate in the refrigerator for at least 6 hours or up to 24 hours, turning bag occasionally.

Drain steak slices, discarding marinade. To serve, arrange shredded lettuce in a chilled large bowl. Place steak slices, tomatoes, avocado, cheese, bacon, and eggs on top of the lettuce. Drizzle some of the Dijon Vinaigrette over salad. Pass remaining Dijon Vinaigrette.

!To make dijon vinaigrette

In a small bowl, combine white balsamic vinegar, mustard, garlic, sugar, salt, and pepper. Add olive oil in a slow steady stream, whisking constantly. Makes about 2/3 cup.




SaveSave
SaveSave
Join the newsletter!
Subscribe to get our latest content by email.