Happy January friends! Football playoffs are in full swing and Game Day parties are too.
You all know how much I love entertaining and believe it or not, sports are the main reason I have guests over. Just this past weekend, I had my parents over to watch the playoffs AND hockey. Go Sports!
But seriously, I will use any event as a reason to have people over and Game Day is one of the best reasons.
This year, grab your friends and get together to watch the BIG GAME because we've got you covered! We have 12 bloggers sharing their favorite game day snacks, meals, and desserts, plus printables and decorating ideas for your party!
All you and your guests need to do is bring your appetites – this game day party plan takes care of all of the planning.
---
(In case you're wondering, we'll be doing this with a different theme each month, so be sure to check them all out…hint – Valentine's Day is up next!)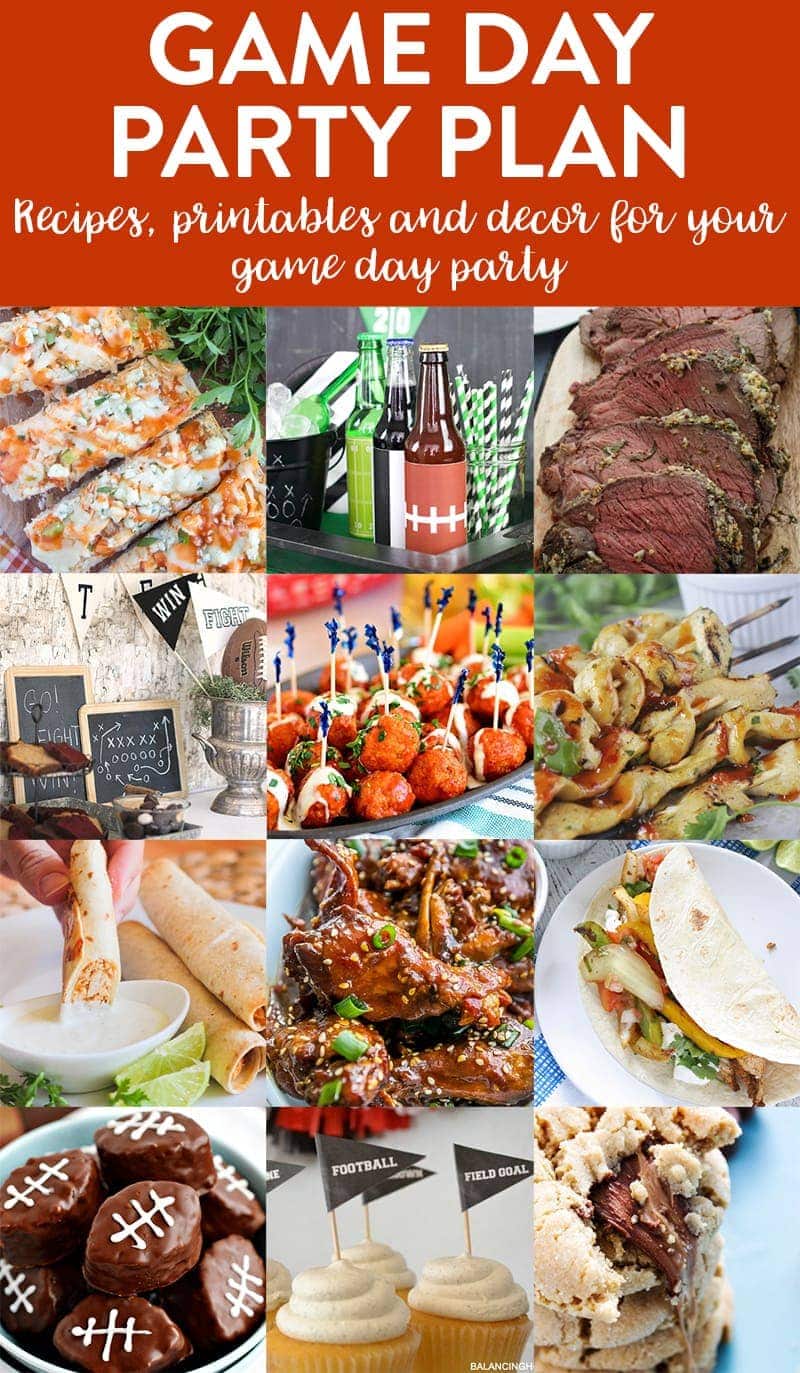 ---
These spicy and sweet Slow Cooker Honey Soy Chicken Wings are the most delicious appetizer ever!
This recipe has little sweetness, a good punch of spice, and plenty of salty soy notes. A bit of tangy zip from some rice vinegar, and a bit of heat from chili paste & cayenne pepper. Just dump in a crock pot and stir.
The result: the tastiest, fall-off-the-bone wings you'll ever make!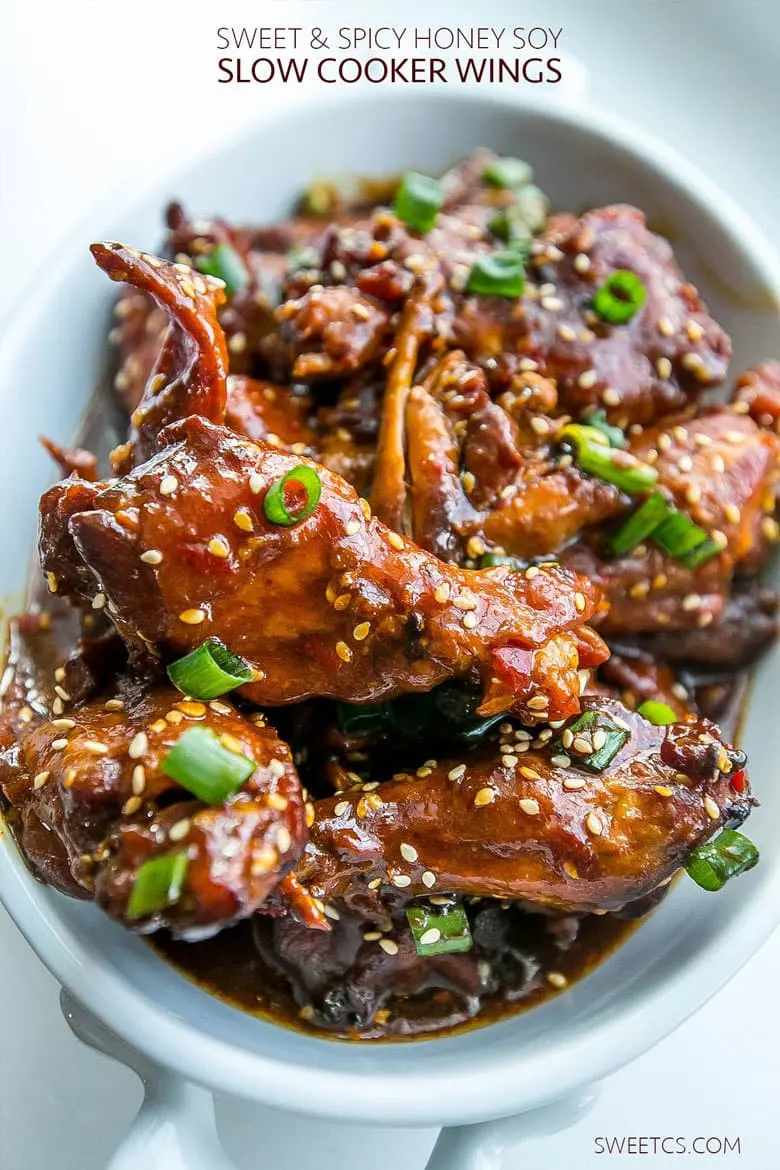 Crowd-pleasing Buffalo Chicken Meatballs with ranch have all the flavors of buffalo hot wings, but without the guilt. If you're a fan of buffalo chicken wings, you're going to want this finger-lickin' good recipe!
The perfect party appetizer. Great for Super Bowl parties or even a light dinner when you're craving hot wings!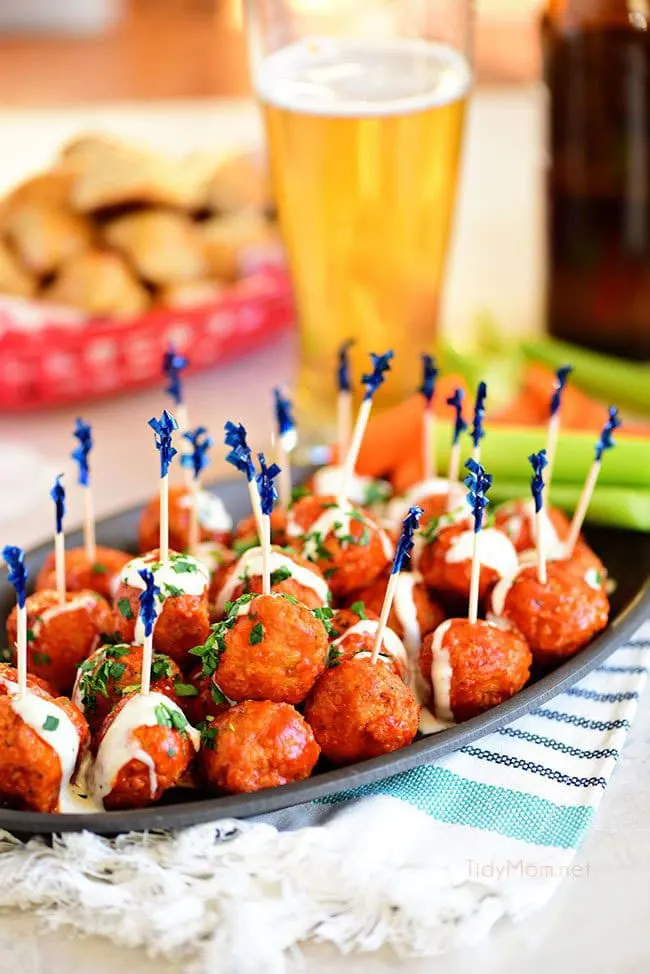 These baked honey lime chicken taquitos are really quick to make, and will be a huge hit with the whole family.
Serve them with some fresh veggies or fruit for a light and tasty dinner. Make a big batch for the freezer and have them on hand for lazy or busy nights.
Perfect as a game day appetizer, or an anytime snack for your boys in their man-caves!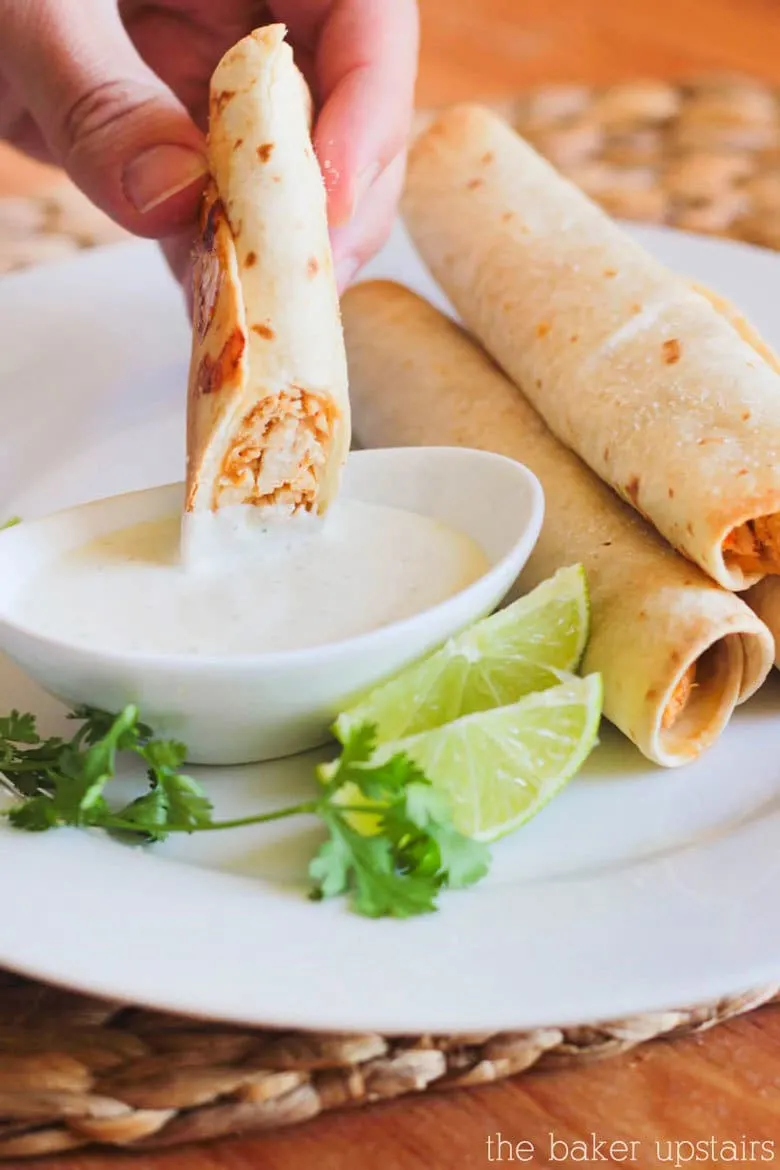 Chicken Satay is an Indonesian dish that you can often find on an appetizer section of the menu of your local Thai restaurant.
Chicken Satay is traditionally served with a peanut sauce but this tasty rendition is served with sweet chili sauce. The sweet & spicy combo with the chicken is absolute heaven.
Serve them as an appetizer or as your main dish – either way, people are going to love them. It's just really fun to eat food off a stick!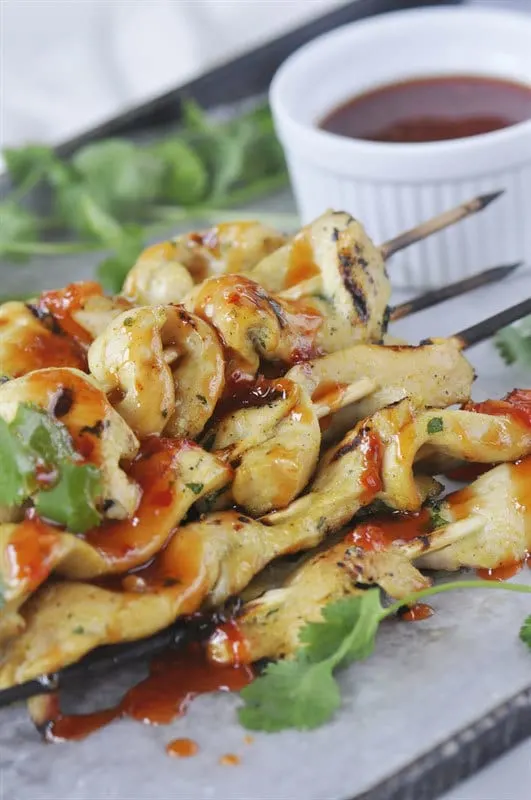 Bring something other than the same old boring appetizers to the party this football season. This Buffalo Ranch Chicken French Bread Pizza recipe fits the bill!
Layers of creamy Ranch, tender chicken, spicy buffalo sauce, and crunchy celery are finished off with mozzarella & blue cheeses. Baked to perfection, this is a delicious appetizer for your holiday guests and especially for game day parties!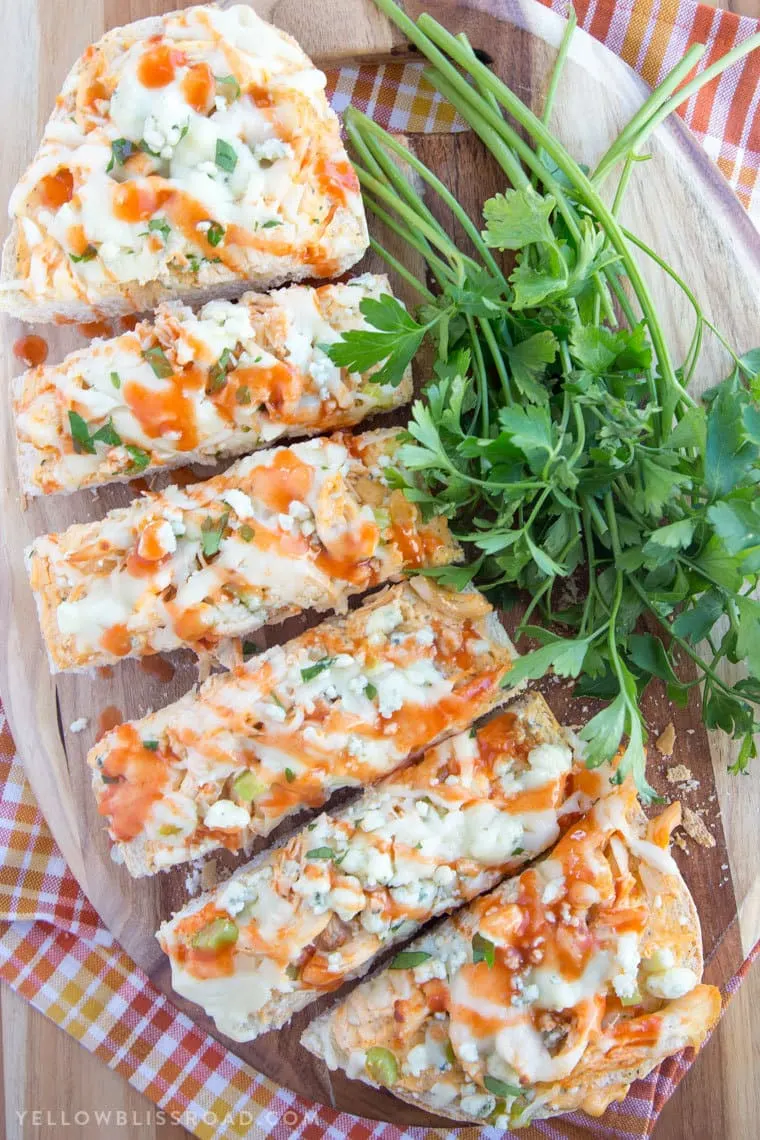 The holidays are quickly approaching! This slow cooker herb butter inside round roast is made in record time, and people will only think you slaved away in the kitchen ALL DAY with this recipe!
Easy, gluten-free, and delicious! This is a great dish to serve at holiday dinners, potlucks, or during your favorite football match.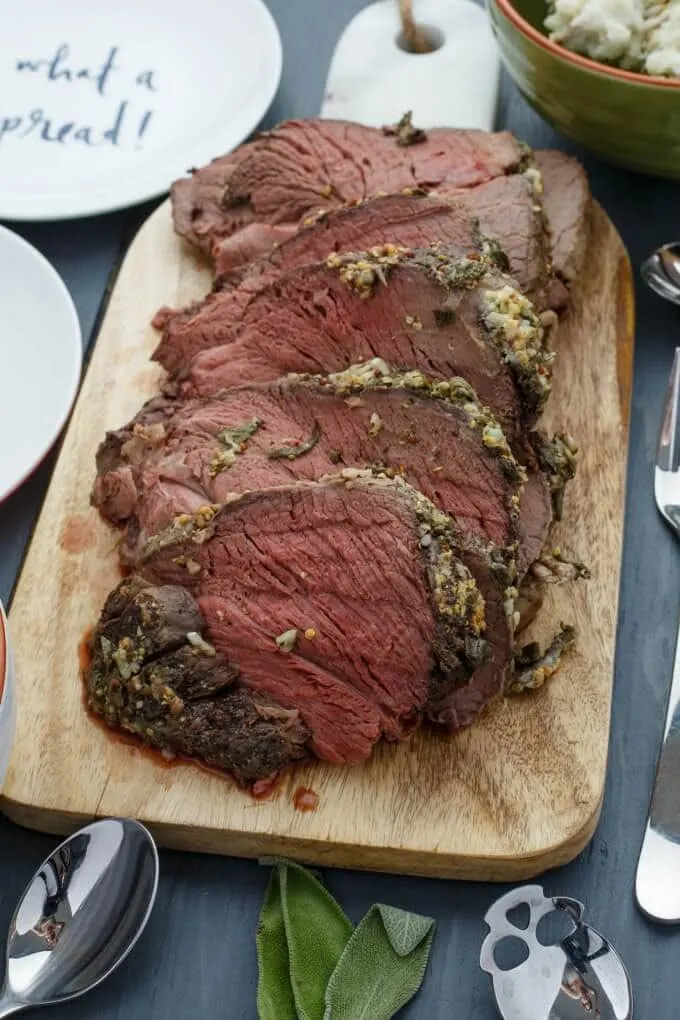 Make everyone happy with these grilled chicken fajitas. Chicken fajitas are the perfect recipe for family dinners!
Creating a fajita bar with bright, fresh toppings at your next game day party is also a great way for guests to customize their own plates. Perfect on their own as a complete meal with rice & beans, or great as a filling appetizer for your party guests!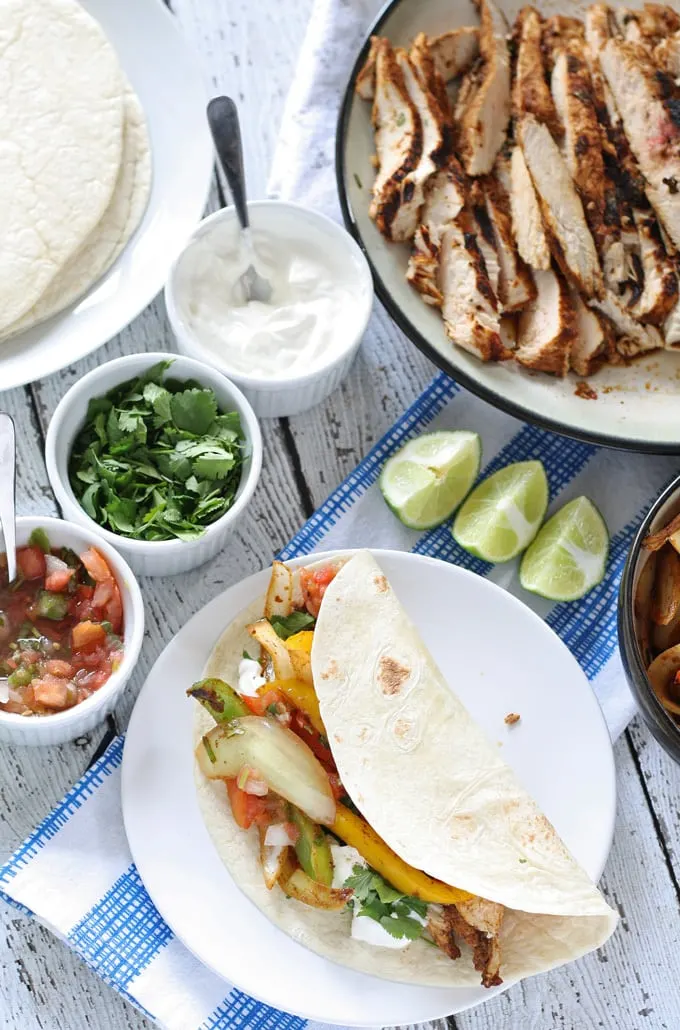 Football Scotcheroos will steal the show at your big game party! Ooey, gooey, and covered in chocolate!
Candiquik chocolate coating stays soft all day, making these bite size treats melt-in-your-mouth perfection. Little white laces on the football-shaped dessert add a cutesy touch for the women at your game day party. Because football isn't just for men!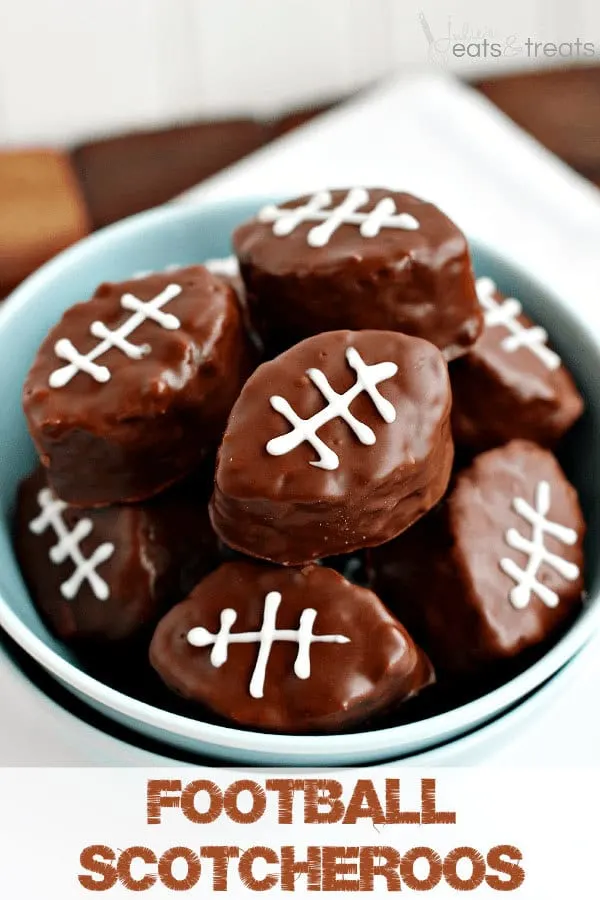 Soft, chewy and just the right amount of peanut butter. These cookies are taken to the next level with a chocolate and caramel center.
This cookie recipe will be a hit at any holiday party you host this year, and they'll definitely disappear before halftime at your big game day party! Caramel, chocolate, and peanut butter: oh my!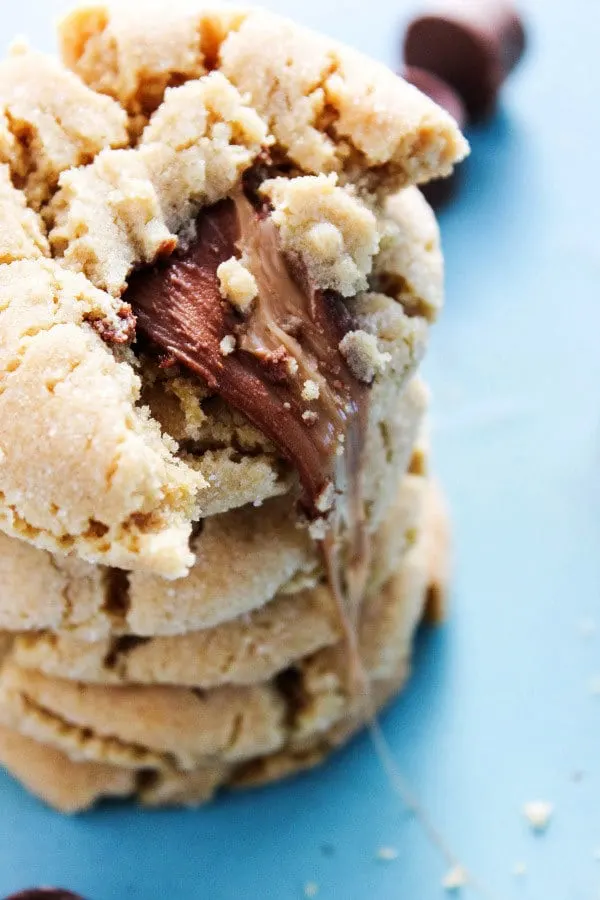 It's game time and you want to throw the best football party ever!
This game day drinks tray is super easy to pull together and will add a touch of flair to your party! Add some of these cute football labels to your pop bottles, some cute straws, with a few extra touches, and you've got a perfect drink holder for your football party.
Have FUN watching football!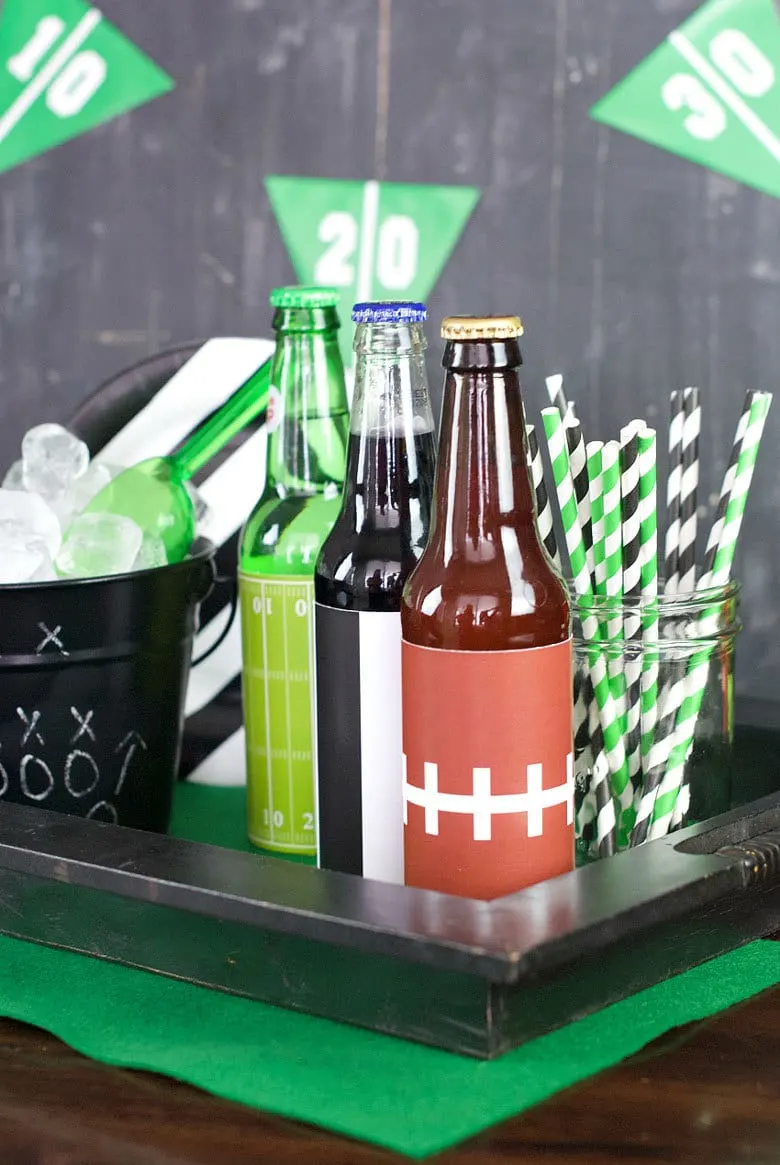 This game day party plan is full of inspiration & recipe ideas to inspire you.
This party scene is set with black & white stripes to match the referees, sweet treats on the sidelines, and decorations on tables with pennants, and football paraphernalia. White pear sangria and snack mix tie this party plan all together.
Gather with friends and watch the big game with these tips by Celebrations at Home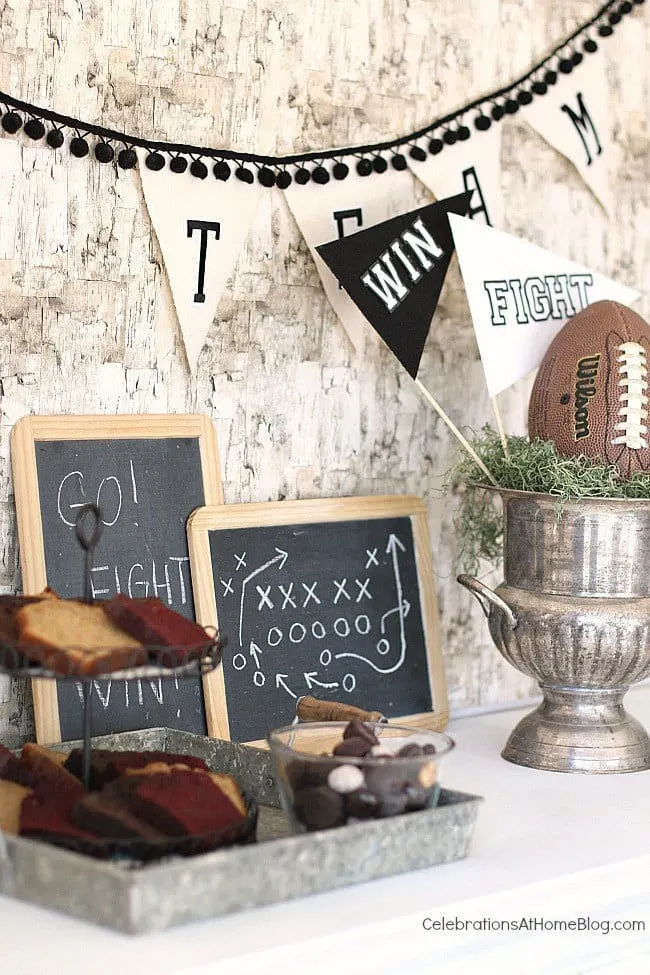 When it comes to game day entertaining, keep things festive, simple & cheap!
Balancing Home provides you with great tips and fun printables for your entire at-home-arena. Customizable bottle labels, paper bag serving bowls for easy cleanup, football pennant cupcake toppers, and chalkboard playbook decoration.
These printables will have you decorating your football parties with ease!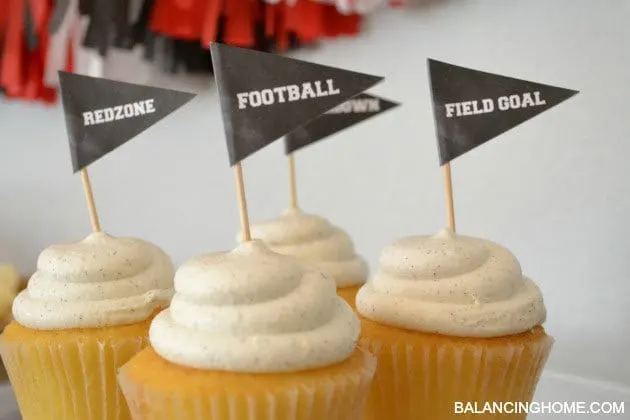 ---
Be sure to join us next month when we'll be sharing our favorite VALENTINE'S DAY food and decorating.
Don't forget to pin this post so you can use all of the ideas for game party success!

SaveSave
SaveSaveSaveSave