I had so much fun making my foxy gift guide, that I've decided to make another.  Today's gift guide is all about the feather – symbol of freedom, inspiration, and hope.  Here are some of my favorite feathery gifts for her, and all under $30.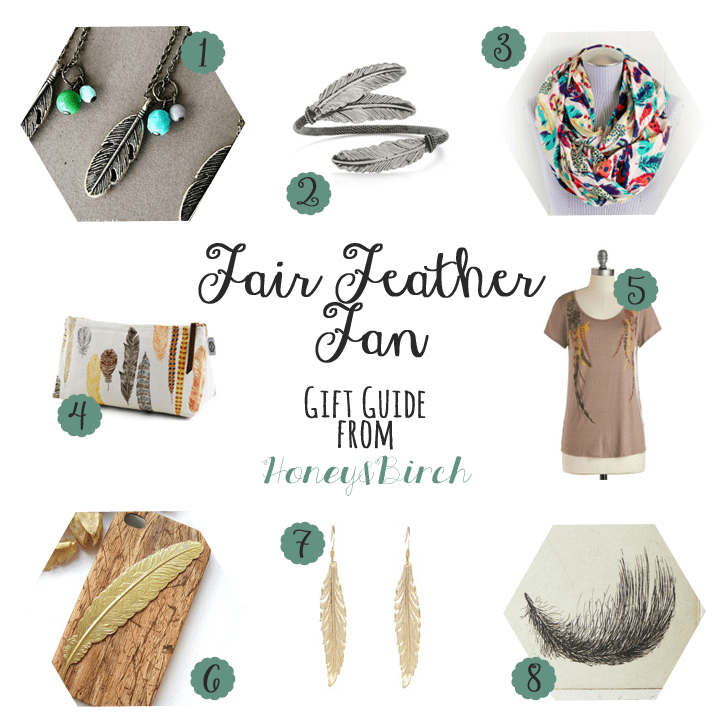 This post contains some affiliate links for your convenience. Click here to read my full disclosure policy.
1. feather necklace from wifeysinger on Etsy (no longer available)
2. plume for growth bracelet from ModCloth (no longer available)
3. feather print infinity scarf from VintageDutchGirl on Etsy (sold but she has some other awesome scarves)
4. travel together toiletries bag from ModCloth (no longer available – here is a fun sub from Amazon)
5. studio time top from ModCloth
6. gold big feather wood pattern iphone 5 case from zazastory on Etsy (no longer available)
7. kirra tate gold feather earrings from Layla Grace (no longer available)
8. original etching of a feather from atelier28 on Etsy
I hope that you have enjoyed these feather-inspired items.  And until the next gift guide comes out, happy shopping.
xoxo,
JennyB
Join the newsletter!
Subscribe to get our latest content by email.