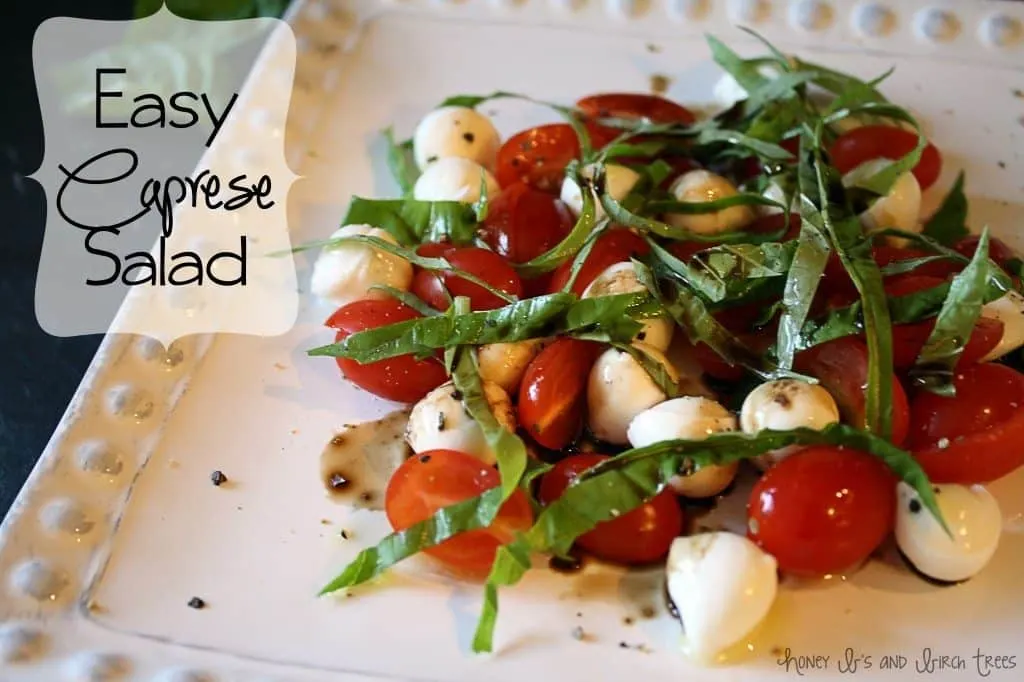 Do you ever want to make yourself something to eat, have it be tasty, and NOT measure out all of your ingredients? That's how I felt when I decided to make this. When I started cooking I added ingredients by taste (except when I was participating in the science of baking). Once I started this blog however, I had to start keeping tracking of each pinch of pepper and dash of salt (among other things) and write them all down.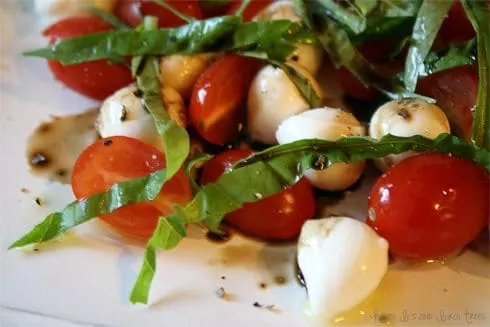 Today I just didn't feel like measuring. And because this recipe is by nature so simple, you can easily do just that. If you're making this for a lot of people just keep adding more of each ingredient and you can make it taste perfect by adding just a little of the seasonings at a time.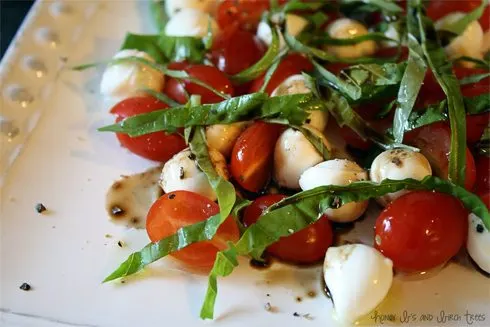 Easy Caprese Salad
There is something to be said for easy recipes. This recipe is as simple as arranging all of the ingredients on a plate. The key to its success is really in the presentation.
Pick a pretty plate for starters. The base of a simple salad can be the difference between success and failure.
Next it is important that the cherry tomatoes, fresh mozzarella and basil leaves are used in an equal proportion. This helps to balance the appearance. Do you know what the difference between super models and regular people is? Proportionate facial features.
Proportionate salads are pretty salads, at least when it comes to this easy caprese salad.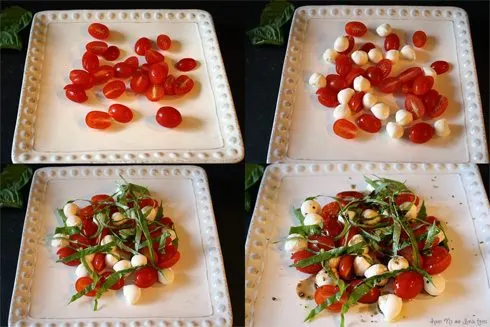 After you have meticulously fixed the appearance of your salad (no, but seriously, don't go crazy making it even,) drizzle the balsamic vinegar, olive oil, salt and pepper. Do it sparingly but also high in the air. I don't know why this works but it does.
Taste a bit and add more seasoning if necessary. This is one of my favorite snacks and perfect for this time of year when large amounts of basil and tomatoes can be found in most gardens, ripe and ready to be eaten.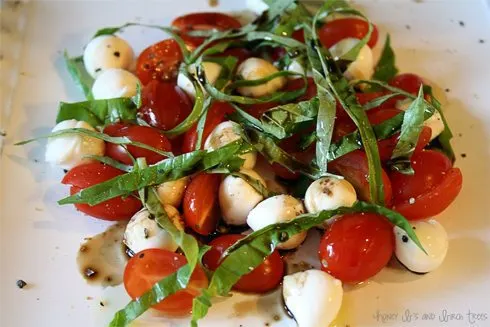 I hope you enjoy this as much as I do (and did, every night until all my fresh ingredients were gone.)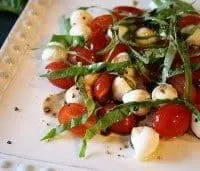 Easy Caprese Salad
Ingredients
cherry tomatoes
fresh mozzarella (either Bocconcini or Ciliegine)
fresh basil leaves
balsamic vinegar
olive oil
salt
pepper
Instructions
Arrange the cherry tomatoes, fresh mozzarella and basil leaves on a plate in equal amounts. Conservatively, dash balsamic vinegar, olive oil, salt and pepper on the plate.
If you are looking for more easy recipes check out these:
Easy Black Bean Breakfast Burrito
Easy Slow Cooker BBQ Pulled Chicken Sandwiches
Easy Stuffed Mushroom Appetizer
SaveSave