This is a review of Home Chef – a fresh ingredient and recipe delivery service.  I was provided with 3 free meals to review. Home Chef was previously called Relished.

This post contains affiliate links.
Just before Mr. B and I went on our mini-trip to Vegas, we received this box of goodies from Home Chef.  It was perfect timing – we were trying to eat all of the food in our fridge before we left and I received three meals for 2 people (delivered by FedEx).  Score for not having to go grocery shopping!
Underneath our meal's recipes were three labeled paper bags (full of each individual meal's ingredients) and underneath them was the chilly protein (crab, chicken, pork.)  Perfectly packed and refrigerated!  I love how easy Home Chef was making everything for me.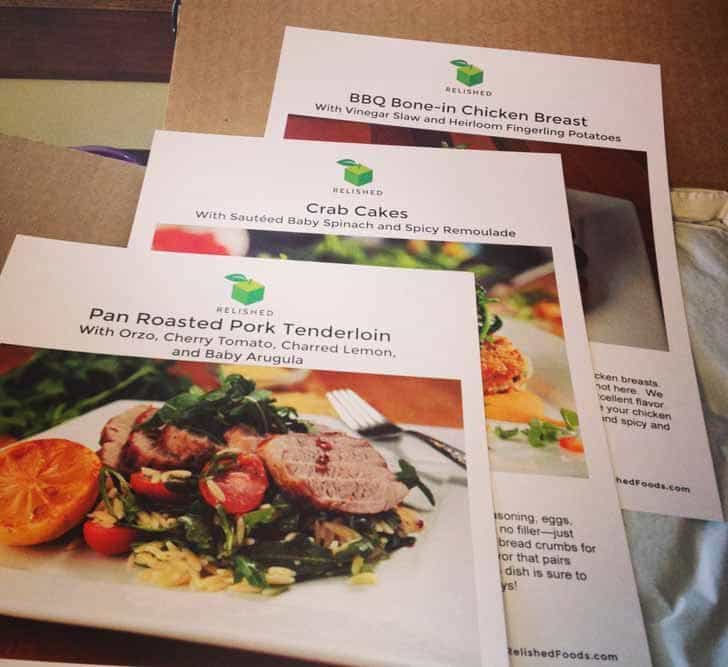 Our box of food from Relished.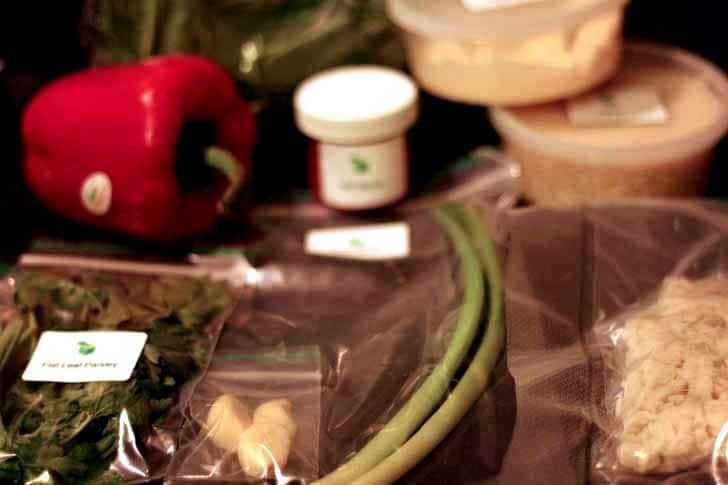 In each bag, the ingredients are labeled for easy finding – all you have to do is chop them up.
The first person that Home Chef is good for: people with small pantries and spice racks.   And that's because they literally give you everything you need if you follow the recipe exactly.  All you may need is a little olive oil, salt and pepper.  I have a big pantry and lots of spices, but I know a lot of people who just have their go-to spices.  I even know one person who only has salt and pepper.
Second person that Home Chef is good for: people who like to personalize recipes and home-chef extraordinaires.  Each Home Chef recipe gives you room to improvise.  Put a little more mustard, put a little less. Put a little less diced red pepper, or more.  I followed the recipes pretty much to the letter, but when I order from them again I will take a few more liberties.
The third person that Home Chef is good for: people that like tasty food and like to make it themselves.  I felt so satisfied making each meal – not just because I was doing the cooking but because it was delicious.  I ordered once from a different (not to be named) meal service many years ago, and the meals were precooked and I had to microwave them before eating.  I'm not going to go into details but if you have ever ordered from a similar service you can guess whether I was happy or not.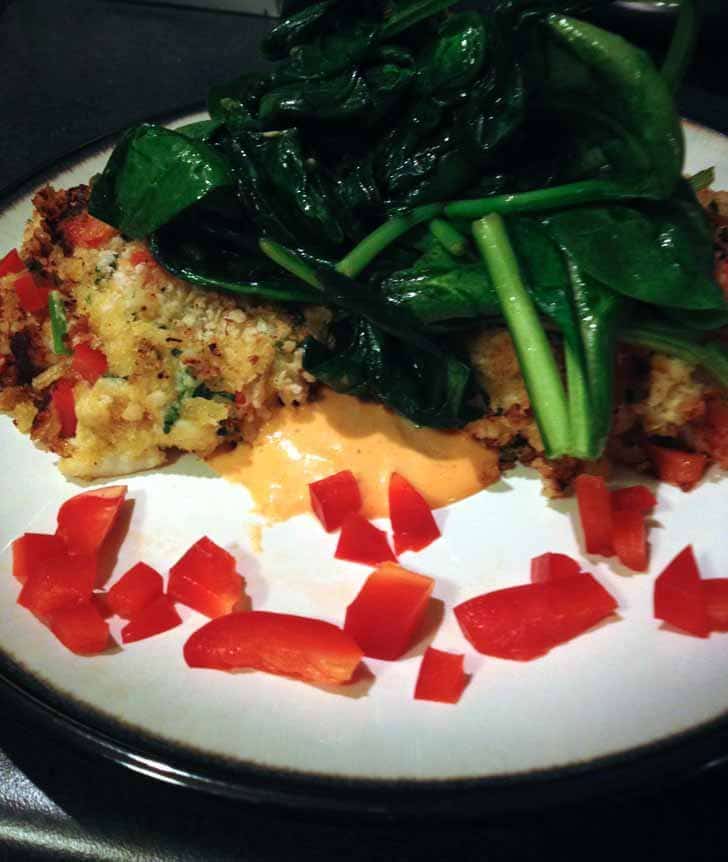 Crab cakes with sautéed baby spinach and spicy remoulade.
Home Chef was a totally different experience.  Seriously.  I loved each of the three meals and so did Mr. B.  I even ate pork for the first time in YEARS because it looked so darn good.  And it was good.  The ingredients are so fresh!! (I'm really loving the double exclamation point lately!!)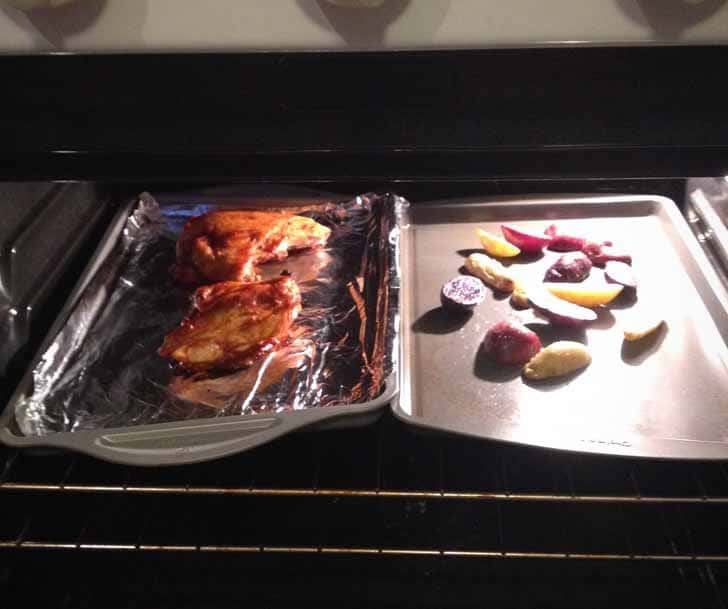 Roasting the chicken and potatoes.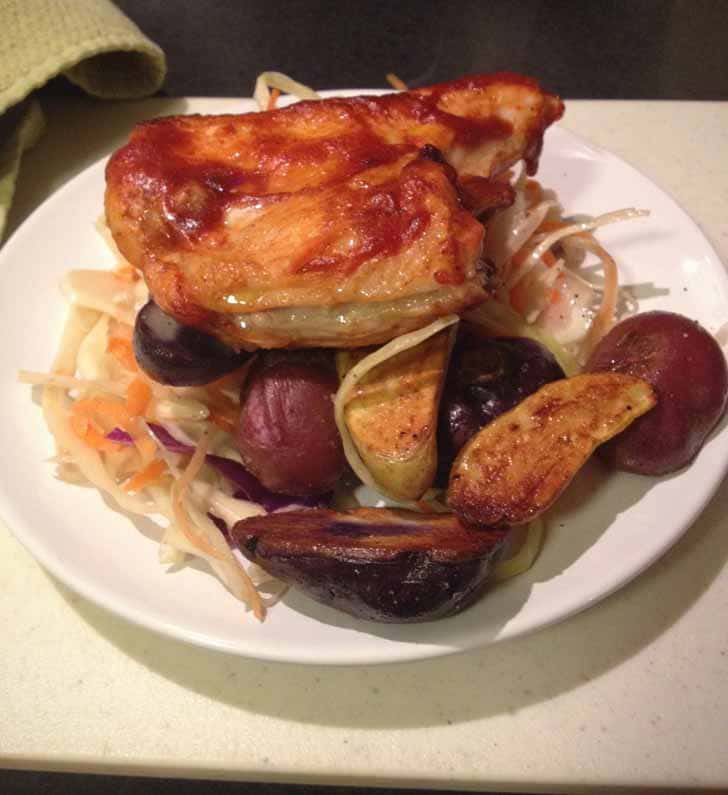 BBQ Bone-in Chicken Breast with Vinegar Slaw and Heirloom Fingerling Potatoes
Now that I've got you all hungry, lets talk some details.  Home Chef deliveries are currently available to about half the US.  To find out for sure if Home Chef can deliver to you, check on their website and enter your zip code during checkout to confirm availability. And if you order before March 31st, use the promotional code 'Honey&Birch' to receive 50% off your first order.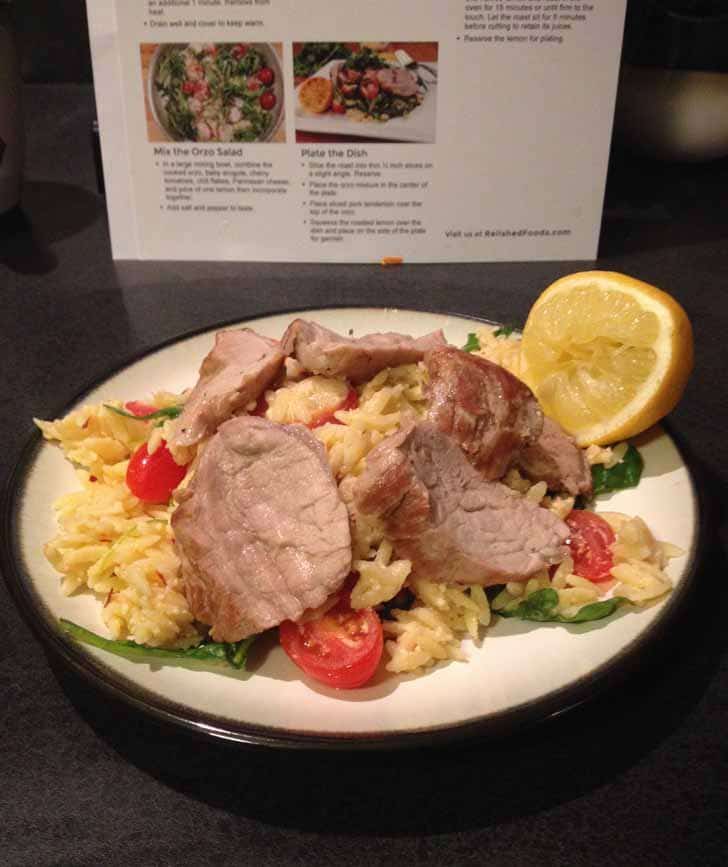 Pan Roasted Pork Tenderloin with Orzo, Cherry Tomato, Charred Lemon and Baby Arugula

I hope you guys decide to order from Home Chef – check them out all over social media for pictures of their food so you can get more hungry. 🙂
This is a review of Relished (now called Home Chef) – a fresh ingredient and recipe delivery service.  I was provided with food but was not compensated for my review.
SaveSave
Join the newsletter!
Subscribe to get our latest content by email.