Duck, duck….. Duck! No goose here.  Today I will be making my way 2 1/2 hours east to the Maple Leaf Farms in Indiana for Duck University for Food Bloggers.  To say I am excited is an understatement.  This will be my first blogger event and I am looking forward to so many things – networking with other food bloggers and learning about duck preparation for starters!
The very first time I ate duck was on a girls-trip vacation to the Bahamas.  You know how at all-inclusive resorts you usually get to make reservations at the 1 or 2 fancy restaurants that are on the hotel grounds? Well, one of the nights we had reservations I decided to go out on a whim and order duck for the first time.  Who knows what possessed me to do that on my vacation (maybe it's because I knew I could always eat at the buffet after if I didn't like it…) but it worked out for the best.  I loved it and have enjoyed duck dishes several times since.
One of the bad things about being a self-taught cook is that you don't always know how to cook certain meats, vegetables or dishes.  Duck is on that list for me – I haven't cooked it myself, just eaten it at restaurants.  I am especially excited about the different cooking presentations I will be attending and all the amazing things I am going to learn from Sara Moulten.
Oh, did I forget to mention that?  Yeah, Sara Moulten will be there with our small group of food bloggers and I am beyond excited!!! !!! !!!  I can only imagine what I am going to learn from her!
If you want to see pictures and get up-to the minute updates about my trip, follow me on Twitter or Instagram, where I will update when I can.  You can also follow the hashtag #BloggerDuckU if you want to see posts from all of the food bloggers in attendance.
Next week, I will dedicate a whole post to a recap of my 2 days at Maple Leaf Farms.  And who knows, maybe a duck recipe or two will pop up on here in the next few weeks too. When I was looking for the recipes for this duck recipe round-up, I noticed that most of the duck recipes out there are from the big recipe sites.  It's time to change that smaller food bloggers (I include myself in the small category!).
In the meantime, I will be back to posting new recipes when I get back.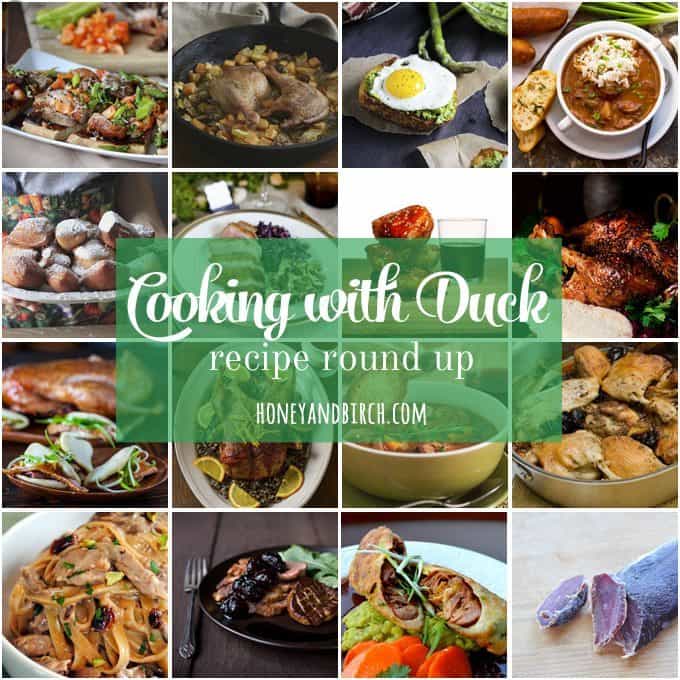 pictured from top to bottom, left to right
1. Duck Pizza with Hoisin and Scallions – Obsessive Cooking Disorder
2. Crispy Duck Legs with Braised Vegetables – All Day I Dream About Food
3. Duck Fat Toasts with Quail Eggs and Asparagus Pesto – Katie at the Kitchen Door
4. Duck & Andouille Gumbo – Lost Recipes Found
5. Duck Fat Beignets – Southern Souffle
6. Seared Duck Breast with Mushrooms, Purple Cabbage and Blueberry Sauce – Art de Fete
7. Root Beer Glazed Duck Breast – Field and Stream
8. Czech Roasted Duck – Spicie Foodie
9. Roasted Duck with Chinese Steamed Buns – Steamy Kitchen
10. Duck a l'orange – The Framed Table
11. Duck and Sweet Potato Gumbo – Southern Boy Dishes
12. Roasted Duck with Prunes – Mom's Dish
13. Tea- Smoked Duck Fettuccine – Foxes Love Lemons
14. Duck Breast with Seared Foie Gras and Balsamic Cherries – Savory Simple
15. Crispy Duck Wrap – The Woks of Life
16. Duck Prosciutto – Georgia Pellegrini
Think about all of the recipes you know that have chicken, beef or pork – any ideas on what I could substitute duck for?  Just wondering…. 🙂
xoxo,
Jenny B
SaveSave
Join the newsletter!
Subscribe to get our latest content by email.