An easy Christmas scrapbook paper tree garland – spruce up your home with this easy Christmas DIY craft tutorial.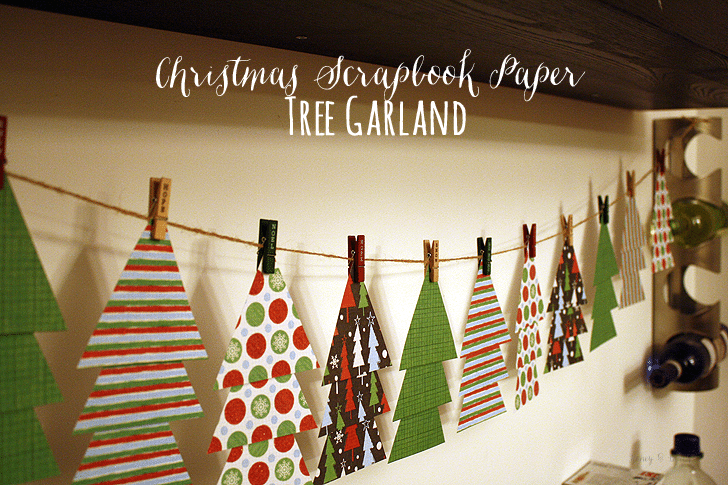 We are almost finished decorating for Christmas!
I have done my Christmas decoration shopping and I think I have finished.  I bought way too much new stuff this year – from craft stores to Target to Homegoods, I've gone overboard.  That's the problem when you decide to work at Michael's for the holiday season. Worst idea ever.
From here on out I'm making the rest of my decorations.  To start, I'm sharing the Christmas scrapbook paper tree garland I made.
Easy Christmas Scrapbook Paper Tree Garland
The best thing about this decoration is that it is easy.  I mean, really easy.  It took about 20 minutes to make while I watched the Sing-Off last night.  I'm a sucker for some acapella (and everyone's game has really stepped up thanks to Pitch Perfect.)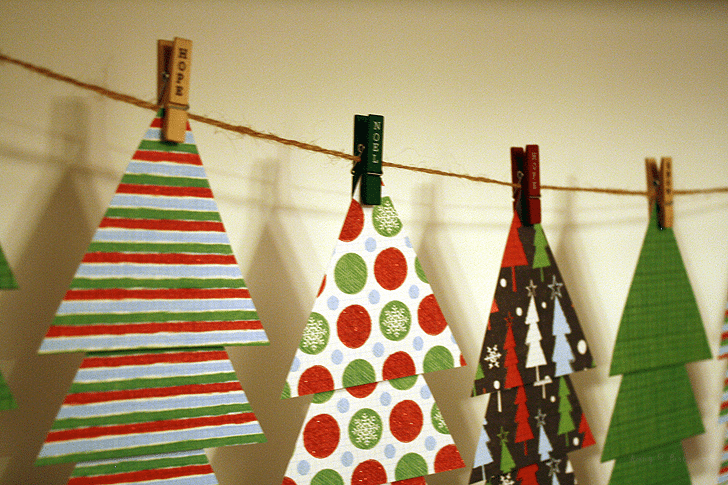 I digress.
If you can't find the same cute clothespins that I found, you can totally make your own.  Keep an eye out at the end of the tutorial for some details on making your clothespins super cute too.
Supplies
This post contains some affiliate links for your convenience.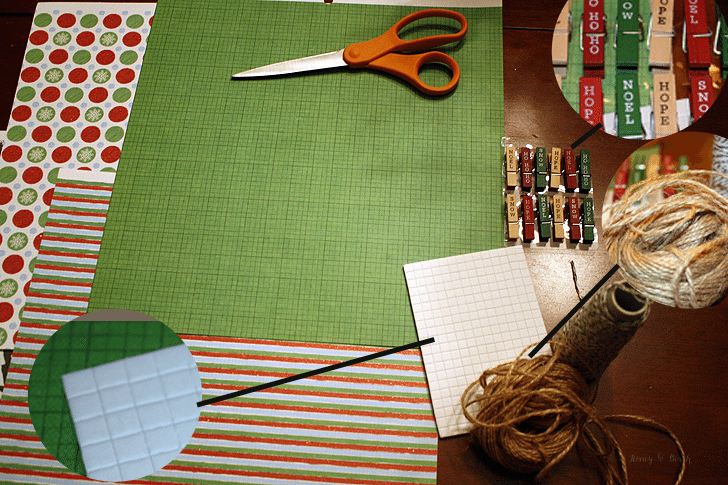 Optional
acrylic paint
paint brush
small alphabet letter stamps
ink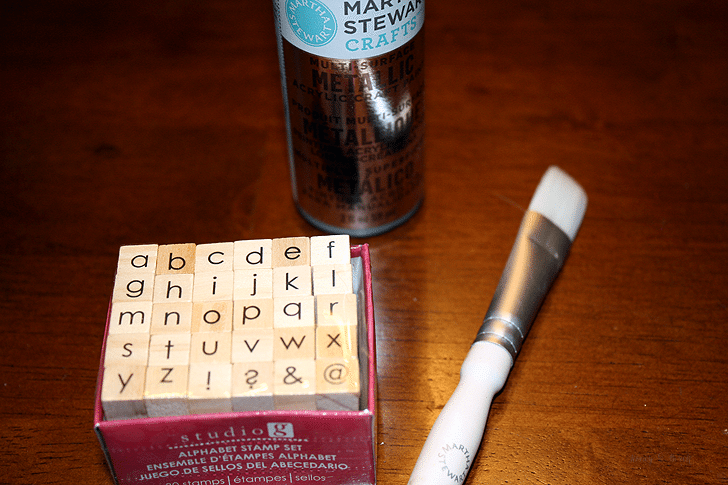 Directions
1.  Cut each piece of scrapbook paper into 12 squares.  I used a paper cutter to cut each page into 3.5″ width strips, and then again into 3.5×3/5″ inch squares.
2. Using my scissors, I then cut each square into a triangle. I kind of eyeballed it, using the corners as my guides.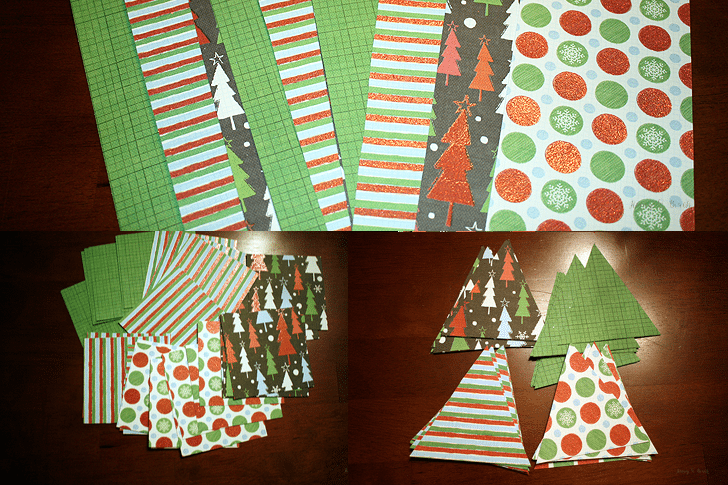 3. Separate the triangles into groups of 3, and put the photo mount squares on the tip of 2 triangles per group.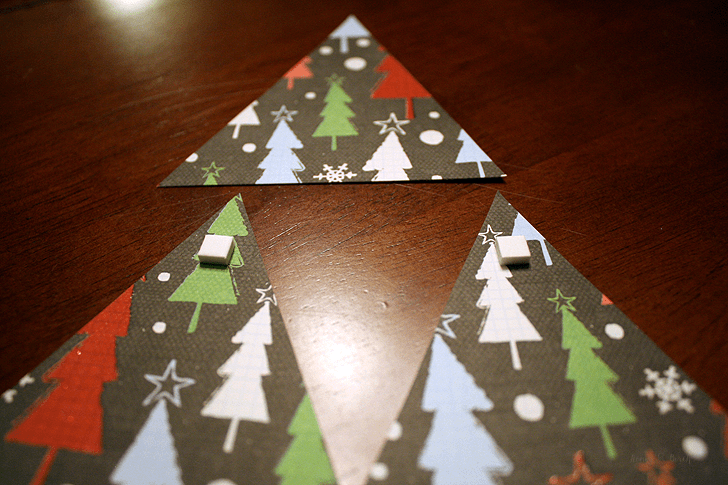 4. Assemble each group of 3 into a tree.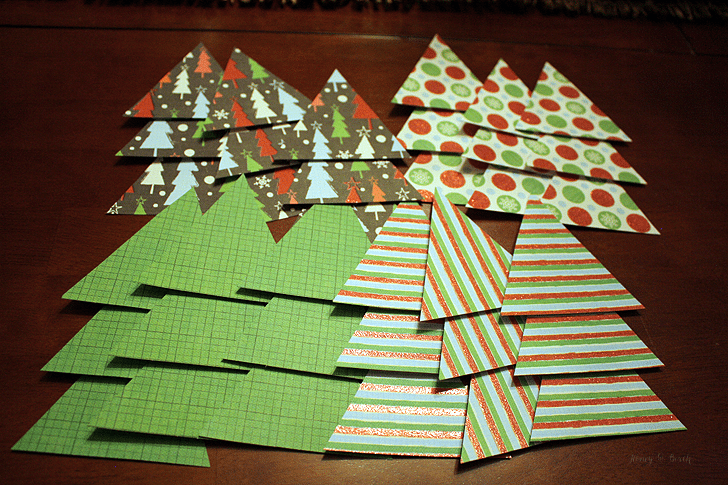 5. Hang your twine – we decided the our bar area needed a little Christmas love so I hung our twine between the wine bottle racks (from Ikea).  Even if we ever refill the racks, there is still plenty of room for our little garland.  Make the twine a little tighter than you'd like the garland to hang because when you hang the trees they are going to make the twine sag.
6. Now you're ready to clip your trees to the twine.  My advice is to clip them all on in a row, and then move them down afterwards so you can space them evenly.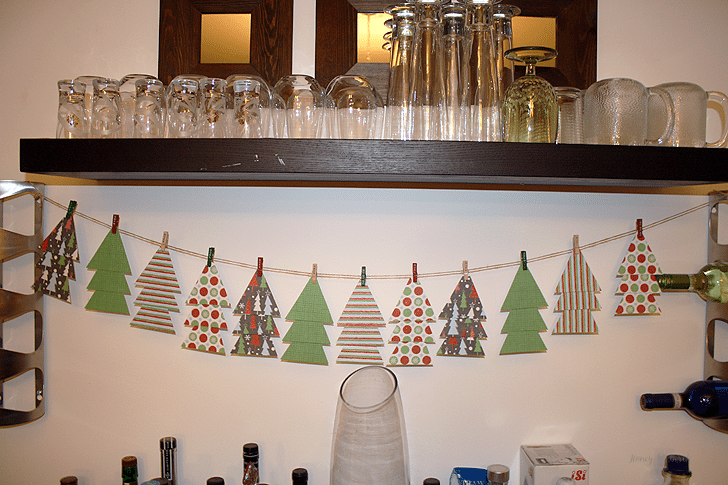 Optional
If you want the Christmas themed clothespins but couldn't find them you can totally make your own.  First, paint all of the tiny clothespins with acrylic paint – I recommend green, red, silver, and/or gold.  Wait for them to dry and then use your alphabet stamps to write out Christmasy words (think: joy, peace, Santa).  This will add more time to my 20 minute estimate, fyi.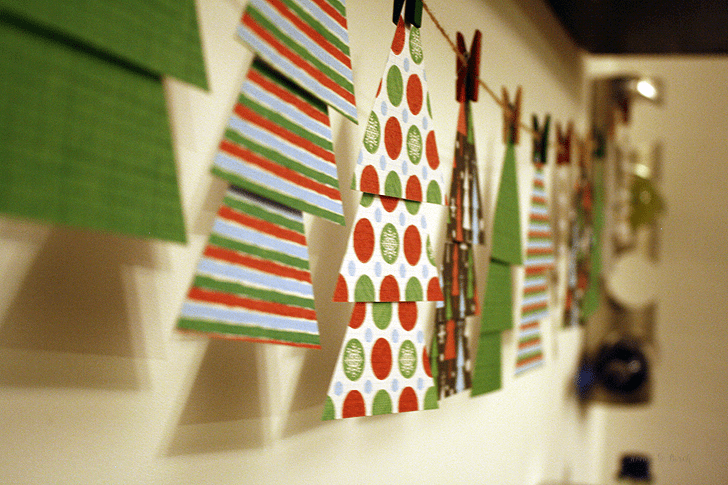 I hope you enjoyed my easy Christmas crafty DIY.  I can't wait to share some more of my handmade decorations with you over the next two weeks, and some pictures next week of all of my decorations, store-bought and handmade.
xoxo,
Jenny B
Follow me on social media!
Pinterest | Instagram | Facebook | Twitter
SaveSave
Join the newsletter!
Subscribe to get our latest content by email.