There's nothing better than morning's with a great cup of coffee and a blueberry chocolate scone. Make yourself a cafe latte with the Miele CM6 and a big batch of these scones!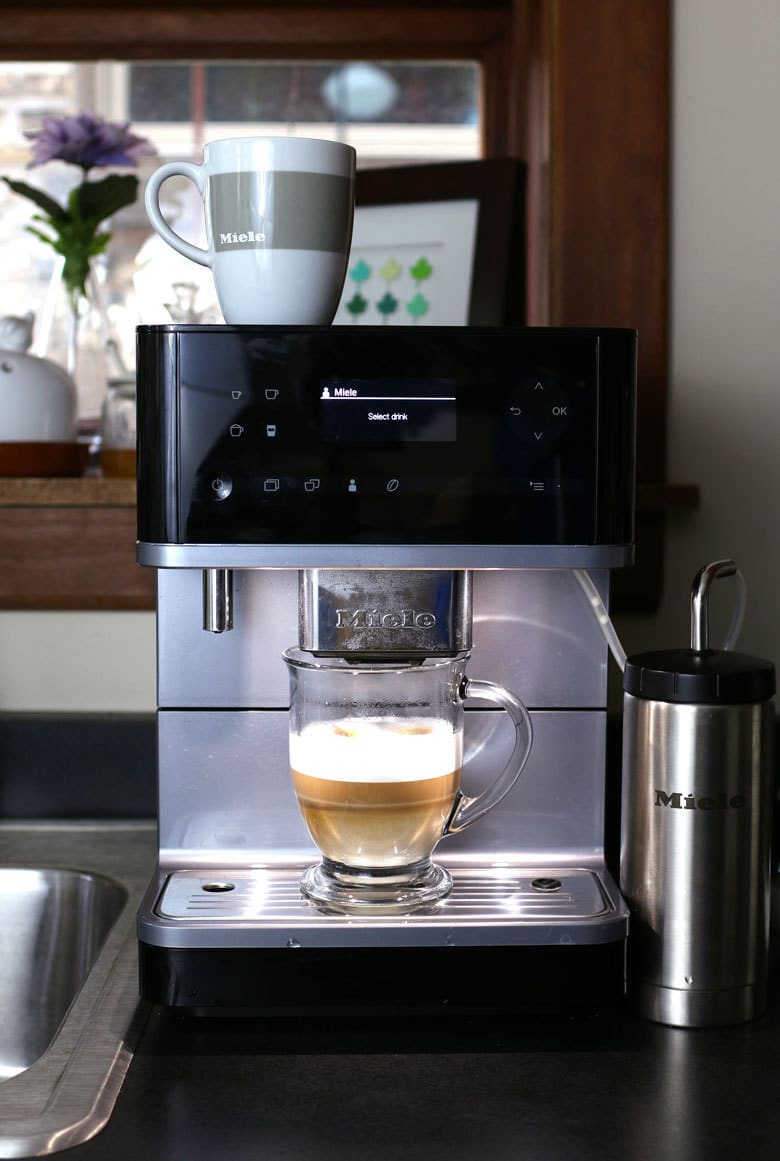 I took a moratorium on vanilla lattes a few years ago. It literally was years before I had one again on my trip to New York City with Miele.
One sip of that latte had me begging for more. Then Miele offered to send me one of their CM6 fully automated espresso machines and the rest is history.
Lattes for days.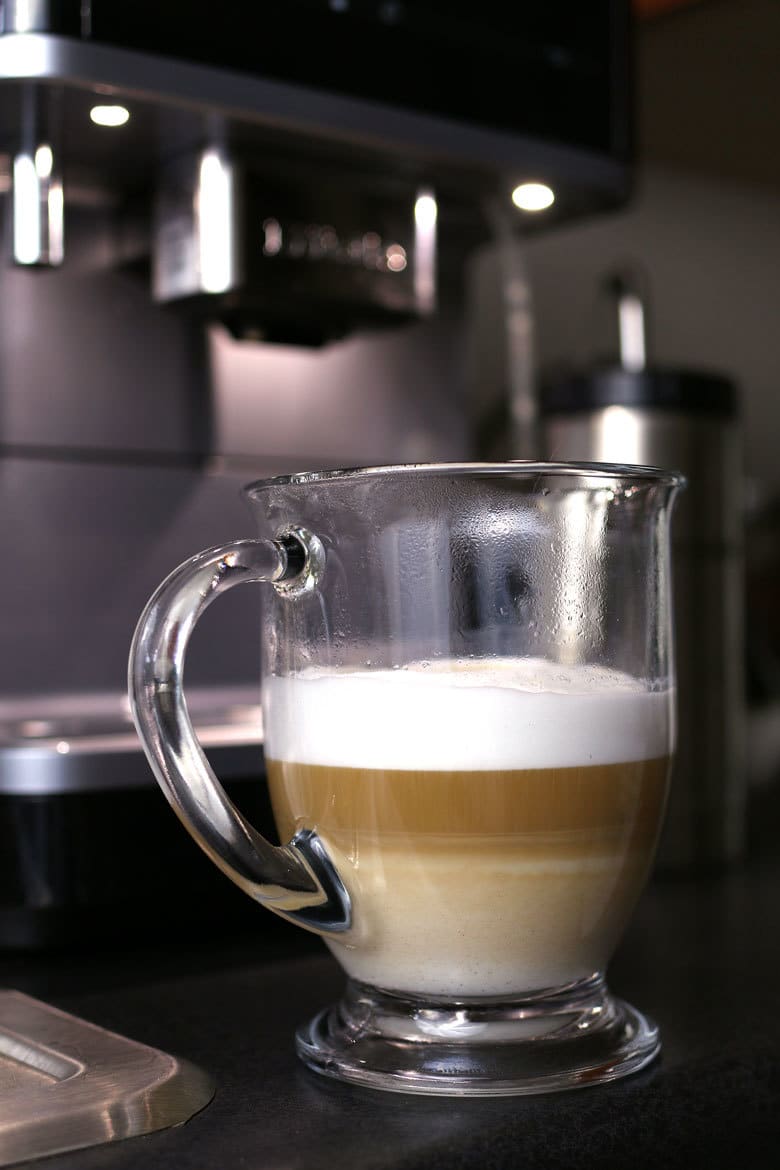 Miele CM6 Review
I also took a moratorium on product reviews but this espresso machine is so amazing that I had to make an exception. I loved every Miele product in their showroom but this particular product called to me for a few reasons.
One, I live in an apartment and I didn't want to replace any of the furnished appliances. I can take this espresso machine wherever I go. (Miele has an espresso machine that is built in too for anyone who owns their home.)
Two, it creates an amazing cup of coffee. My husband and I have both agreed that it makes the best coffee we have ever had.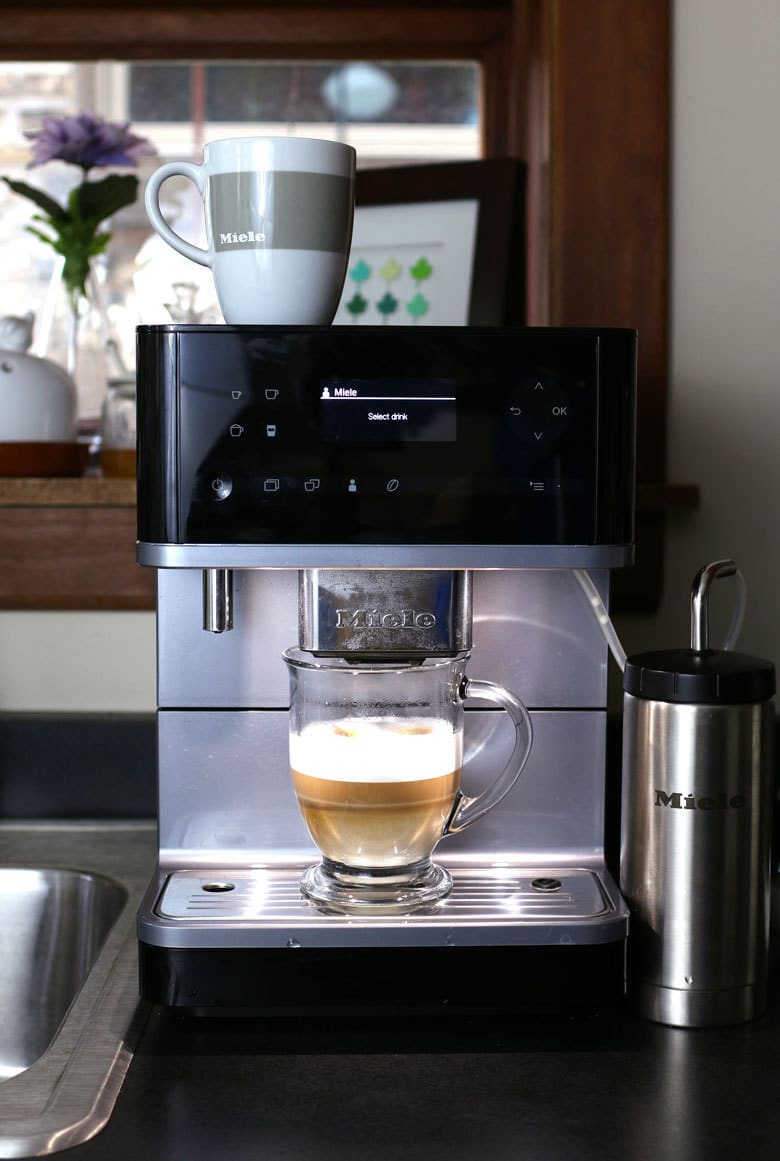 I was sold back in New York but to give an honest review, I have been using the Miele CM6 (affiliate link) for awhile so I could tell you all of the great things it's got going for it.
You can use both whole coffee beans and ground coffee. That's a plus in my household because my husband and I love french roast but our family doesn't. Beans for us, ground coffee for them.
It makes espresso, coffee, a variety of different coffee drinks and you can change all of the settings to add a little extra water. Or a little more coffee. Or whatever you want; it's that cool.
Also, you can save your settings so if you like your espresso one way and your spouse likes theirs another way, you can save both. Just touch a couple of buttons and you have your perfect cup of coffee.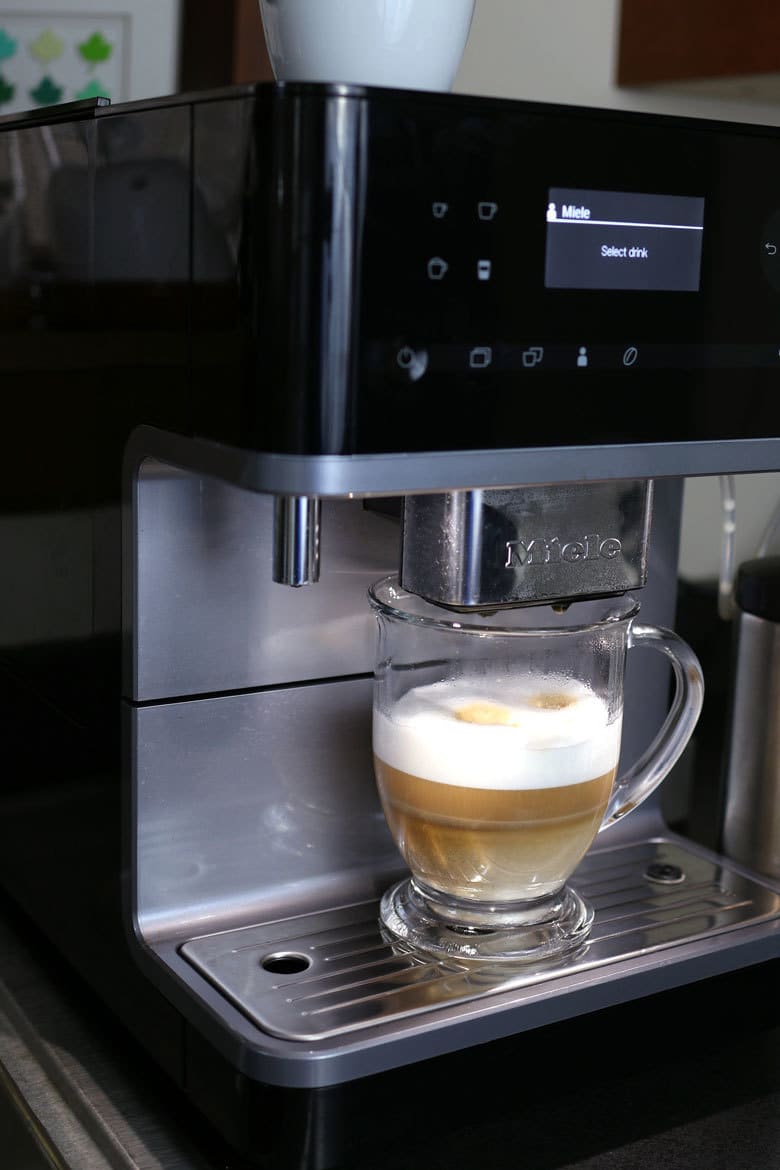 For those that like drinks with milk, it has an attachable milk container. I used to work in a coffee shop and frothing milk for lattes was a pain. Now, with the Miele CM6, its literally as easy as touching a button.
I teach cooking lessons to my 11-year old neighbor and she always asks me to steam and froth some milk for her. She waits and watches the froth come out.
And, when it comes time to clean the machine, it lets you know. Whether it's descaling, cleaning the milk tube, or cleaning the whole machine – the machine tells you on it's display. THE MACHINE TELLS YOU.
So, the next time you are looking to add an espresso machine to your kitchen appliances, get the Miele CM6. Come over to my house and sample some of it's coffee and you'll be sold too.
Grab a latte and then make yourself some some of these blueberry chocolate scones. A good cup of coffee and a great scone make me a happy girl in the morning.
Blueberry Chocolate Scones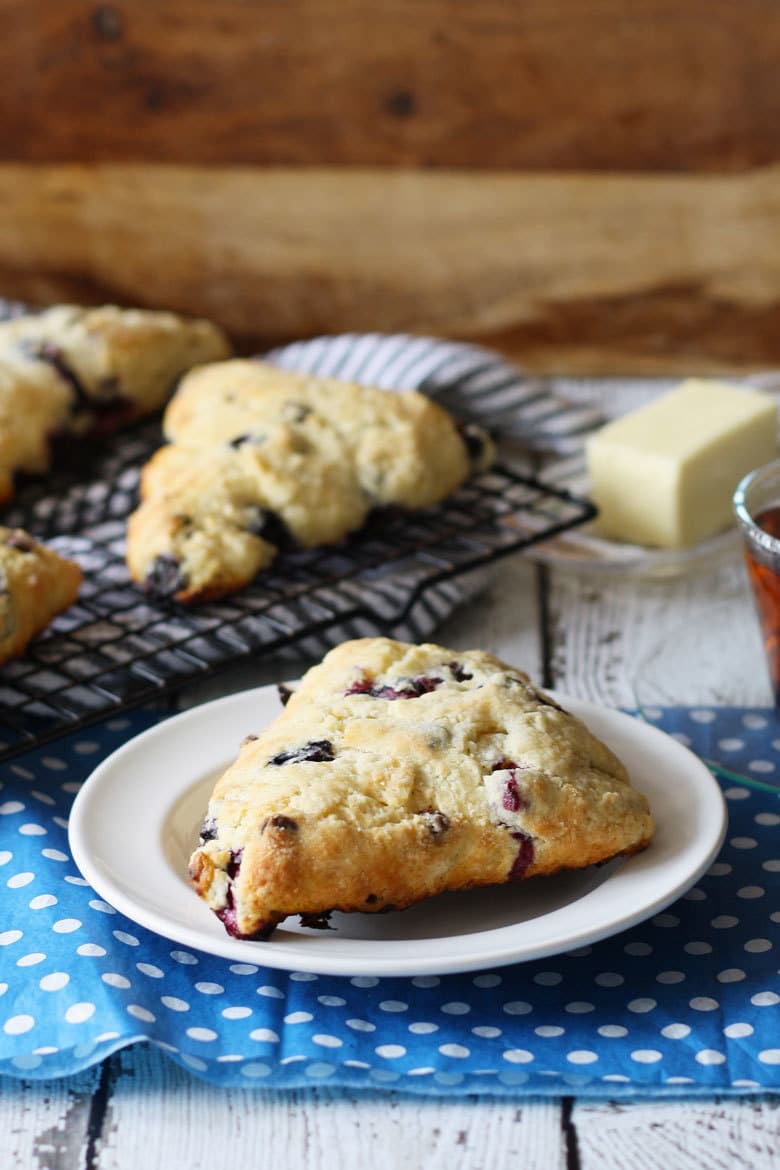 Baking season is finally here and I'm not going to lie, I am very happy.
Turning on the oven and popping in baking sheets and pans and casserole dishes always ends with something good.
Whether it be cookies or cakes, dinner or dessert, it is always a good thing.
In autumn and winter, I love to curl up with a great cup of coffee and a scone, fresh out of the oven. This scone recipe can be made with either milk chocolate or semi-sweet chocolate chips – perfect if you like your baked goods a little sweeter.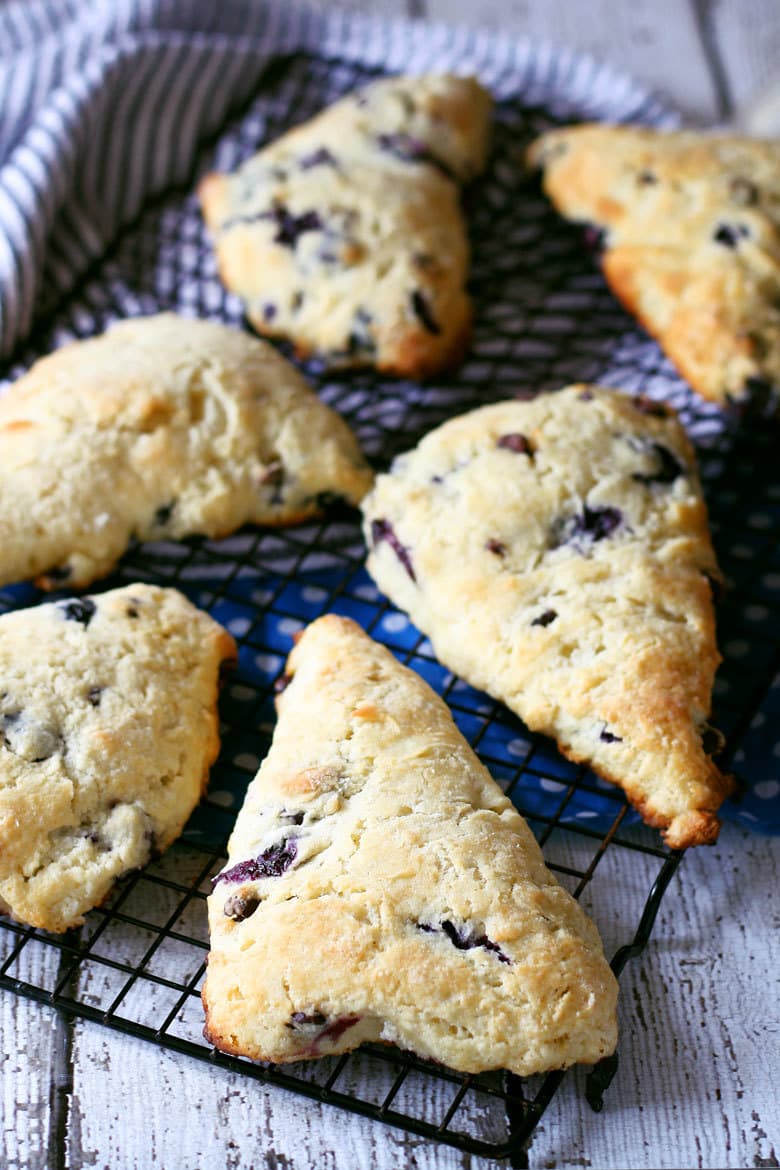 Scone Making Tips
If you have never made scones before, they can be a little intimidating but I have a few tips for you.
Normally when I bake, I use butter and eggs at room temperature. For scones, however, they need to be cold.
When mixing your batter, its important not to over mix because you want your ingredients to go in the oven cold.
It's important to well-flour not only the surface you will be forming the dough, but also your hands and your knife. The flour will prevent the dough from sticking to everything.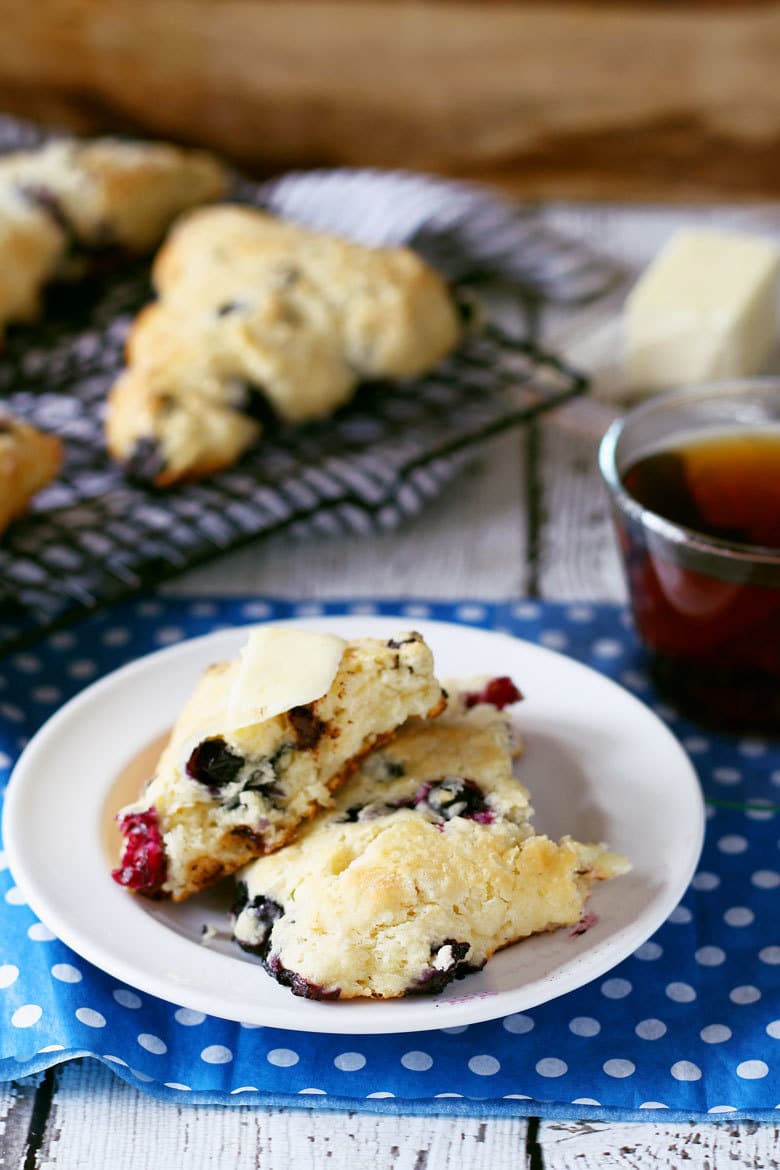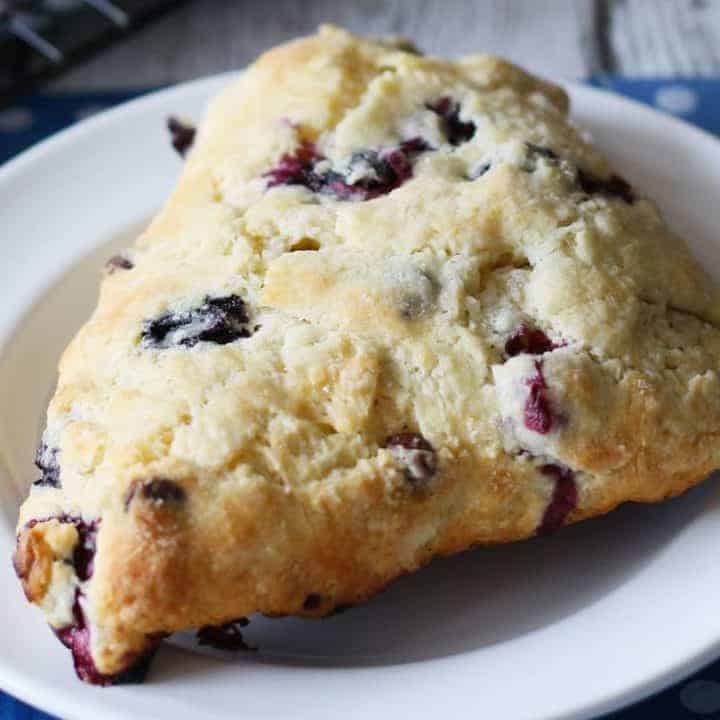 Blueberry Chocolate Scones
Yield: Makes 8 large scones or 16 medium scones

Prep Time: 10 minutes

Cook Time: 18 minutes

Total Time: 28 minutes

There's nothing better than morning's with a great cup of coffee and a blueberry chocolate scone. Make yourself a cafe latte with the Miele CM6 and a big batch of these scones!
Ingredients
3 cups all-purpose flour
1/2 cup granulated white sugar
1 tablespoon baking powder
1/2 teaspoon kosher salt
3/4 cup cold, unsalted butter
3/4 cup blueberries
1/4 cup chocolate chips
1 cold large egg, beaten
1 cup milk
1 teaspoon vanilla extract
Instructions
Pre-heat your oven to 400 degrees Fahrenheit. Line a large baking sheet with parchment paper. Set aside.

In a large bowl, combine the flour, sugar, baking powder and salt with a whisk. Using a pastry blender (or two knives,) add the butter to the dry ingredients. Cut it into the flour until it is pea sized.

Add the berries and chocolate chips with a wooden spoon. The stir in the remaining ingredients with the wooden spoon until the mixture is wet.

Flour your surface, then pour the dough on top of the flour. Flour your hands and pat the dough into a round circle about 1 inch high. If the dough sticks to your hands or the surface, add more flour.

Cut the dough in to 8 triangles for large scones or 16 for medium scones. Pictured are large scones. Place on the prepared baking sheet and put in the oven.

Bake for 16-18 minutes, or until the scone edges begin to brown. Remove from oven and transfer to a cooling rack. Let cool before eating.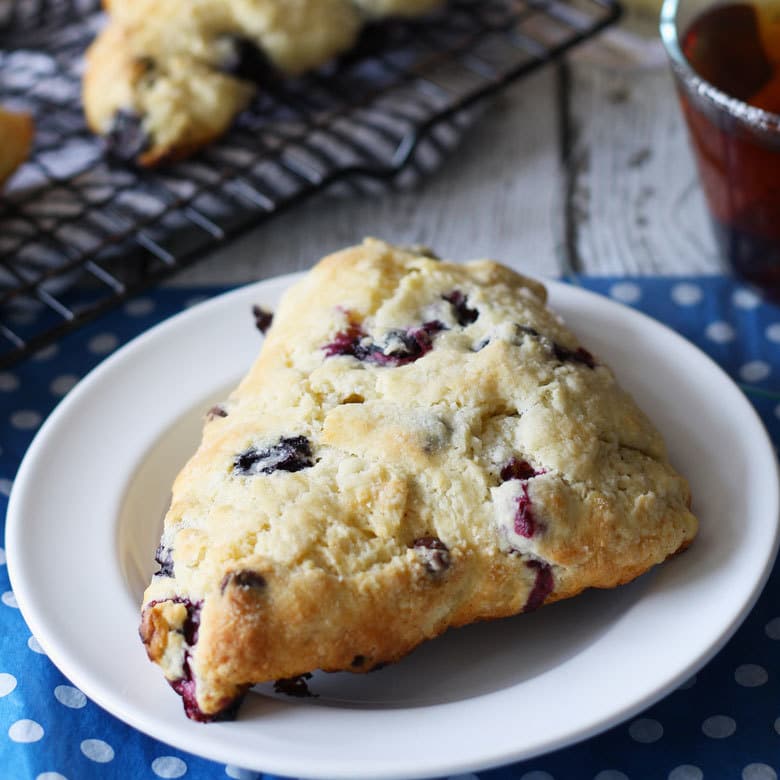 I orginally shared this easy recipe for Blueberry Chocolate Scones over at Craftaholics Anonymous, back in the beginning of 2015.
---
Are you looking for more baked goods to go along with your coffee? Try these!