I recently attended #BloggerDuckU at Maple Leaf Farms – lots of photos and food porn below!  Maple Leaf Farms covered all the costs of my trip – hotel, food, and classes.  I just had to get myself there!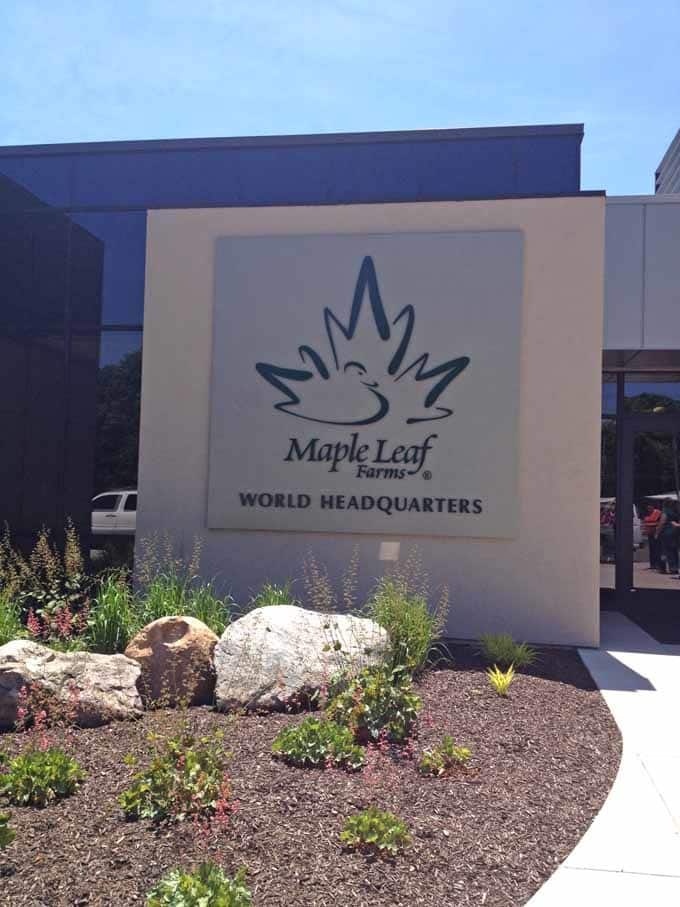 From June 4th to the 6th, I attended Blogger Duck University at Maple Leaf Farms in Leesburg, Indiana.   It was an amazing experience – I learned a lot about the duck farming industry, met some awesome fellow bloggers and foodies, and ate like a king.  Literally (food porn below!).
If you are anything like me, I was quite intimidated with the thought of cooking duck.  It's something you occasionally see hanging in the windows in Chinatown (they are drying the ducks in case you are wondering) or that you eat for a fancy holiday dinner.  Once I saw how easy it is to prepare, I kicked myself a little bit – I could have been cooking duck and sharing duck recipes with you this entire time.  Bah!
Below is a recap of my experience!
The #BloggerDuckU Classroom
Our first full day of class started with a complete tour of the Maple Leaf Farms grounds.  We visited a feed mill, a local duck farm, and then got a behind-the-scenes tour of their facilities.  This was the part I was the most unsure about, and I'm glad I did it.  I am an animal lover and after visiting their facilities, I can happily say I will gladly continue eating Maple Leaf Farms ducks!
Everything was so clean and there are even 2 USDA inspectors in the facilities – to me that just shows how much Maple Leaf Farms truly cares about their products, and us, the consumer.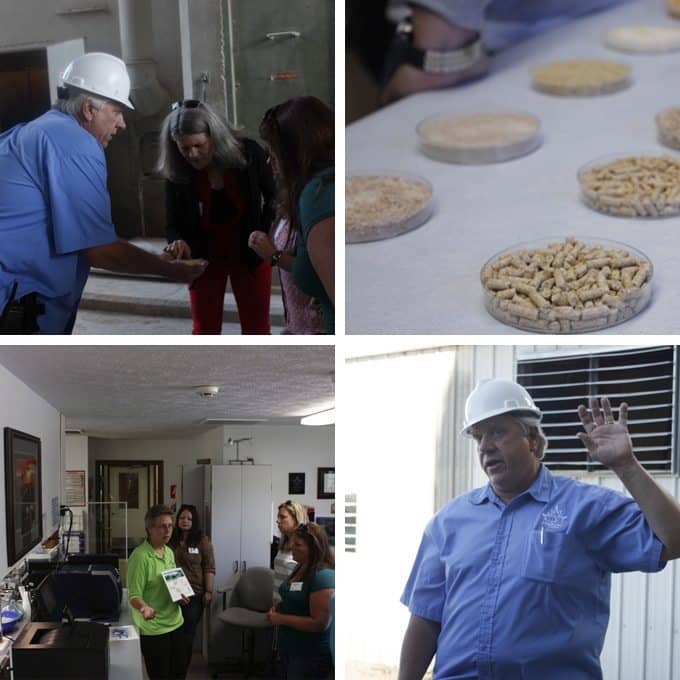 L to R, Top to Bottom: Touring the feed mill, Duck Food, Learning about the water and food management, Keith!
Some of the most important takeaways:
Maple Leaf Farms is all about family values.  They are a fourth-generation family-owned company that is founded on the following principles: contribution to local communities, responsibility for the environment, respect for others, and insistence on high quality.  Even the majority of the duck farms that they source from are run by small families.
Duck is a great protein alternative.  Think of it like beef or pork and not like chicken.  Skinless duck is lower in fat and calories than skinless chicken – a 3 oz. serving of skinless White Pekin duck contains only 2 g of fat, so it is leaner and lower in calories than comparable cuts of beef, pork or chicken.
White Pekin duck has a milder flavor than other breeds of farm-raised duck.  Lucky for us, all Maple Leaf Farm ducks are Pekin ducks. Farm-raised ducks eat a natural diet of corn, soybeans and wheat unlike wild ducks that forage in the wild.
Duck is the other red meat.  A properly prepared duck breast is still pink on the inside much like a medium steak.  By properly cooking duck, you can eliminate up to 70% of the fat, which leaves a delicious, crisp skin.  Duck adapts to a wide variety of dishes and can easily replace beef or poultry in recipes.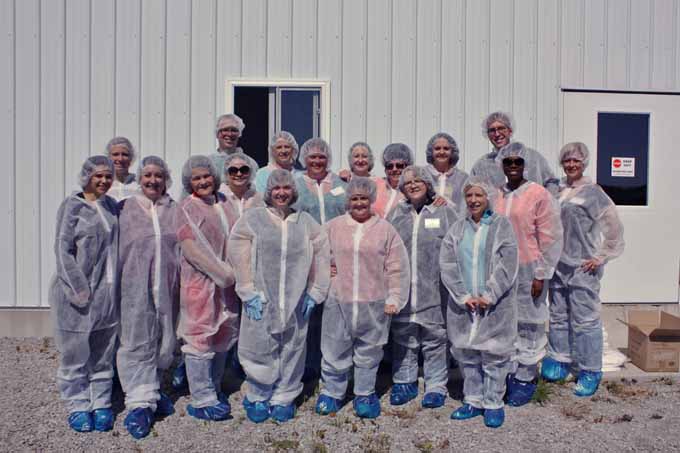 We're all wearing biosecurity suits so we don't get the ducklings sick before we enter the barn!  I'm in the middle!
The Food
What can you buy from Maple Leaf Farms?
Maple Leaf Farms has an online shop and will happily ship you some of their amazing duck products.  You can buy:
Ready to Cook Whole Duck, Boneless Duck Breast, Duck Leg, Ground Duck Sausage, Ground Duck Meat, Duck Bacon, Duck Appetizers, Roast Half Duck, Fully Cooked Duck Products, Duck Fat and more!
Check out their online shop to see the full range of edible duck products.  They also sell down products like pillows and blankets!  You also may be able to find it in stores near you (if you're from the Chicago-land area, shoot me an email and I will give you a list of stores that carry Maple Leaf farms products!)
Blogger Duck University Attendees Eat Like Kings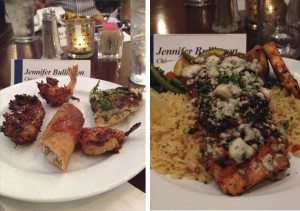 Maple Leaf Farms started our experience off with a bang thanks to a delicious welcome dinner at Noa Noa Wood Gril and Sushi Bar in Warsaw, Indiana.
There was a large selection of delicious appetizers and we had our choice of main courses (I went with Grilled Bacon Blue Salmon served with garlic mashed potatoes and grilled vegetables.  So good!
At the end of the first day, we were treated to a fabulous 5-course duck tasting dinner prepared by Chef Dale Miller and the Maple Leaf Farms house chefs.  Seriously amazing – quite possibly the best meal I have ever had in my entire life.  Maybe it was the magic of the event or just the fact I was surrounded by some really talented people, I enjoyed, and ate, every last bite.  I truly wished I had worn my Thanksgiving pants because I couldn't stop eating.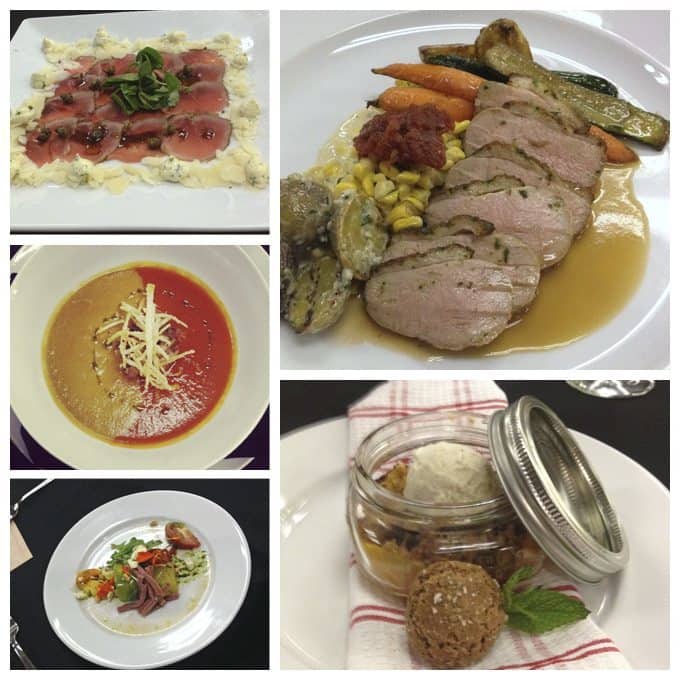 There were a variety of hors d'ouevres featuring Maple Leaf Farms duck – including duck bolognese sauce that was to die for.  Then dinner:
"Not Your Average Cold Duck" – seared duck carpaccio
"Duck and Cover" – roasted eggplant tomato bisque with timbale of duck confit
"When Smoke Gets in Your Duck" – a salad of smoked duck, compressed watermelon, heirloom tomatoes, baby arugula, Gorgonzola, basil pesto and the piece de resistance – a splash of Minus 8 balsamic vinegar
"Ramped Up Duck" – grilled duck breast with ramps, warm Tuscan potato salad, roasted sweet corn crema and seasonal vegetables
"Duck in a Jar" – warm peach and blackberry crisp topped with almond duck bacon streusel and vanilla gelato.  Yummmmmy!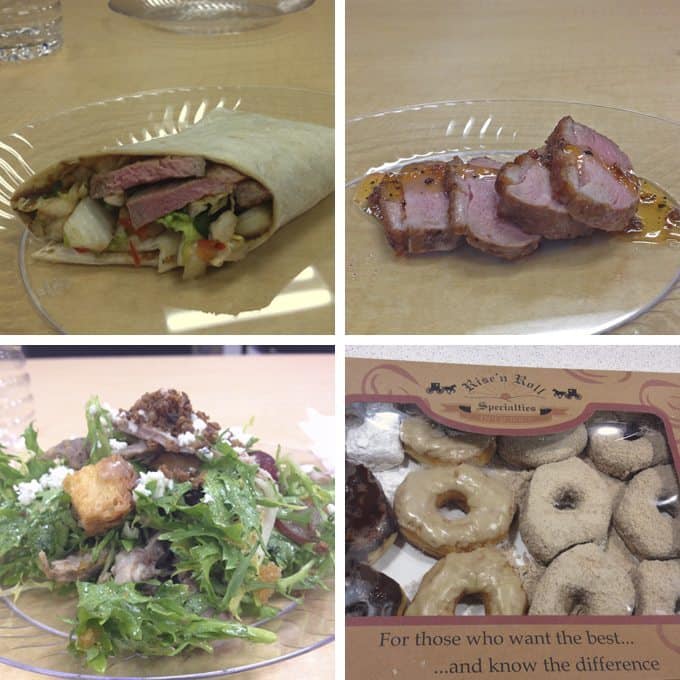 The next day we were treated to a cooking demonstration from the one and only Sara Moulton – PBS and Food Network Chef!  I am pretty hopeful that I will be able to recreate all these dishes.  Not the donuts however – those are from Rise n Roll Bakery and are incredibly addictive.  Chicagoans – they are available at a few of our farmer's markets.  If you see them, buy one.  Er.. buy 2 (one for me, one for you!).
The People
From Sara Moulton and Chef Dale Miller, to my fellow bloggers and foodies, to the Maple Leaf Farms Staff – the people really made the difference.  I am not going to lie – I was slightly terrified to attend.  It's so easy as a blogger to hide behind your computer screen!  But let me tell you – if you get an opportunity to attend an experience such as Blogger Duck University – do it.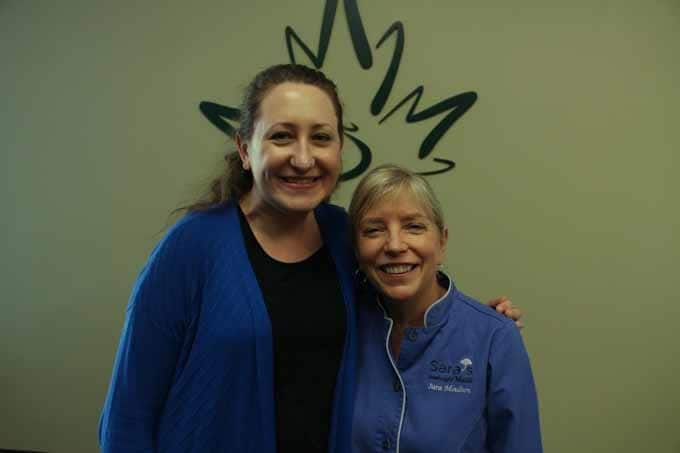 Sara Moulton and I! She is amazing! Many of my fellow bloggers have said she is a badass and they are so right! I'm very proud to say I learned a thing or two from her on my trip.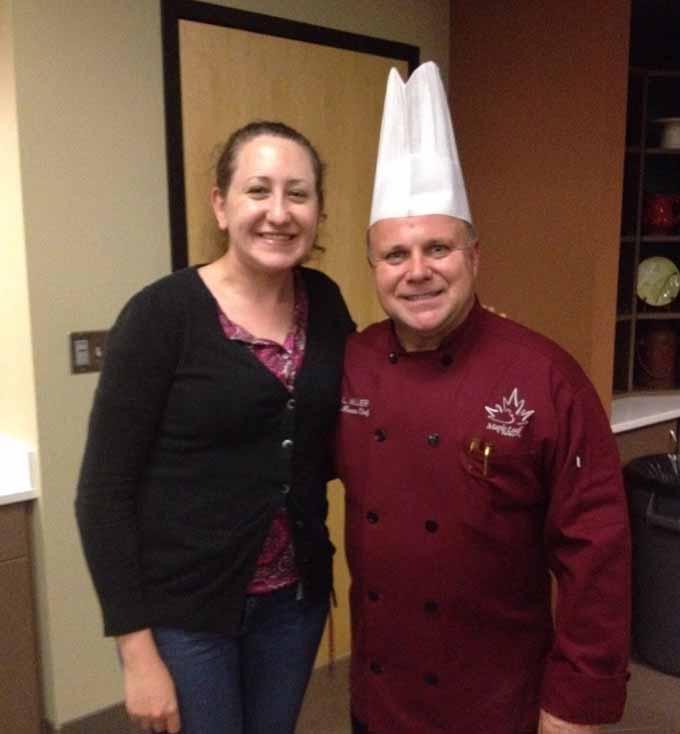 Chef Dale Miller – WOW, can this man cook!  If I can even cook to a 10th of his caliber, I will be a happy cook.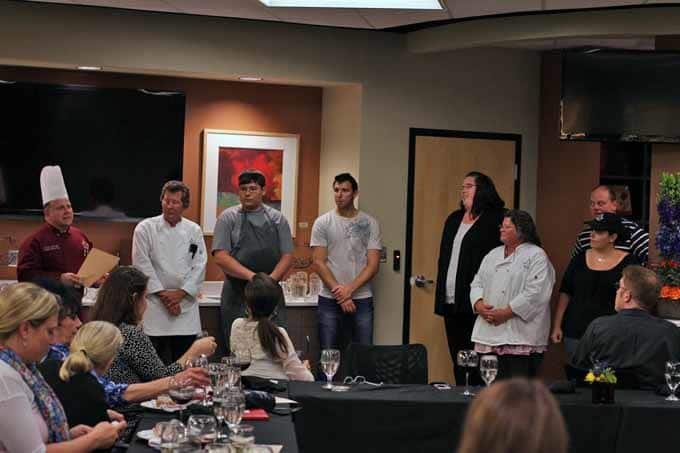 The whole culinary team who prepared our 5 course dinner!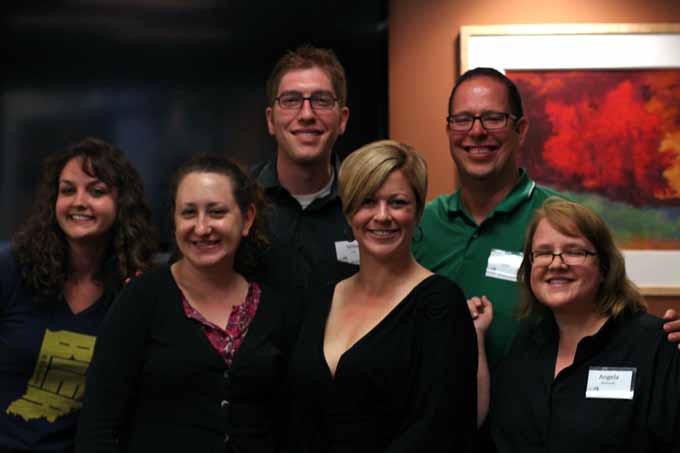 My #BloggerDuckU posse!  These five people really made the trip for me – it was great to meet like-minded souls! Somehow we kept ending up at the same place – at the hotel bar, in the van on the way to the tours, sitting next to each other at dinner.
Check out their blogs and their recaps of Blogger Duck University here:
Angela Buchanan from Boulder – Seasonal and Savory – Recap
Sara Croft from Indianoplis – Solid Gold Eats – Recap
Mike Vrobel from Ohio – Dad Cooks Dinner – Recap
Melissa and Mike Yob from New Jersey – the amazing wife and husband duo behind many awesome cooking videos, (also 2-time winner of the Maple Leaf Farms duck recipe contest!)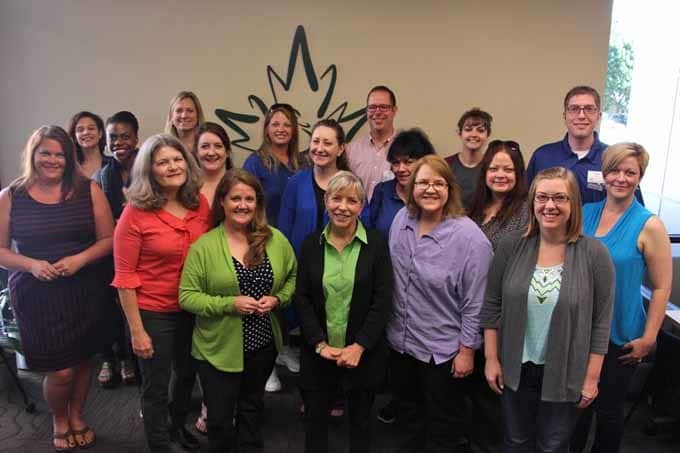 There were so many awesome bloggers and I didn't get a chance to get to know everyone!  I wish I had a little more time to mingle and speak to them all.  If you would like to find out more about their experiences, click here to find all the Twitter hashtag posts for #BloggerDuckU!
Thank you Maple Leaf Farms for everything!  To Terry Tucker (CEO), Beth, Nora, Janelle, Karl and all of the other Maple Leaf Farms employees – what an experience you provided me with and what a business/farm you run! I am forever grateful to you all.  Thank you again!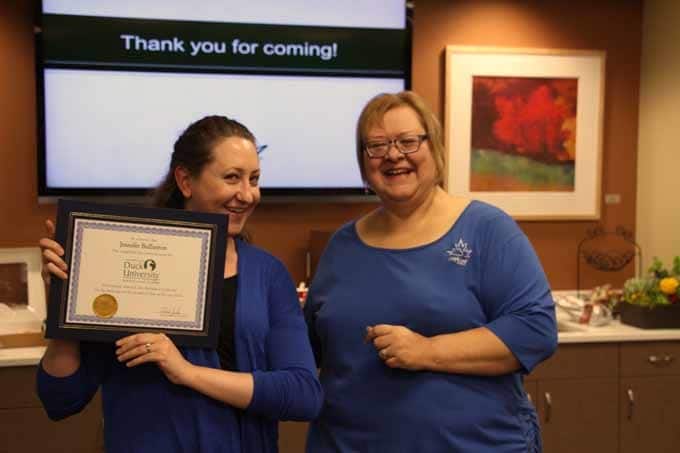 I am now a very happy graduate of Blogger Duck University!  I will be sharing with you some duck recipes in the future, using Maple Leaf Farms duck of course!  And I can't wait!  From simple duck preparation to unique duck recipes, I can't wait to share with you more of what I have learned.
xoxo,
Jenny B
PS – Do you have any favorite duck recipes? Do you want some recipes right now? If you do – check out my round-up of duck recipes here!
SaveSave
Join the newsletter!
Subscribe to get our latest content by email.