Sometimes in the morning, you just need to start the day with an easy black bean breakfast burrito recipe.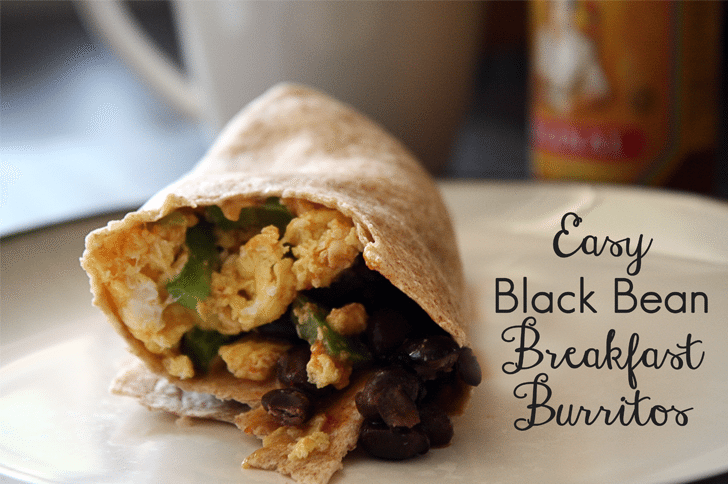 I've said it before, and I'll say it again – I love black beans.  And that's all I'm going to say on the topic today.
My Easy Caprese Salad recipe has been a huge, huge hit on Pinterest, so I thought maybe some more easy recipes might be needed.  I love making things like bechamel sauce, but quick and easy is the best way to start the day.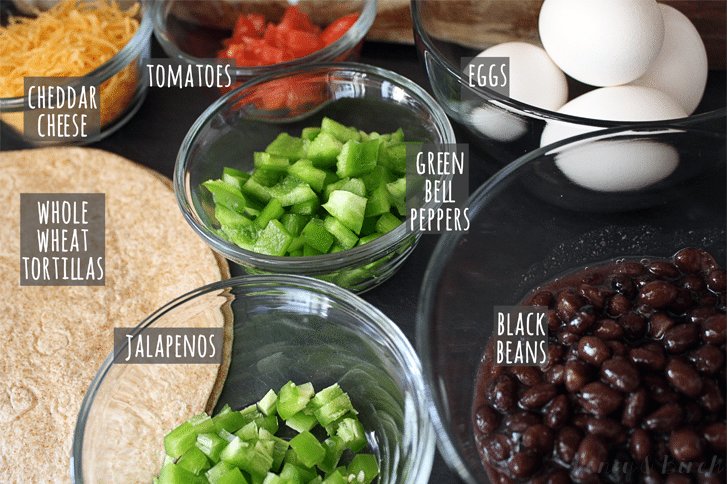 Life is hard, your food doesn't have to be.  Hah, I'm pretty sure I've heard something like that before but I don't know if it was about food.  Probably on a commercial from one of the many shows that I watch.  I am getting better, thanks to this blog and having two jobs.  There just isn't enough time to watch all the shows I like anymore, which is a good thing.
Fall means pumpkins, cooler weather, and wasting my time sitting on the couch to watch the new seasons for many of my favorite shows.
I'm not liking the new fall shows this year. Except for The Blacklist and Marvel's Agents of Shield, I have for the most part cancelled the rest of the new shows on my DVR.  I give a new show two episodes (unless its terrible – does ANYONE like The Goldbergs or The Millers?  Not me.  or Mom or Dads? Delete!) and then if I can't get into it by then, I stop watching it.  I'm still an avid Grey's Anatomy and The Good Wife fan, and I love Castle and The Mentalist.
Enough about TV.  Back to the food. 🙂
Nothing starts your morning better than an easy black bean breakfast burrito.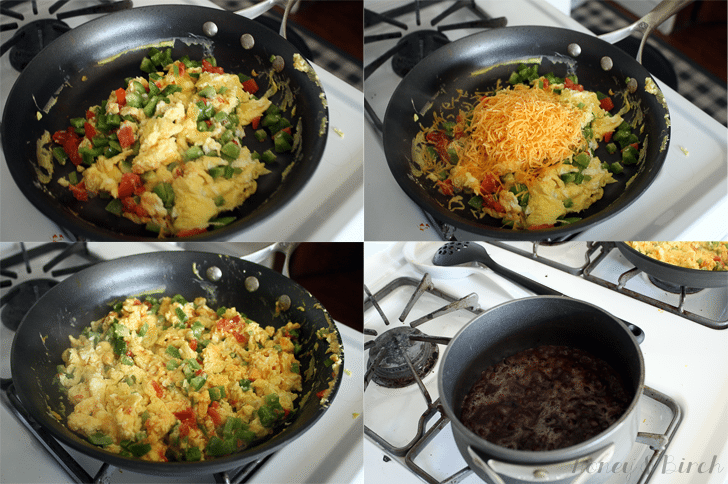 The only difficult thing about this breakfast recipe is making the actual burrito.  The key to making a burrito is putting your burrito insides to the side instead of in the center.  Then pinch the sides and roll.  Otherwise its a perfectly simple recipe to make in the morning before work.
Or, if you're a brinner kind of person (that's breakfast for dinner in case you were wondering,) you can make some before you curl up in front of the TV to watch some of your shows. Breakfast is good at any time of day – thank you 24 hour diners!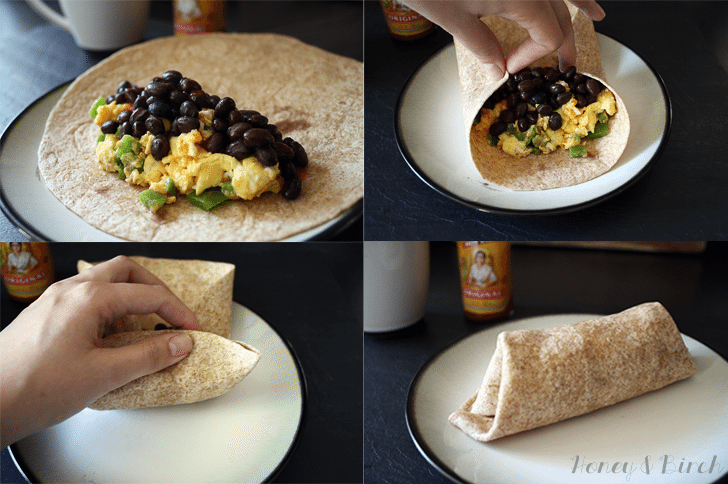 Easy Black Bean Breakfast Burrito
For some tutorials on how to scramble your eggs, go here, here or here.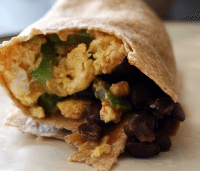 Easy Black Bean Breakfast Burritos
Ingredients
4 eggs
4 whole wheat tortillas
1/2 cup of diced green peppers
1/2 cup shredded cheddar cheese
1/4 cup diced jalapenos
1/4 cup diced tomatoes
1 cup of black beans
hot sauce (optional)
Instructions
Cook your black beans in a small pot. Bring to a boil and turn off the burner. Then scramble your eggs - for some tutorials on how to scramble your eggs, go here, here or here.

When your eggs have started to set, add the green peppers, jalapenos and tomatoes. Stir together and let cook for 30 seconds - 1 minute (depending on how crispy you like your veggies.)

Add the shredded cheese. Stir, let it melt for 30 seconds, stir again and turn off the burner.

Assemble your burritos. Put a 1/4 of the egg mixture into each tortilla. Top with 1/4 cup of black beans. If you would like your burritos spicy, add hot sauce. Roll and eat.