Last week, as a member of Windy City Bloggers Collective, I attended a Belgian beer dinner hosted by Fork in Chicago and Duvel Moortgat.  It was the first "beer dinner" I have ever gone to and I had absolutely no idea what to expect.  Luckily, fellow WCBC member Kristina (of Cucina Kristina and my in-real-life friend) came with me.  When you're with a friend, you're always in good hands.
Turns out I had nothing to be nervous about.  The folks from Fork and Duvel were so warm and welcoming, and the event itself was very intimate.  I have had a secret love affair with Belgian beer for awhile.  It's only gotten worse since my best friend moved to Antwerp with her husband (he's Belgian!)  The beer would have been enough to make me happy, but I lucked out – the food was excellent too!  Good people, good drinks, and good food – my kind of trifecta.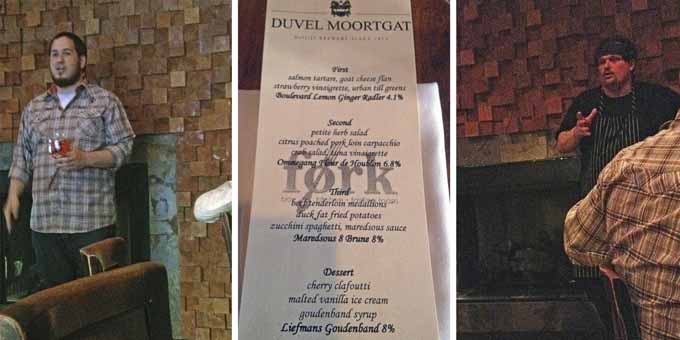 Andrew from Duvel | the night's menu | Chef Tim from Fork
I apologize for the iPhone photos – I meant to take my fancy camera but it didn't happen.  They get grainy the farther into the event because I hate using my flash. Sorry!
The Beer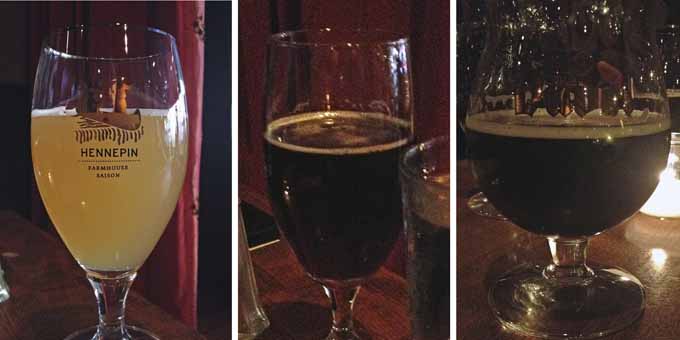 Boulevard Lemon Ginger Radler | Maredsous 8 Brune | Liefmans Goudenband
I love the beers that were served.  The first course was served with the Boulevard Lemon Ginger Radler.  I have been drinking Radler's like crazy and this one was very drinkable.  Have you heard of session ales?  Consider this one for your next session of drinking.
The second course was served with Ommegang Fleur de Houblon.  Unfortunately, this one isn't pictured above.  Nonetheless, it was very good.  I found it to be citrusy with a bit of spice.  A great summer beer!
The third course was served with Maredsous 8 Brune.  Coming in at 8 %, this one packed a bit of a punch in it's feel – luckily it was being served with beef tenderloin.  Perfect pairing.  This beer was influenced and brewed according to the Trappist brewing tradition (not a Trappist beer though).
The last beer was the biggest surprise to me – the Liefmans Goudenband.  I have denounced sour beers for years, and this beer definitely has be second guessing that.  It complimented the sweetness of the dessert perfectly!
The Food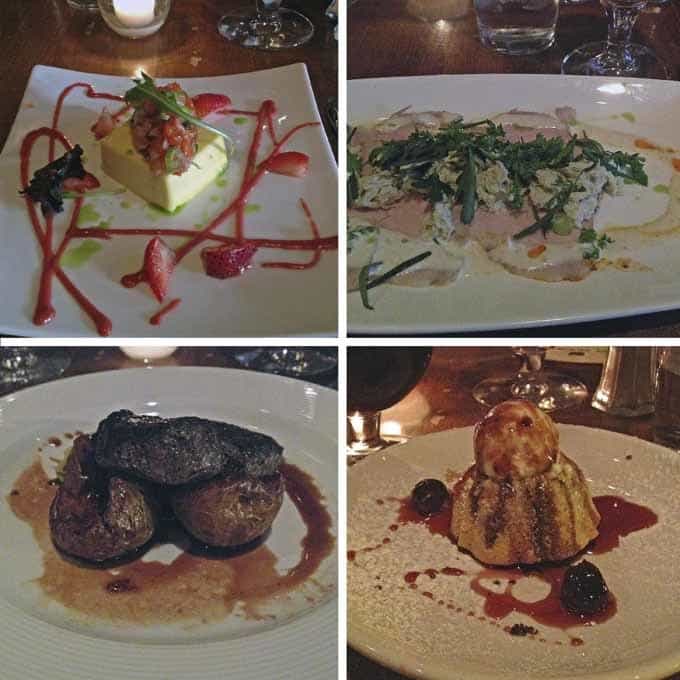 Chef Tim outdid himself with this menu.  Everything was delicious and complimented the beer selections perfectly.  And to top it all off, Tim himself is pretty cool.  As a home cook, chefs intimidate me a little bit, but he put me at ease and answered all of my questions!  He even told me how to make a menu item I had there a few months ago (Popcorn ice cream – Score!)
I love that he sources his own ingredients from local providers – it's such a hot trend right now and I'm glad to see that one of the restaurants I love does it too.  The nights menu was as follows:
First Course – salmon tartare, goat cheese flan, strawberry vinaigrette, greens
Second Course – petite herb salad, citrus poached pork loin carpacchio, crab salad, tuna vinaigrette
Third Course – beef tenderloin medallions, duck fat fried potatoes, zucchini spaghetti, Maredsous sauce
Dessert – cherry clafoutti, malted vanilla ice cream, Goudenband syrup
Overall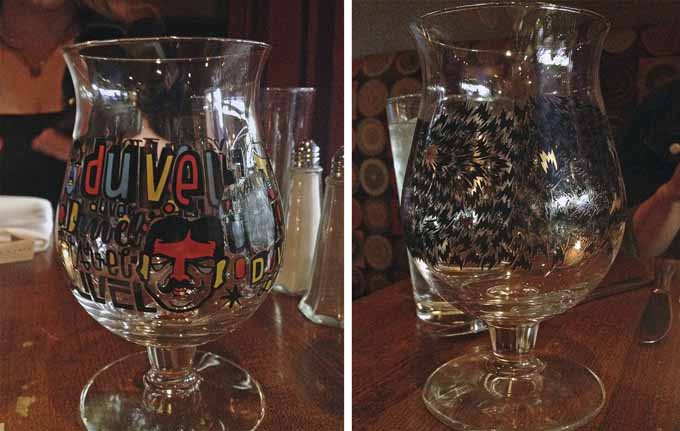 This was a great event and I highly recommend that you attend a beer dinner by Fork or Duvel Moortgat!   Kristina and I each got to go home with a neat Duvel glass and we left with very clean plates and empty glasses.  Always a good sign to me.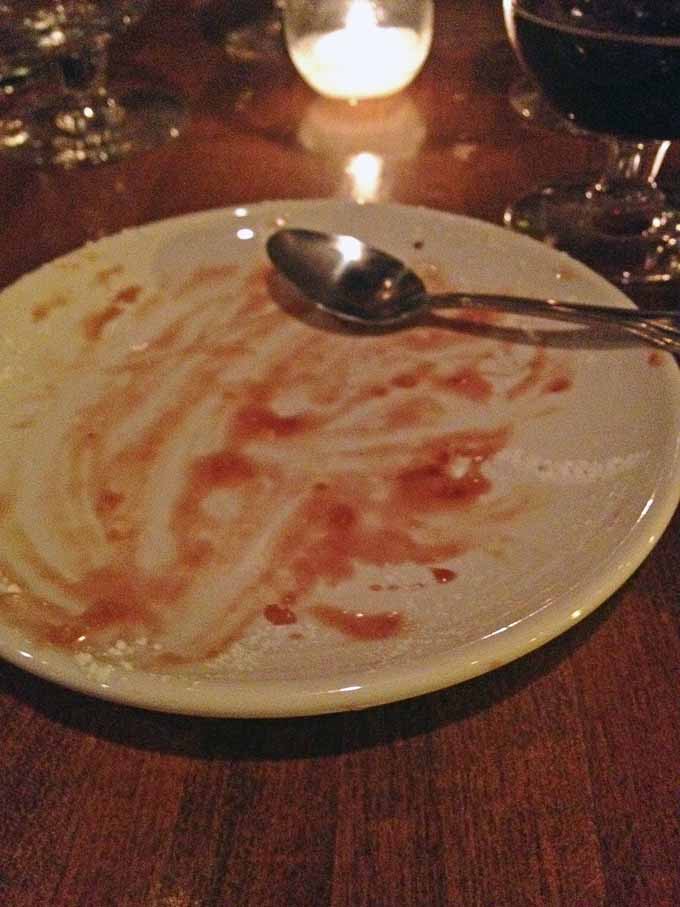 ---
Fork is located in Lincoln Square at 4600 N. Lincoln Ave, Chicago.
Information about Duvel Moortgat can be found on their website or through their distributor, Lakeshore Beverage.
---
Disclosure: My ticket was complimentary as a member of Windy City Bloggers Collective.
Join the newsletter!
Subscribe to get our latest content by email.