Al fresco dining with Gloria Ferrer Wines – a colorful table is a good table! Also, a recipe for caprese arugula spinach salad! #sponsored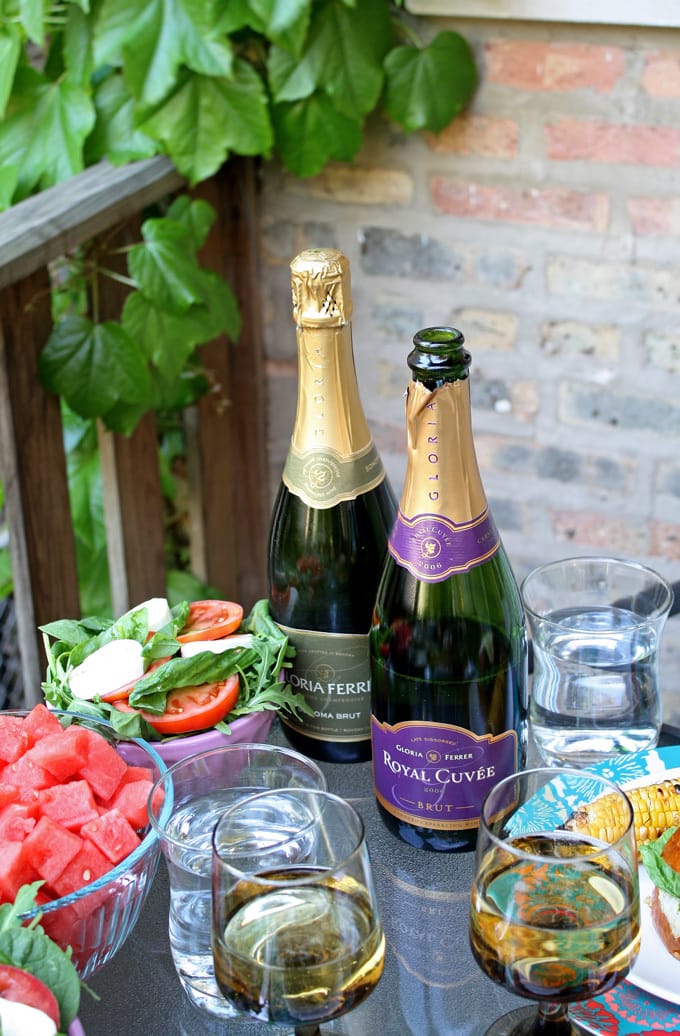 Nothing says summer like a little al fresco dining!
When the weather starts to get warmer, Mr. B and I like to eat many of our meals outside. Sometimes we will eat in the yard, under our big apple tree. Other times we like to eat on our back deck – we have the cutest little table on the deck with just enough space for two. It can make the most casual of meals seem more intimate.
We approach outdoor dining the same as indoor – depending on "why" we are dining together, I set the table different. If we're just eating dinner, I will pull out some paper plates and we'll nosh. If we're celebrating something or going for a romantic dinner, I'll break out the "outdoor china" and a bottle of sparkling wine.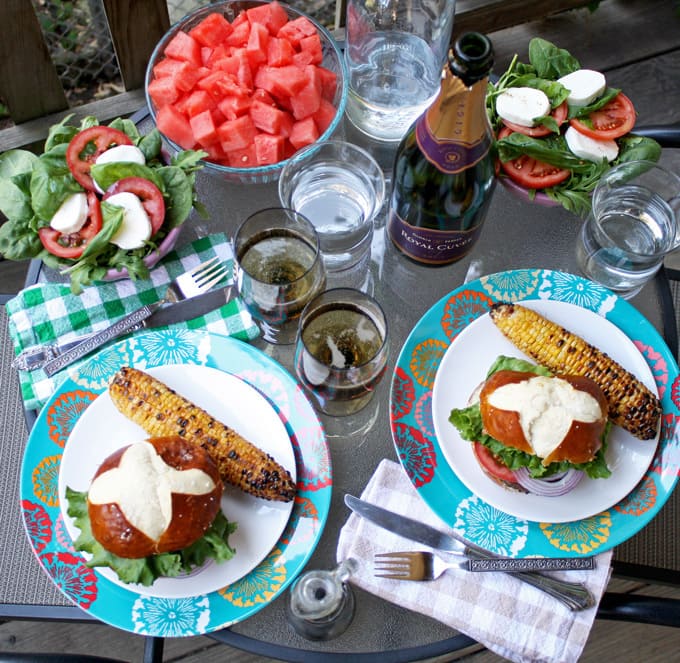 Al Fresco Dining Place Settings
I outfit my outdoor dining table with one thing in mind – color! Being outside is fun and your plates and table should be too. The key to making your table colorful is to use a mix of patterns, bolds and neutrals. This sounds easy but can be a little daunting. There is no need to pull out your color wheel and compare colors, but you do need to be able to determine when you've gone overboard.
My formula is pretty easy and if you aren't sure how much is too much, you can follow it for a pretty table too. Start with a fun patterned charger topped with a smaller white plate. I don't usually want to bring my fancy plates outside so I purchased some plastic dinner plates with a bright floral pattern.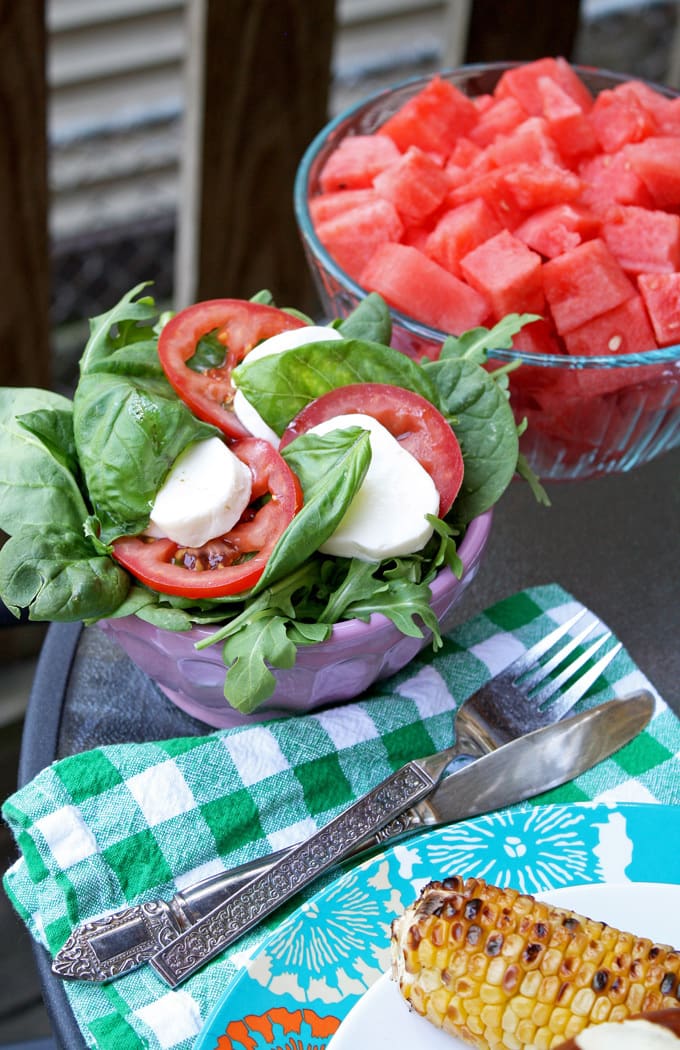 I keep serving bowls neutral – either white or clear glass. For my individual bowls, I choose a solid bright color. Of course you can switch that up but I like my guests (or Mr. B if it's just the two of us) to see what I've prepared for dinner.
Outdoor dining and table linens don't really work for me. I usually go with paper napkins but this day was particularly windy – I opted instead for kitchen and tea towels in a pattern that was easy on the eye and didn't distract from the fun plates. They were great substitutes for linen or paper napkins!
Glassware depends on what you're drinking. I usually go with a clear water-glass and then a unique wine glass for my bubbly. My champagne flutes are not coming outside, especially on a windy day.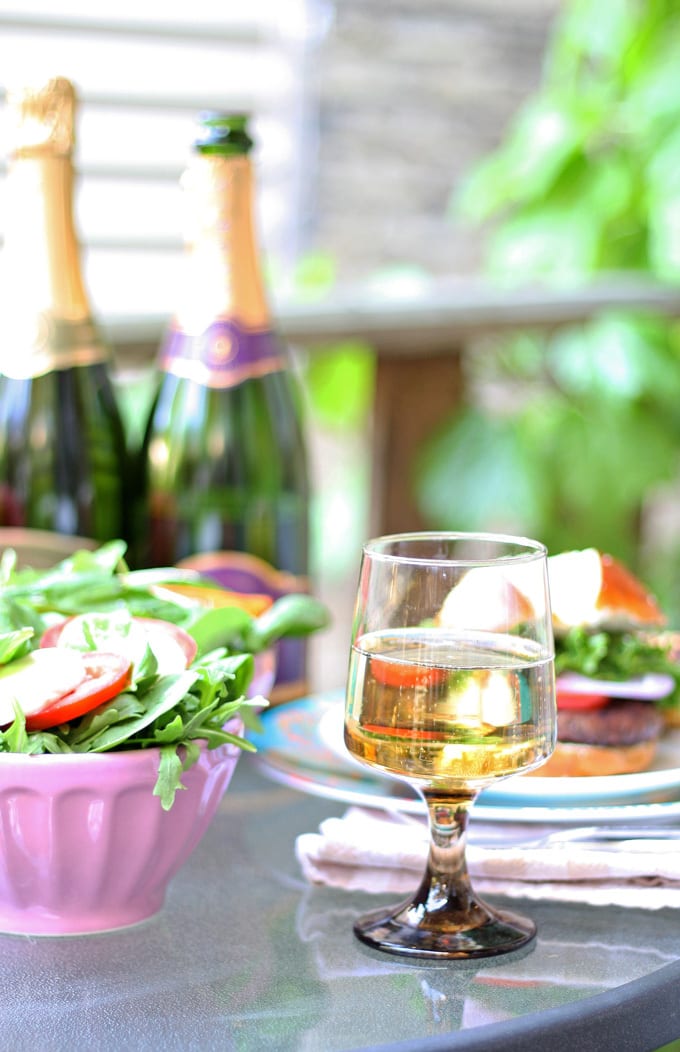 How do you set your table for outdoor dining? Gloria Ferrer Wine wants to know!
Enter the Gloria Ferrer's "Be Glorious!" Photo Contest!
Al Fresco Dining Drinks
Speaking of bubbly….
Gloria Ferrer wines are perfect for outdoor dining, whether you're celebrating something big or you're just enjoying a romantic dinner for two. The sparkling wines of Gloria Ferrer Caves & Vineyards are a perfect match for any occasion and are arguably the most social beverage. Exuberant and fruit-forward, their wines are outstanding with today's diverse and flavorful cuisine. The vineyard likes to say they are the bottled expressions of the vines, hillsides, fog, wind, and sky of Carneros – don't you love that?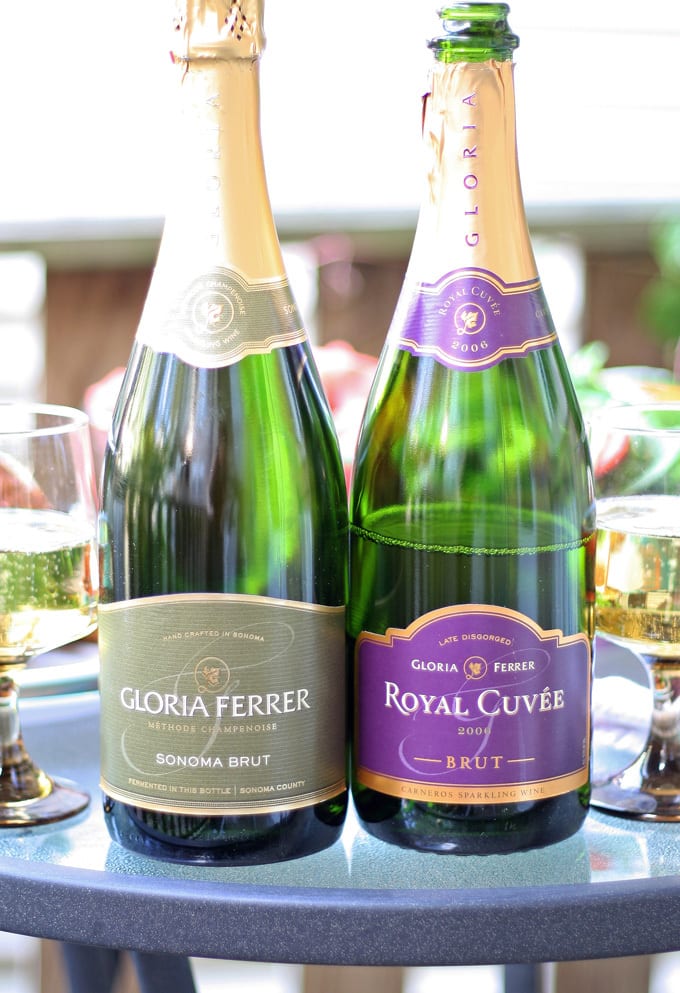 Gloria Ferrer Caves & Vineyards is Carneros' original sparkling wine house, owned and founded by the Ferrer family of Spain. Named for José Ferrer's wife, Gloria, the winery opened in 1986 in the now-famous region in southernmost Sonoma County. We decided to have this fun and fanciful meal together in celebration of me making my lifelong dream my reality. Gloria Ferrer Caves & Vineyards was the fulfillment of a longtime family dream: to make world-class méthode champenoise sparkling wines in an exceptional New World territory. Meant to be, I would say.
Al Fresco Dining Food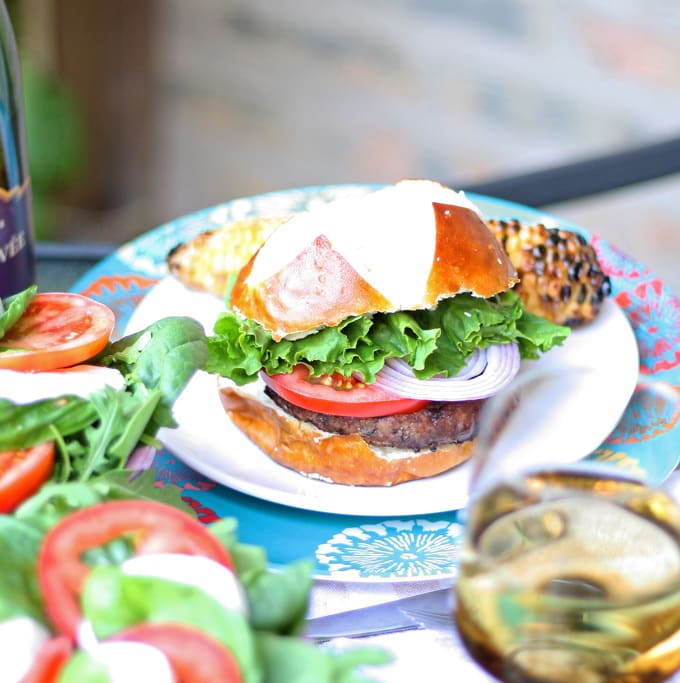 We planned on opening the bottle of Gloria Ferrer Royal Cuvee, with the Sonoma Brut as our backup – both pair well with a variety of flavors. I like so many foods that I can rarely make up my mind on what to eat. Mr. B had a craving for a burger and corn on the cob, so that happened. Then I got to play around with the rest of our meal.
Fresh watermelon and al fresco dining go hand in hand – our local grocery store happened to have a half watermelon that looked ripe and ready for eating so I grabbed that up. Then I chose a cheese heavy salad that is easy to make and perfectly paired with sparkling wine.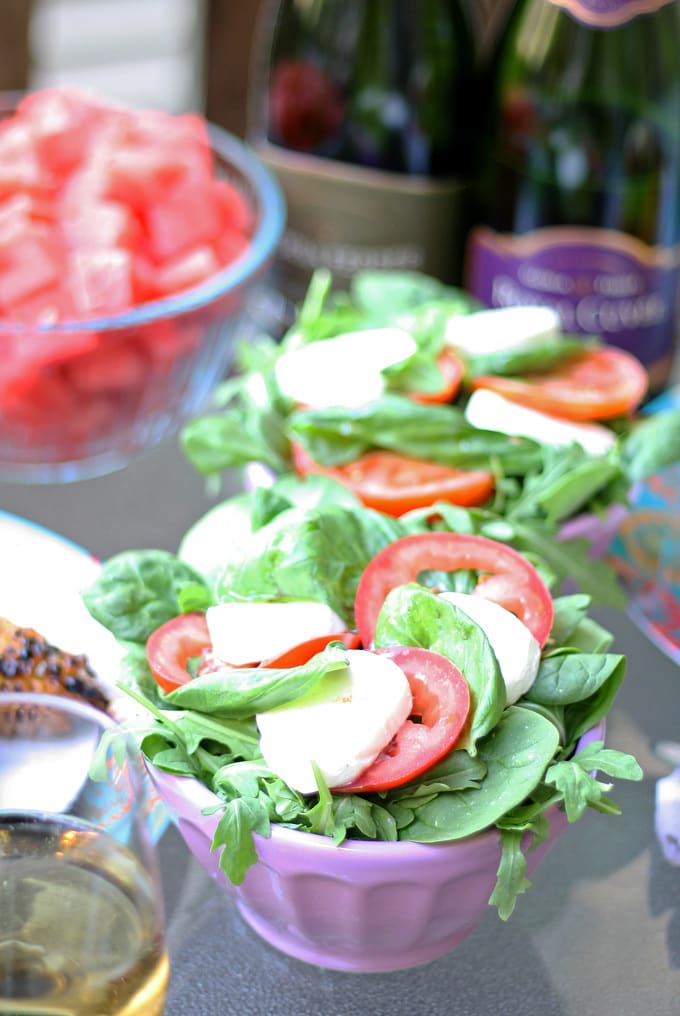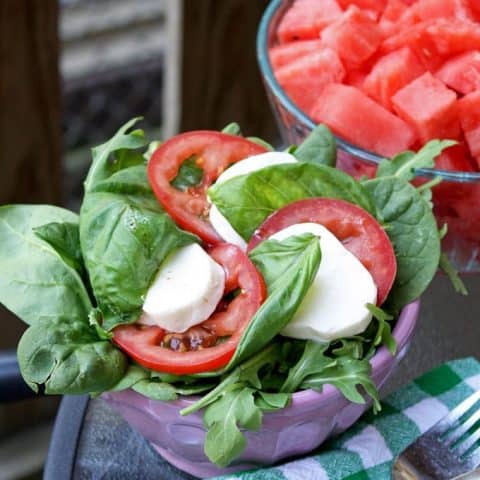 Caprese Arugula Spinach Salad
The caprese arugula spinach salad is easy to prepare and perfect for warm summer nights!
Ingredients
fresh baby arugula
fresh baby spinach
fresh basil leaves
tomato slices
fresh mozzarella
balsamic vinaigrette
Instructions
In a large bowl, mix one handful of arugula and one handful of spinach. Top with 4 basil leaves, 4 slices of tomato, and 4 chunks of fresh mozzarella. Drizzle balsamic vinaigrette on top.
Notes
More basil, mozzarella and tomato can be added to this salad. Add in equal amounts.
How do you set your table for outdoor dining? Gloria Ferrer Wine wants to know!
Enter the Gloria Ferrer's "Be Glorious!" Photo Contest!
I was selected for this opportunity as a member of Clever Girls and the content and opinions expressed here are all my own.
Looking for more entertaining posts? Try my winter entertaining post or my collection of appetizer recipes!
---
Follow Me!
Facebook // Twitter // Pinterest // Instagram // Google+ // Yummly