I know that Valentine's Day is over a month away, but it will be here before you know it.  And if you're like me, you're clearing out your Christmas decorations and you have a few empty spaces.  A few extra weeks of Valentine's Day love is a great solution.  That's why this week's 8 great is about Valentines Day free printables.
It's funny – Mr B and I don't really celebrate Valentine's Day but I really want to decorate for it this year.  I blame the blogosphere but no harm, no foul right?  And since Mr. B is a HUGE Star Wars fan, I may surprise him with #7 on this list.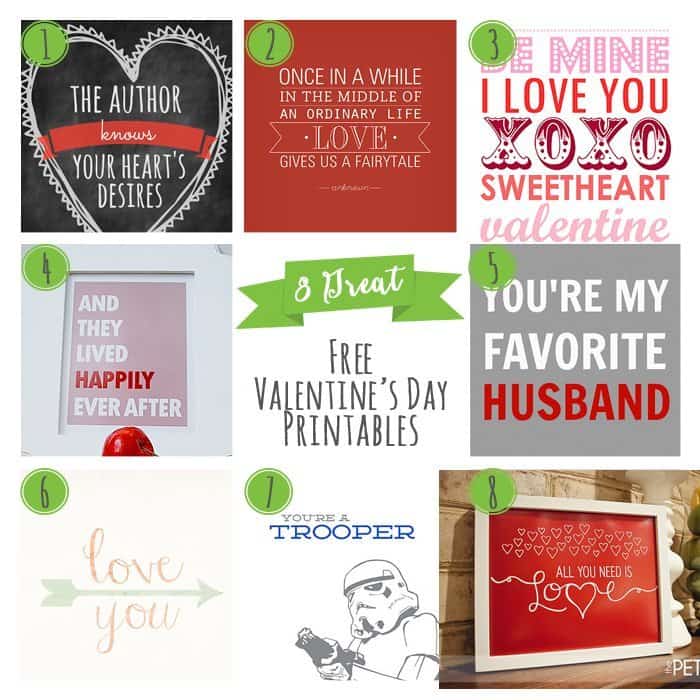 1. The Author Knows Your Heart's Desire – This Girl's Life
2. Printable Valentine's Quote – Simple As That (please follow SAT before you download)
3. Be Mine Collage – Belva June
4. They Lived Happily Ever After – Tatortots and Jello
5. You're My Favorite Husband – Life Unscripted (they have favorite boyfriend and person printables too!)
6. Love You – My Fabuless Life
7. Star Wars Valentine – AleciaDawn Photography (these are awesome!!! – so many to choose from)
8. All You Need Is Love  – The Petite Pear
SaveSave
Join the newsletter!
Subscribe to get our latest content by email.