The first Friday in June every year is known as National Doughnut Day – it dates all the way back to the 1930's. You can get free doughnuts today at many shops across the country, including Krispy Kreme and Dunkin Donuts (with the purchase of a drink).
What better way to celebrate National Doughnut Day than to make some doughnuts at home? I found so many awesome doughnut recipes that I could settle on just 8 recipes. Instead – I did three different 8 Greats: 8 Great Doughnut Recipes, 8 Great Mini-Doughnuts or Donut Holes, and 8 Great Glazed Doughnuts.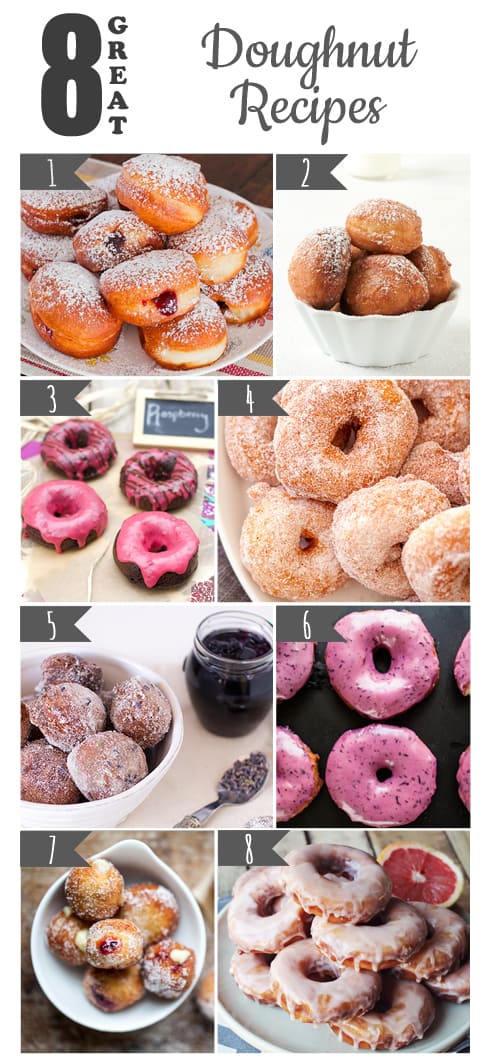 1. Cherry Jam Filled Sour Cream Donuts – Jo Cooks
2. Meyer Lemon And Sour Cream Donuts – Tartelette
3. Whole Wheat Chocolate Raspberry Baked Donuts – Chocolate Carrots
4. Moroccan Doughnuts – The Pretty Blog
5. Blueberry Jam Doughnuts with Lavender Sugar – Spicy Ice Cream
6. Bourbon Blueberry Basil Donuts – Broma Bakery
7. Italian Cherry Doughnuts – Family Style Food
8. Grapefruit Donuts – A Beautiful Mess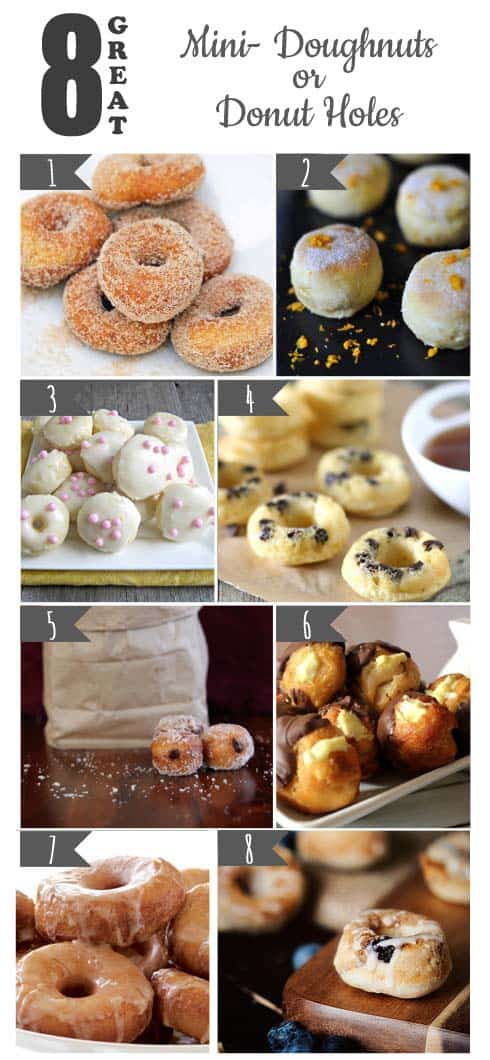 1. Homemade Mini Donuts – Babble
2. Mandarin Orange & Olive Oil Mini Doughnuts – My Union Jack
3. Baked Lemon Glazed Mini Doughnuts – Hungry Couple
4. Mini Chocolate Chip Doughnut Pancake Dippers – Lauren's Latest
5. Quick Chocolate-Filled Cinnamon Sugar Donut Holes – Ring Finger Tan Line
6. Boston Cream Doughnut Holes – Oh, Bite It!
7. Mini Apple Spice Glazed Donuts – Sandra Lee
8. Baked Mini Blueberry Streusel Donuts – Pass the Sushi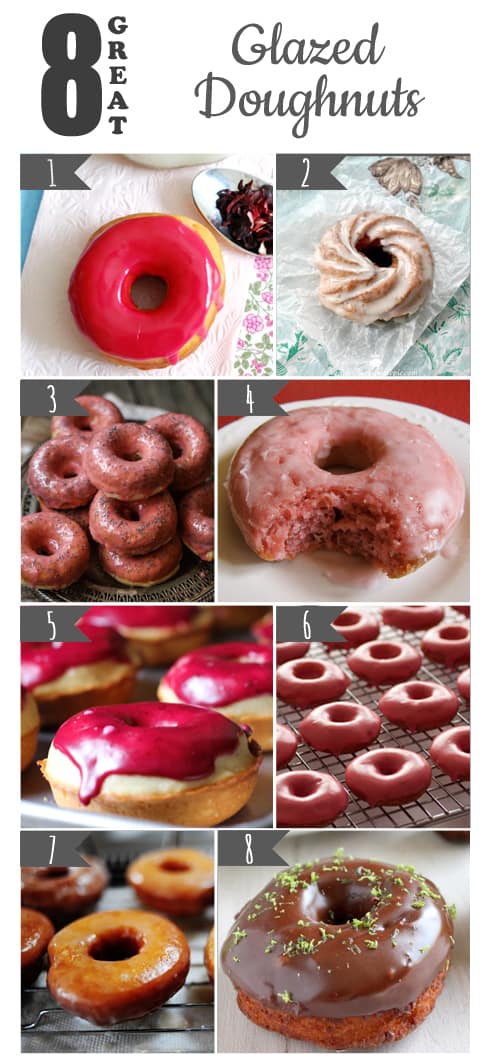 1. Homemade Doughnuts with Hibiscus glaze – My Sweet Remedy
2. French Crullers with Honey-Sugar Glaze – Not So Humble Pie
3. Baked Buttermilk Doughnuts with a Strawberry Rhubarb Brown Butter Glaze – Adventures in Cooking
4. Strawberry Glazed Doughnuts – Mary Quite Contrary Bakes
5. Baked Nutmeg Donut Recipe with Berry Icing – Vintage Mixer
6. Cherry Lemonade Doughnuts – Hot Polka Dot
7. Homemade Glazed Doughnuts – The Pioneer Woman
8. Lime Cake Doughnuts with Chocolate Glaze – The Kitchen Paper
And if you're not a doughnut person, try these muffin recipes.
xoxo,
JennyB
SaveSave
Join the newsletter!
Subscribe to get our latest content by email.