I love strawberries and I am counting down the days until the wild strawberries in my yard start growing.  I don't think you can eat them – they are pretty small and just get a hint of pink (mostly, they're white).  But they're my wild strawberries and they are so darn cute.  Luckily, every grocery store in our neighborhood has started stocking strawberries in large quantities.  I am stockpiling strawberry recipes as we speak.
Speaking of strawberry recipes, for this week's 8 Great, it's all about strawberry desserts.  I cannot decide which of these recipes to make first!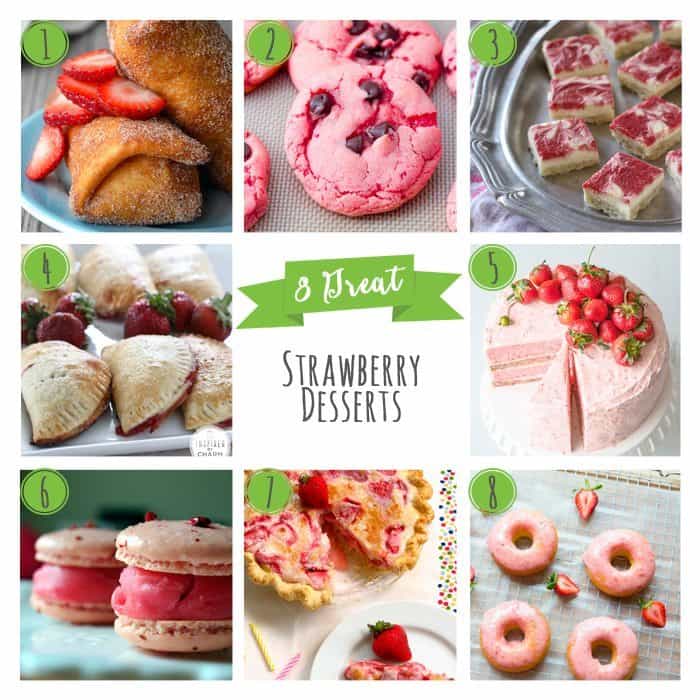 1. Strawberry Cheesecake Chimichangas – Just A Taste
2. Strawberry Chocolate Chip Cookies – Sally's Baking Addiction
3. Strawberry Cheesecake Bars – Tutti Dolci
4. Strawberry Hand Pies – Inspired By Charm
5. Strawberry Banana Milkshake Cake – Hungry Rabbit
6. Pink Peppercorn Macarons with Strawberry Sorbet – Cannelle et Vanille (not totally strawberry but so different that its worth adding)
7. Summer Strawberry Cream Cheese Pie – Willow Bird Baking
8. Fresh Strawberry Glazed Baked Donuts – Fifteen Spatulas
And ….. just for good measure, here's my recipe for Springtime Strawberry Muffins.  Yummmmmmy!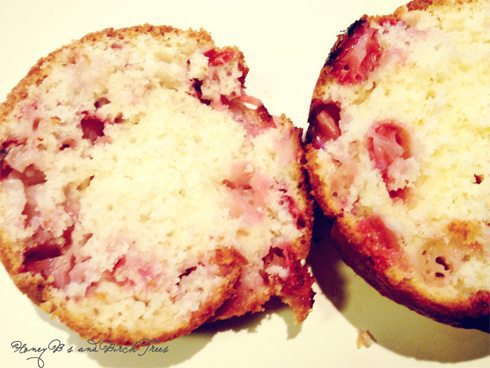 I even found a few savory strawberry recipes. Not sure how I feel about chicken and strawberries – any thoughts?
xoxo,
Jenny B
Join the newsletter!
Subscribe to get our latest content by email.