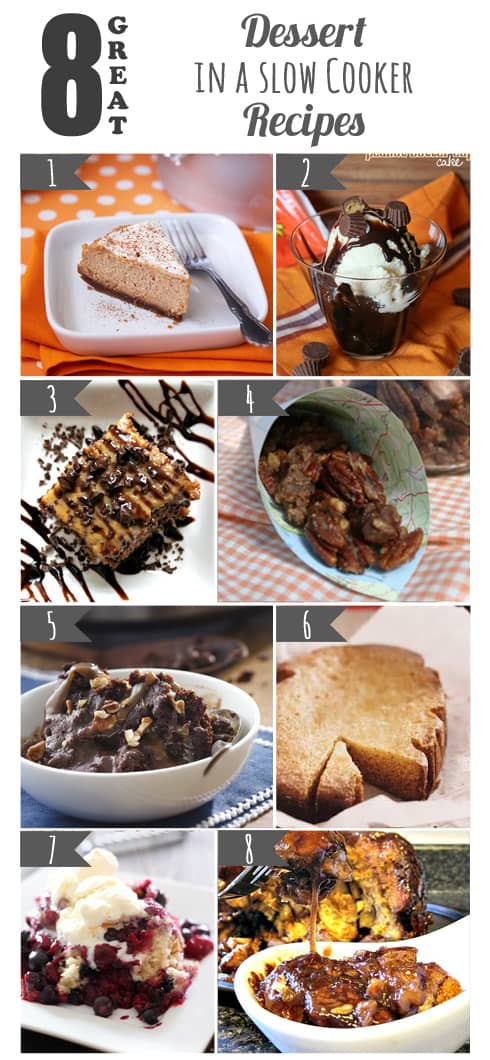 I love my slow cooker –  I've shared recipes a bunch of slow cooker dinners such as Creamy Chicken, Peas and Mushrooms and Jalapeno Chicken.  I also really love dessert.  Why not combine the two?
I feel like there were many times that I wanted dessert but didn't have it because of time. Dinner is on the table and I don't always have the energy to concoct a dessert recipe too.
Slow Cookers to the rescue! Here are 8 great slow cooker desserts for you to try.
8 Great Slow Cooker Desserts
1. Slow Cooker Pumpkin Cheesecake – Canadian Family
2. Crock Pot Peanut Butter Cup Cake – Cookies and Cups
3. Slow Cooker Moist Chocolate and Caramel Cake – 365 Days of Slow Cooking
4. Crock Pot Sugared Pecans – The Gingerbread Bread Blog
5. Slow Cooker Turtle Pudding – Betty Crocker
6. Slow Cooker Applesauce Spice Cake – Eat Live Grow Paleo
7. Slow Cooker Berry Cobbler – Chef in Training
8. Apple Spiked Monkey Bread – Lady Behind the Curtain
And then use your slow cooker to melt some chocolate to drizzle over all your dessert creations. 🙂
xoxo,
Jenny B
SaveSave