I love succulents and projects with succulents.  Succulents go beyond hens and chicks – there are many types of succulents.  They can be incredibly colorful – I've seen purple, pink and blue – and are very hardy plants.  I made sure lots of succulents were included in my wedding flowers, and my florist, the amazing Kristin from Kio Kreations in Naperville, IL did a wonderful write-up about her work for my wedding (Wow, alliteration) on her blog here and here.
I saved as many succulents from my wedding flowers as I could, but alas, they did not make it through the winter.  When succulents are used in wedding arrangements, the roots are often cut almost completely off.  I hoped that there was enough root left that it would grow back, but alas, we were not that lucky.  🙁
I started searching for a few succulent projects to try replace my beloved plants and came across these awesome projects.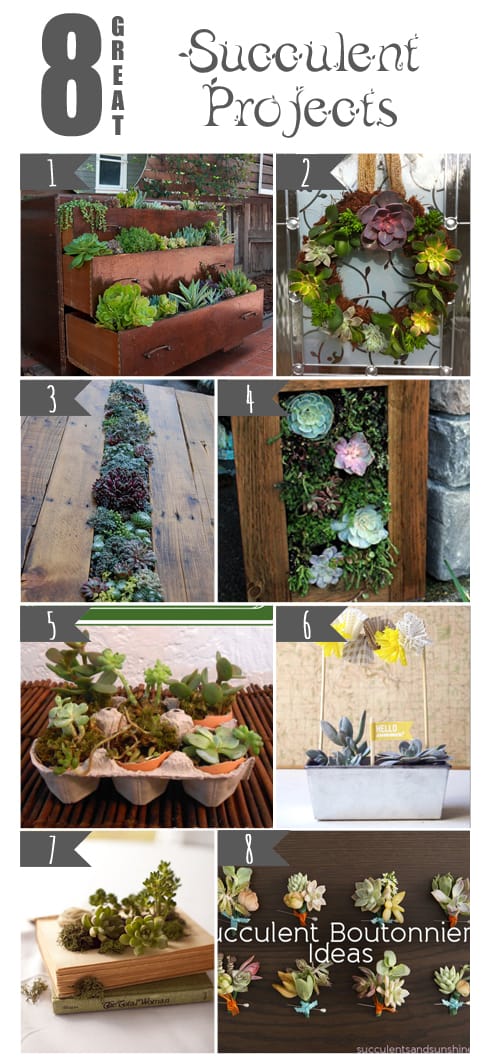 1. Succulent Dresser – Grizzly Bear Modern
2. DIY Living Succulent Wreath – The Simple Elements
3. DIY Succulent Pallet Table – Far Out Flora
4. DIY Sedum and Succulent Living Wall Planter – One Hundred Dollars a Month
5. DIY Easter Succulent Garden in an Egg Carton – Every Day Family
6. DIY Summer Succulent Garden – Oh, Hello Friend
7. DIY Book Planter – Green Wedding Shoes
8. Succulent Boutonniere Ideas – Succulents and Sunshine
Do you have any ideas for succulent projects?  If you do, please share them with me in the comments!!
xoxo,
Jenny B
SaveSaveSaveSaveSaveSaveSaveSave
SaveSave
Join the newsletter!
Subscribe to get our latest content by email.