Tomorrow is National Pound Cake Day!
When I heard that, I thought about how I dipped chunks of delicious pound cake into my slow cooker fondue and how delicious it was.  I really, really like pound cake.  When I was a kid my mom would buy pound cake from the grocery store and we would slather each piece with butter before eating it.  Its so funny to me now, knowing how much butter is in pound cake, in addition to eggs, etc.  When I eat it now, I leave out the butter on top (and dip it in chocolate instead.) Haha.
So, in honor of tomorrow's pound cake day, here are 8 great pound cake recipes.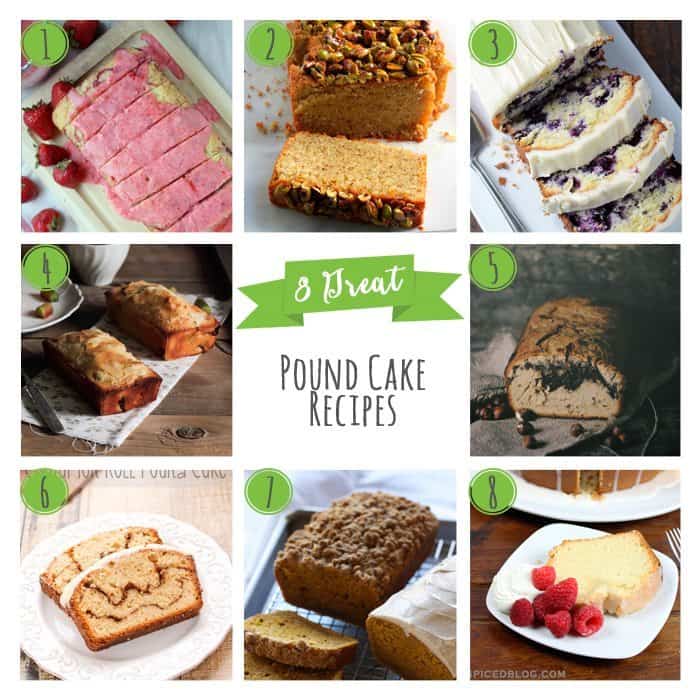 1. Strawberry Swirl Pound Cake – The Kitchen Paper
2. Pistachio Pound Cake – Baker By Nature
3. Blueberry Lime Cream Cheese Pound Cake – The Novice Chef
4. Rhubarb Vanilla Pound Cake – Pastry Affair
5. Cinnamon Roll Pound Cake – Sweet Pea's Kitchen
6. Cardamom Pound Cake – Messy Kitchen Stories
7. Pumpkin Pound Cake – Tutti Dolci
8. Peach Bellini Pound Cake – Spiced Blog
Do you have a favorite pound cake recipe?  I have heard that Elvis Presley did.  Please share a link to your favorite recipe in the comments below so I can try it out.
xoxo,
Jenny B
Join the newsletter!
Subscribe to get our latest content by email.