I don't know about your dad, but my dad rocks a serious 'stache. For as long as I can remember he's had it. There was a brief moment where he shaved it off and a month I vaguely recall him sporting a full beard but otherwise he's always had a mustache.
I am not sure I would recognize him right away if he were to shave it off again – it has become such a part of him after so many years.  Because of that it only seemed fitting to theme this 8 great for the mustachioed dads out there.  Here are 8 great mustache themed DIY father's day ideas.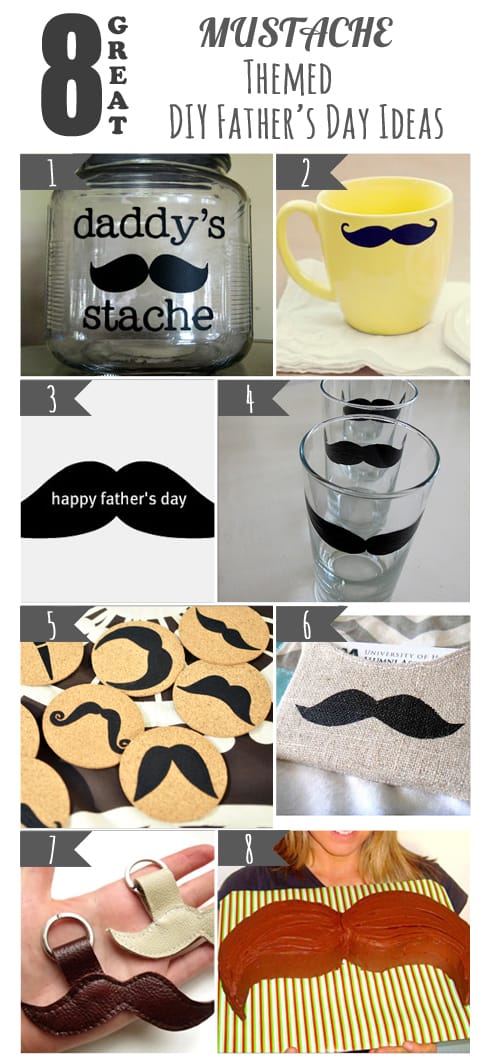 1. Stache Jar – Artsy Fartsy Mama
2. Mustache Mug Tutorial – The Tortoise and the Hare
3. Mustache Free Print – Holiday Snob
4. Hand-Painted Glasses – Tatertots and Jello
5. Mustache Coasters – Marangelie Caballero
6. Mustache Giftcard Holder – The Gilded Hare
7. Moustache Keychain – Etsy Russian Team
8. Mustache Cake – PaisleyJade
There are also some really, really awesome moustachioed items you can buy, so I curated a treasury of awesome Etsy items for ya'll to check out.
Stache On!
JennyB
Join the newsletter!
Subscribe to get our latest content by email.