On the quest to eat healthier, I am going to attempt to eat more salads.  I do really like salads, but sometimes I get really bored with them.  You can only eat so much lettuce and adding some cucumber or tomato doesn't really spruce one up enough to make me happy.  I like food with flavor!
One way to add flavor (and excitement) to your every day salad is by experimenting with salad dressings.  I don't know if you remember, but I shared a green goddess dressing a while back.  And the dressing that I used for this chicken salad can easily be used on an every day salad.  Both of these recipes would be amazing on an every day salad.
I have also scoured the internet, and Pinterest, looking for some more interesting salad dressing recipes for  you.  I tried to include some homemade salad dressing recipes that are more traditional as well as some that are a little crazy.  Because really, if you are eating a boring side salad, adding an exciting new salad dressing can really make the difference.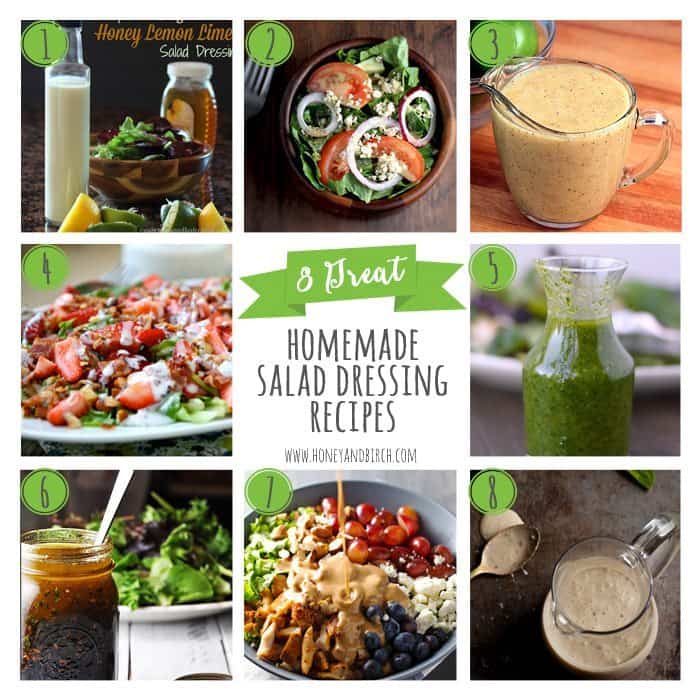 1. Creamy Greek Yogurt Honey Lemon Lime Dressing – Cupcakes and Kale Chips
2. Homemade Greek Salad Dressing – Center Cut Cook
3. Honey Lime Vinaigrette – The Yummy Life
4. Greek Yogurt Poppyseed Dressing – Lauren's Latest
5. Orange Cilantro Dressing – Cooking with Curls
6. Homemade Balsamic Vinaigrette Salad Dressing – Goodness Gracious
7. Almond Honey Mustard Dressing – Pinch of Yum
8. Low Fat Caesar Salad Dressing – Drizzle and Dip
xoxo,
Jenny B
SaveSave
Join the newsletter!
Subscribe to get our latest content by email.