8 great gingerbread desserts for Christmas and holiday baking!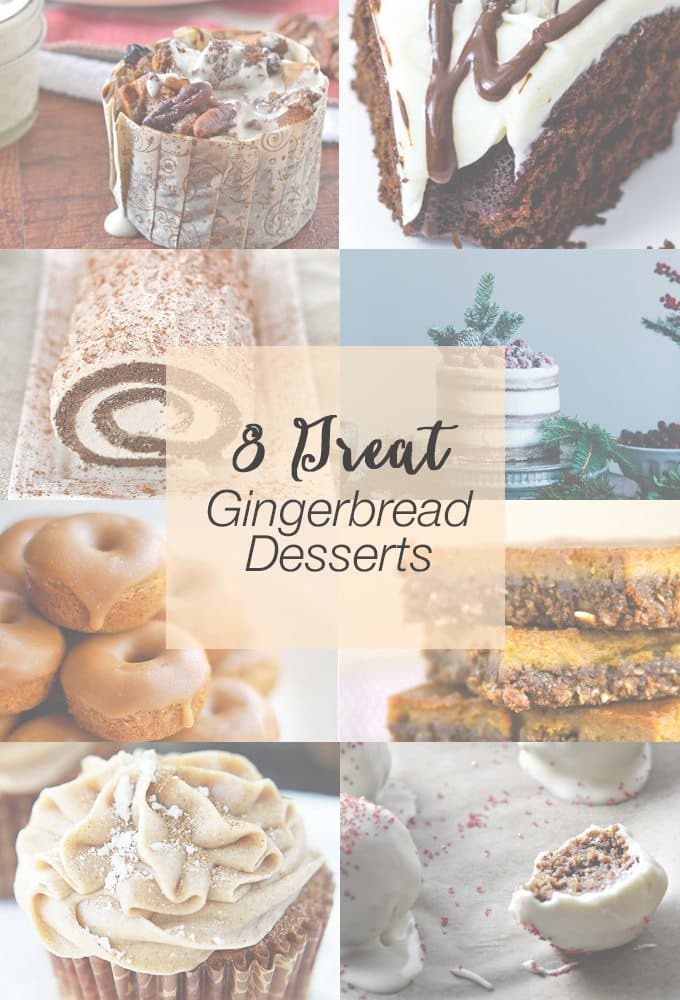 Nothing says Christmas is coming to me more than gingerbread. Well, that and Christmas songs everywhere. I'm SO excited.
I have never made anything with gingerbread before, but that doesn't mean I haven't eaten a ton of it. Though I do plan on changing that this year – I've been stocking up on all sorts of gingerbread ingredients and am going to get started this week.
In the meantime, I am hunting up some inspiration.
As per my usual first step, I did a little research over at my good friend Wikipedia. Gingerbread has quite a history – I was going to go over it here and then realized how much I would have to tell you. Please, if you're interested go over and take a peak at it.
There are so many varieties of gingerbread from all over the world.
I don't even know where to start with my creating.
Next, I went over by my other friend Pinterest and did a little more gingerbread search. Men, houses and some seriously delicious desserts abounded.  Sounds like a song, or a weird bachelorette party.
And that was when I decided that 8 great gingerbread desserts was the perfect topic for this week's round-up. It is December 1st after all and the Christmas countdown is on.
---
8 Great Gingerbread Desserts
1. Gingerbread Bread Pudding with Bourbon Sauce – The Law Student's Wife
Gingerbread Bread Pudding with Bourbon Sauce is the ideal breakfast for the hurried holiday hostess (or any weekend you're feeling lazy), because it can be prepared entirely in advance. Make even days ahead!
Simply whisk together eggs, milk, and gingerbread spices. Pour the mixture over toasted bread cubes, then bake when you wake! Even better, freeze unbaked Gingerbread Bread Pudding, and you'll have a decadent, comforting breakfast ready on command.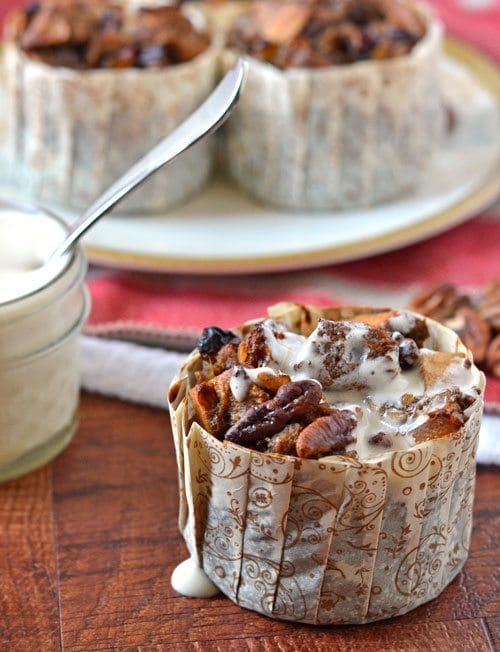 2. Chocolate Gingerbread Bundt Cake – Sally's Baking Addiction
Take just one bite of this chocolate gingerbread bundt cake, and fall in love! Deep within chocolate crumbs is a medley of warming winter spices, pungent and dark molasses, and a bold ginger taste ready to scare off your gingerbread man.
Next this deep & rich bundt cake is blanketed in sweet and tangy cream cheese frosting. The result is an ultra moist cake that is pungent, sweet, and slightly spicy. It's like a thick slice of gingerbread mixed with a delicate and moist piece of chocolate cake all in one bite.
This is Christmas on a plate!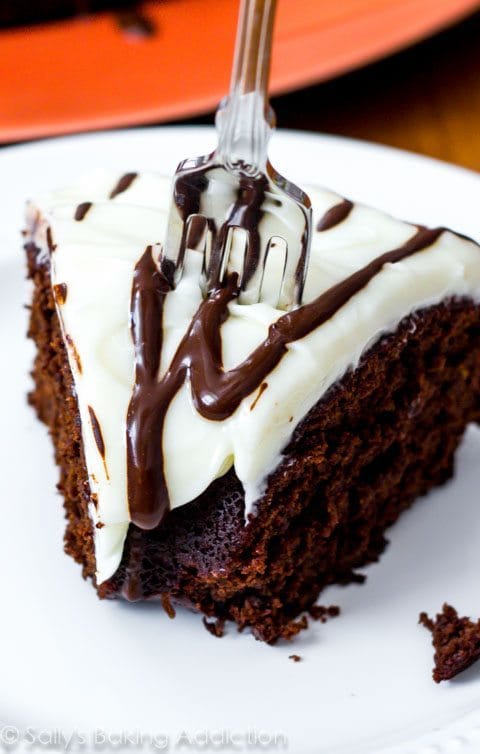 3. Gingerbread Roll Cake – Roxanna's Home Baking
This moist gingerbread roll cake filled with spiced creamy filling is just as magical as Santa sliding down the chimney. A delicious twist on the traditional Christmas gingerbread cake, the extra spices & molasses add a winter kick that pairs deliciously with the light airy heavy cream.
This cake is best served the next day (or after a couple of hours), allowing the flavors from the gingerbread roll to infuse the cream. The moisture of the cream is absorbed into the moist sponge-like cake making it irresistible with every bite.
Forget cookies! Santa wants this as his snack this year!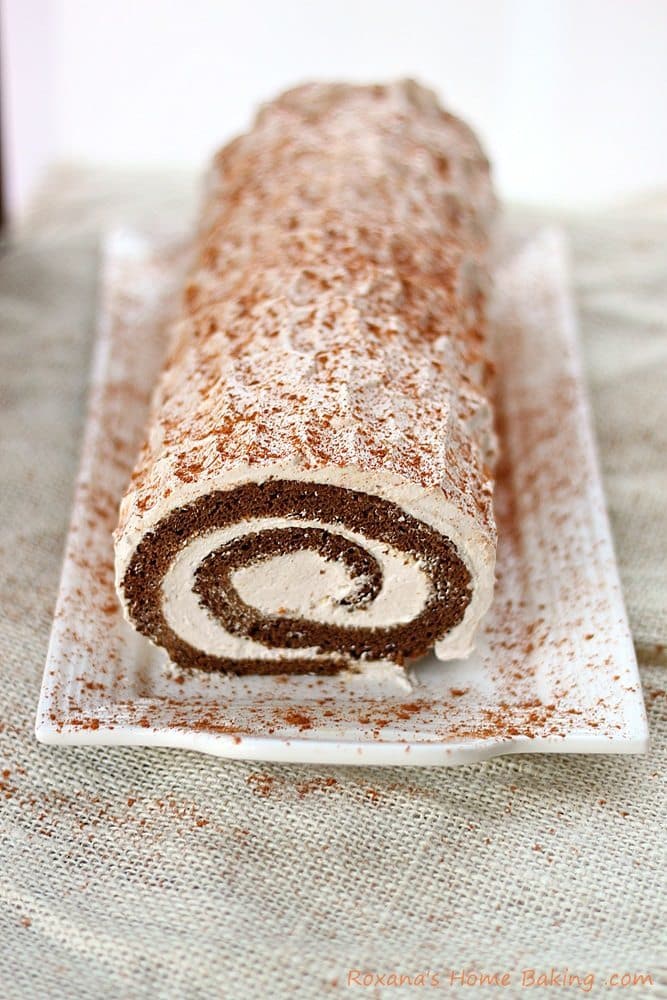 4. Soft Gingerbread Cake with Cream Cheese Frosting and Sugared Cranberries – Call Me Cupcake
Now this is one helluva cake. A soft gingerbread cake with some buttery and tangy cream cheese frosting and you're good to go!
A spicy twist on a classic cake, Call me Cupcake highly recommends grinding cardamom and cloves with a pestle & mortar instead of buying ready made for this recipe. It makes all the difference in your cake's flavor! The sugared cranberries not only add a level of texture to this cake, they look absolutely spectacular!
This cake celebrates winter and is perfect for Christmas and New Year's!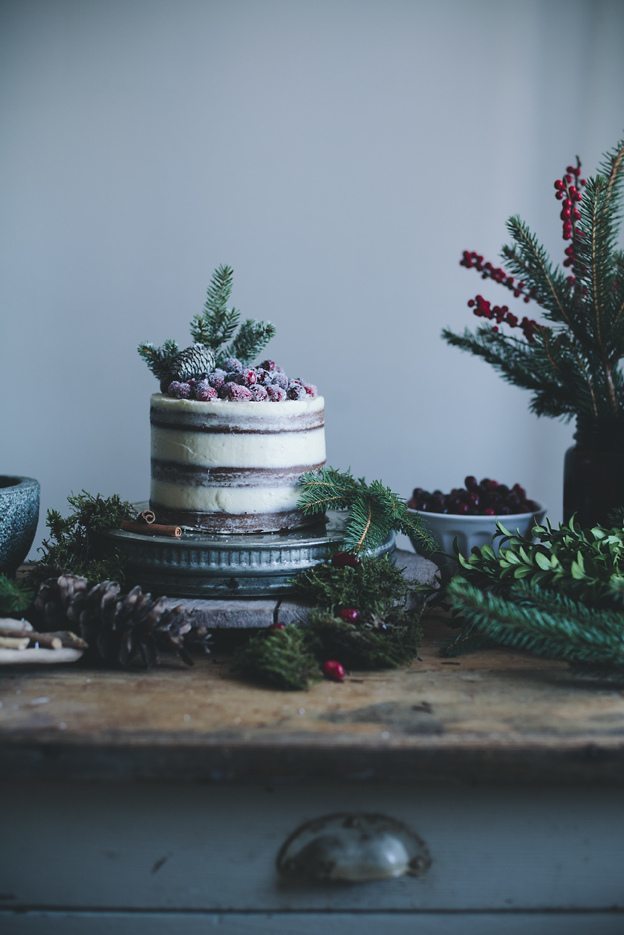 5. Baked Gingerbread Mini Donuts – Pinch of Yum
Hellooo gingerbread mini donuts! Hellooo gingerbread scents! Hellooo Justin Beiber Christmas album!
A soft, warm, spicy donut with smooth frosting?  That's a whole lot of pre-holiday cheer. This is the best possible thing you could whip up in 15 minutes (seriously only 1 minutes) for your holiday company this year!
These Baked Gingerbread Mini Donuts are so easy and will make your whole house smell like Christmas. A perfect pre-Thanksgiving feast, or an easy breakfast to nibble on while opening presents on Christmas day!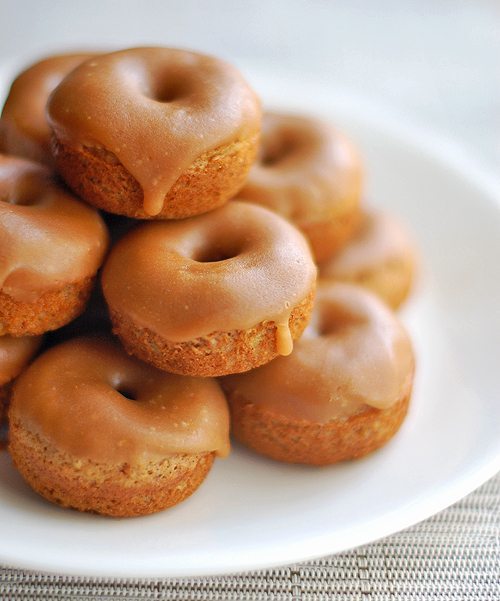 6. Gingerbread Pumpkin Bars – Running With Spoons
Gingerbread pumpkin bars. The perfect way to satisfy any craving for pumpkin and gingerbread simultaneously!
These bars are ooey, gooey, spicy, sweet, and oh so rich! They're the perfect treat to make the transition from fall to winter. The calendar says fall, but the weather says winter. The lines between what kind of treats are supposed to come out of the oven around this time become a little blurred… which is why you should straddle the line and go with the best of both seasons with this recipe!
Perfect for Thanksgiving, Christmas, or just as a warming dessert for any school night!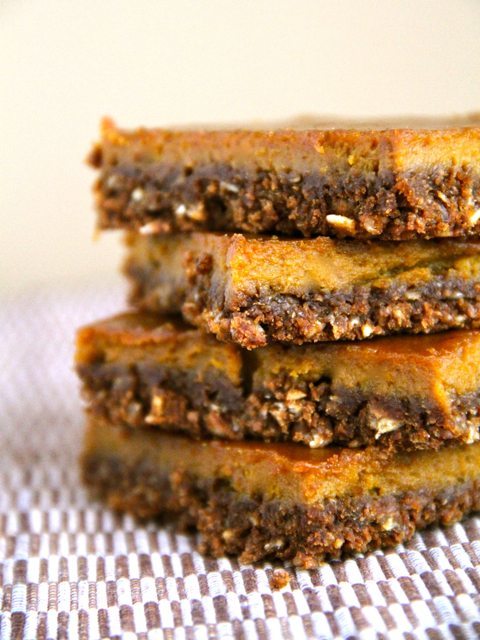 7. Gingerbread Cupcakes with Cinnamon Cream Cheese Frosting – Creme de la Crumb
These cupcakes are incredibly fluffy and moist. And the cinnamon cream cheese frosting is irresistible!
You'll struggle to frost your cupcakes simply because you'll just want to eat this frosting alone! But don't, because these spicy, soft cupcakes are so worth frosting! Paired together, these frosted gingerbread treats are totally worth the calories.
This delicious recipe yields 22 cupcakes that are perfect for holiday gatherings, or even as a weeknight dessert!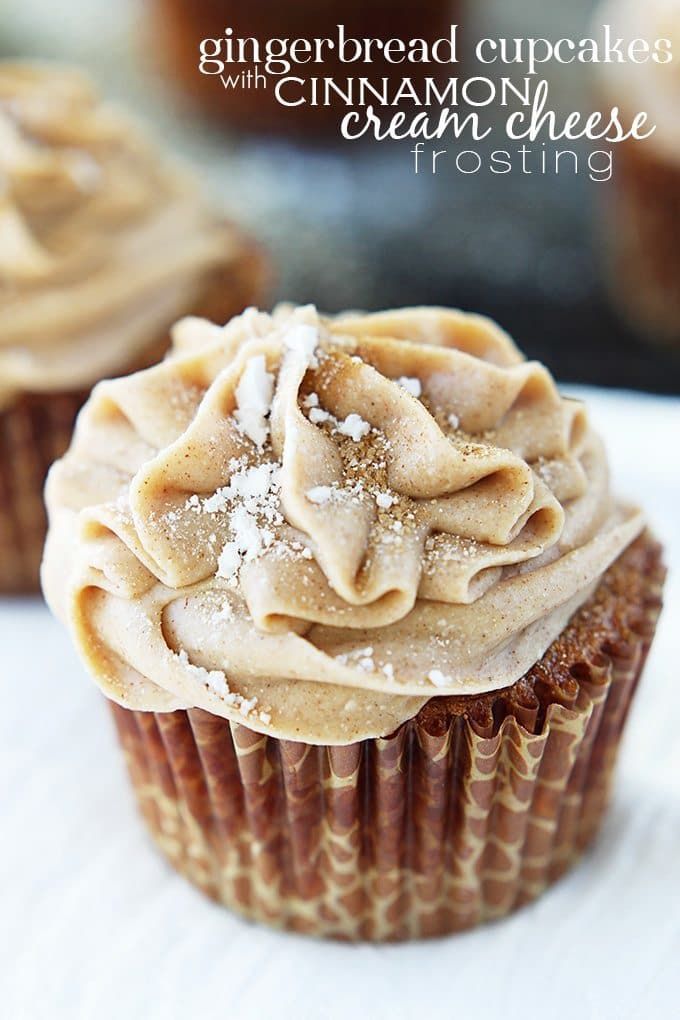 8. White Chocolate Gingerbread Cake Balls – Eats Well With Others
This gingerbread recipe yields 22 dense, delicious little spheres of cake truffle deliciousness covered in white chocolate that, upon looking at them, make you want to squeal with unbridled passion and delight.
Gingerbread mixed with cream cheese frosting and then covered in white chocolate, who can resist? If you're still looking for that holiday dessert to wow your guests with, look no further!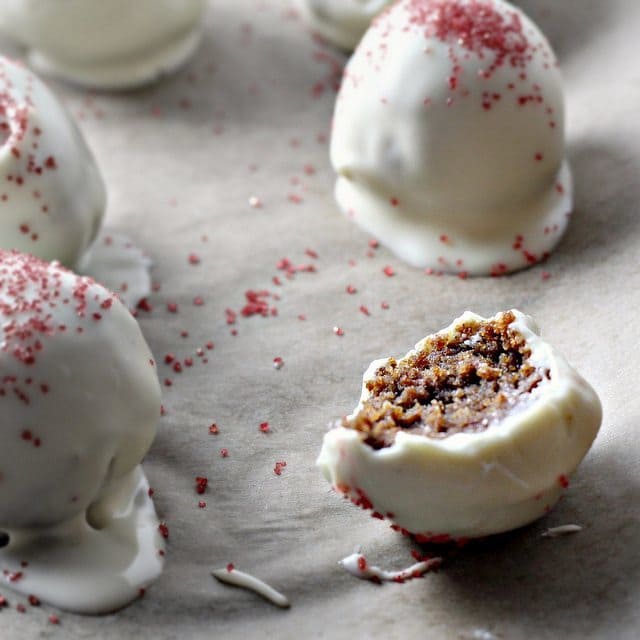 ---
Looking for more Christmas and holiday recipes and posts?
Join the newsletter!
Subscribe to get our latest content by email.