If you follow me on Instagram, then you saw my latest DIY art attempt – a watercolor letter B.  I saw this tutorial on Jones Design Company's blog, and I tried it out.  Craft fail.
Since trying my hand at watercolors, I've found some help and some tutorials on the internet.
First, my own advice is don't use the cheapest brushes you can find.  I did, and they literally fell apart as I was painting.  I had to scrape bristles off the paper as I was painting – it became work instead of fun.
Second, check out this beautiful illustration/watercolor from Corey Marie which has 12 watercolor techniques.  Then check out this tutorial from The Allison Show which goes into detail about the basics and supplies for watercolor painting.  These two tutorials should help you out a bit.
And then, after you've learned a little, check out this week's 8 great – 8 Great DIY Watercolor Projects.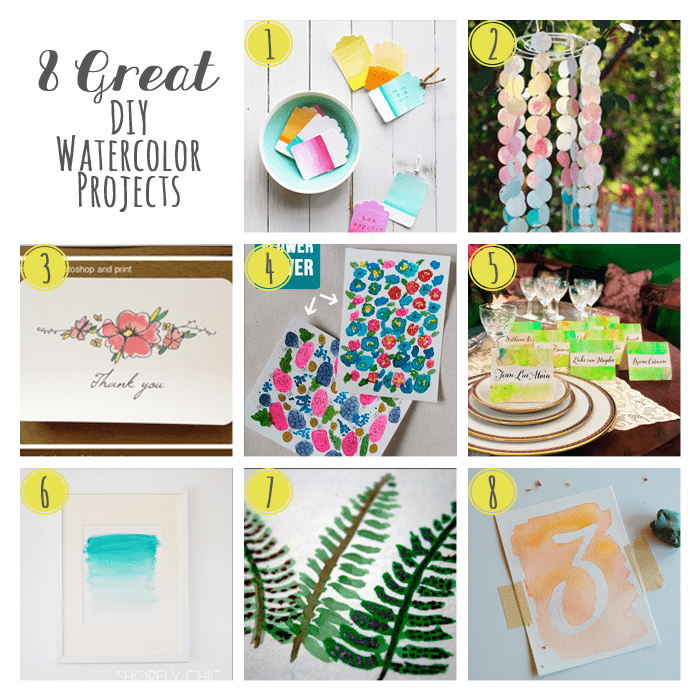 1. DIY Watercolor Tags – Eat Drink Chic
2. DIY Watercolor Chandelier – Eye Heart Pretty Things
3. DIY: Watercolor Stationary – Lavender Kay
4. Watercolor Flower Art – Glitter & Ganache (update – this website is no longer around)
5. Watercolor Wash Place Cards – The Broke Ass Bride
6. DIY Art – Ombre Watercolor – Shorely Chic
7. DIY Fern Artwork – On My Honor
8. DIY Watercolor Table Numbers – Peter Loves Jane
Happy Painting,
xoxo,
JennyB
Join the newsletter!
Subscribe to get our latest content by email.