It's Farmer's Market Season!
And I think you need a new market bag to bring home all your goodies.  And really, the larger the better.  When I last went to our neighborhood farmer's market, the vendors kept trying to put my purchases in plastic bags – thankfully I decided to bring my own.  Got to save the planet, right?
But it was one of those freebies that you get from conferences or events – with a nice logo of a company and everything.  I guess they got their money's worth, because I gave them some free advertising.  That's okay – I will keep using it and save the environment a little bit at a time until I can make one of these DIY market bags.
Soooo many different DIY market bags out there!  I think the first one I am going to make is number 7 – I have the yarn and hooks already and won't even need to go out and get fabric.  And then I'll make number 1, bring both bags with me to the farmer's market, and just buy up everything I can fit into both!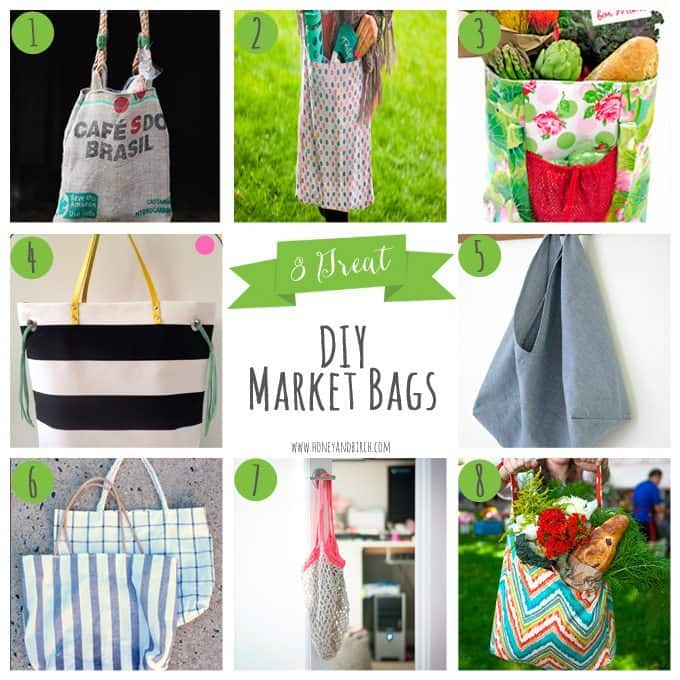 1. DIY Market Bag – The Merry Thought
2. Tote Blanket – Brit & Co (make this tote and then make a picnic with your farmer's market goodies!)
3. Farmer's Market Laminated Tote – Sew 4 Home (you will need some sewing skills for this one)
4. Stripe and Color Tote Bag – Fabric Paper Glue
5. Origami Market Bag – Whipup
6. DIY Dish Towel Market Tote – Spool and Spoon
7. Crochet Mesh Bag – All About Ami
8. Stylish Market Tote – Lia Griffith (now to find this cute fabric….)
---
Do you use a market bag when you go to Farmer's Markets?  Which of these bags are your favorite?
xoxo,
Jenny B
SaveSave
Join the newsletter!
Subscribe to get our latest content by email.