Don't buy a jewerly display, make your own. Here are 8 great DIY jewelry displays for you to make at home!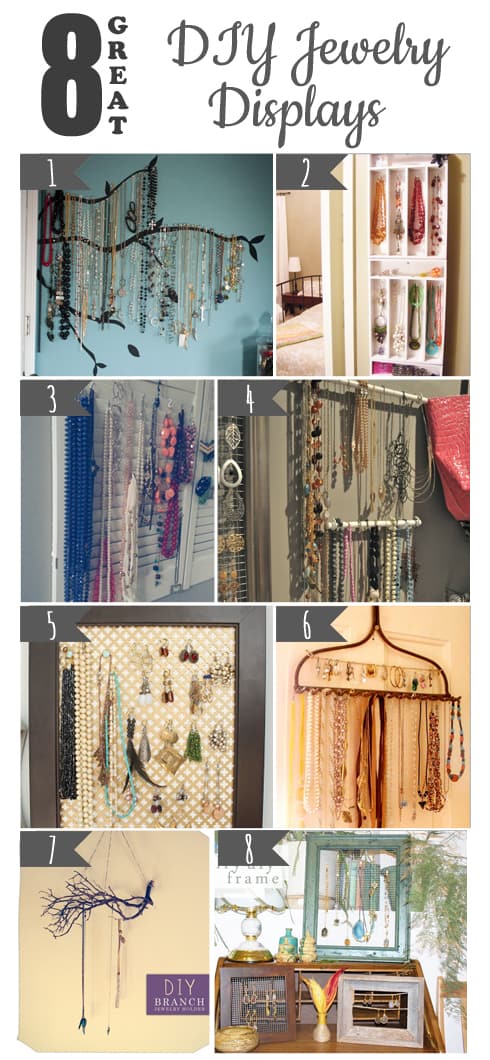 While I'm getting my next few DIY projects finished, photographed, and the tutorials written, I decided I should take a break from recipe 8 great's.  Today's 8 Great is all about showing off your lovely jewels and baubles with DIY jewelry displays.
There are a lot of different ways to display your jewelry – you can go to a store and buy something  or you can make something yourself.  I of course think that you should DIY it.  Grab an empty egg carton or better yet – make one of these 8 great DIY jewelry displays for your home.
8 Great DIY Jewelry Displays
1. Jewelry Wall Tree – Off Beat Home
2. Cutlery Tray for Jewelry – Mini Manor Blog
3. Wooden Shutter Display – Cardigan Way
4. Jewelry Wall – Something Like That
5. Jewelry Display Frame – Designed By Chance
6. Jewelry Rake Display – Sarahndipities
7. DIY Branch Jewelry Holder – Oh What Love
8. DIY Picture Frame Jewelry Holder – A Diamond Mind
SaveSave
SaveSave