Happy St. Patrick's Day friends!
You may be wondering why I didn't go all St. Paddy's day with today's 8 Great, but if you look at all the colors of today's main image you will see I'm TOTALLY celebrating.  Green and gold leaf are totally representing the St. Patrick's day theme. 🙂
I'm really getting back into the DIY mood again, now that the weather is clearing.  DIY Gold leaf is the perfect medium for this in-between weather.  It's not quite warm enough to crack your windows for ventilation, so I can't really paint (PAINT PAINT, not acrylics) and its too cold to go outside to spray paint anything.  If only I had a garage… … … but I don't.  So I have to find another method to transform my belongings.
If you go to your local craft store, you should be able to find all of the materials you need for gold leafing.  I have even seen silver leaf.  And if you can't get to a craft store or there isn't one by you, check out Amazon – I'm positive you'll be able to buy some gold leaf supplies from them.
Amazon Gold Leaf Supplies
(affiliate link)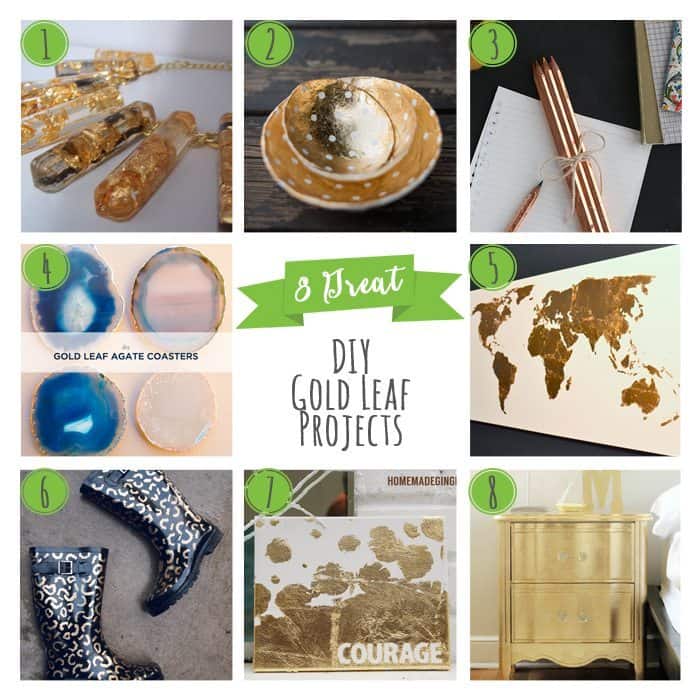 1.  Art Deco Necklace – Studs and Buttonholes
2. DIY Gold Leaf Paper Mache Bowls – Kelli Murray
3. DIY Gold Leaf Pencils – Say Yes
4. DIY Gold Leaf Agate Coasters – Desert Domicile
5. Gold Leaf Map Art –
6. DIY Gold Leaf Rainboots – Miss Kris
7. DIY Gold Leaf Canvas – Homemade Ginger
8.  Gilded Nightstand – Crab + Fish
Happy crafting my little bees.
xoxo,
Jenny B
Join the newsletter!
Subscribe to get our latest content by email.