I'm still on the search for my mom's gift for Mother's Day this year.  I've been searching the web and Pinterest and my crazy amount of crafty Pinterest boards to find the best idea out there.
I'm overwhelmed!  So much craftiness! So many projects!
I've gotta admit, I had another Pinterest fail this weekend.  Gets a little discouraging, but I can't let it get me down.  I'm also having a rough week at work so I guess I'm discouraged all around.  No worries – I am just going to keep plugging away at craftiness and recipes and I always get back on my horse.  Or a different horse.  Which is why instead of trying to redo my watercolor project, I decided to move on to a new project for the day.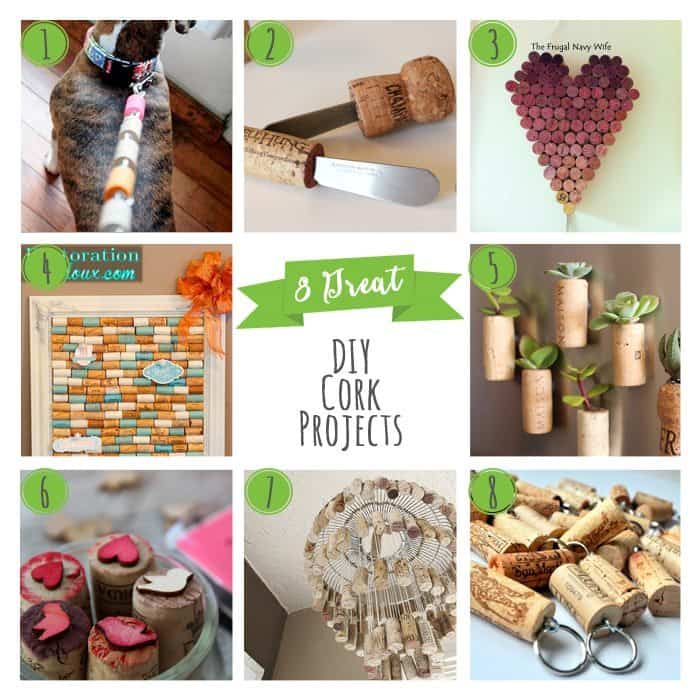 DIY cork projects to be exact.
I have rounded up 8 interesting cork projects for you to try out – some are easy, some are more difficult, all are pretty awesome.  I know there are a lot of cork project roundups out there so I tried to go back a little bit to some oldies but goodies that you may not have seen or haven't seen in a while.
1.  Wine Cork Dog Leash – Olive Bites Studio
2. Wine Cork and Champagne Cork Cheese Spreaders – Limefish Studio
3. DIY Wine Cork Heart – The Frugal Navy Wife
4. Wine Cork Bulletin Board – Restoration Redoux by way of Simply Designing
5. Cork Planter Magnets – Upcycle That
6. Cork Stamps – Knobz (scroll down for the English tutorial)
7. Wine Cork Chandelier – Mox & Fodder
8. Wine Cork Keychains – Cleverly Inspired
Happy crafting!
xoxo,
Jenny B
Join the newsletter!
Subscribe to get our latest content by email.