I planned on publishing this on Monday, and I don't know what happened. I got on a plane in the morning, went to Canada and then this sat in a queue, unqueud. Better late than never! And just in time for Easter eggs.
Easter is right around the corner and after you're done coloring and hiding eggs, you need to find a good use for them.  Enter the deviled egg.
Deviled eggs are the perfect mix of savory and creamy goodness.  I have rounded up 8 great deviled egg recipes that can be easily thrown together after your kiddos have done their egg hunting.  Or, if you're kids are older (or are like me and are kid-less) add one of these deviled egg recipes to your Easter brunch menu.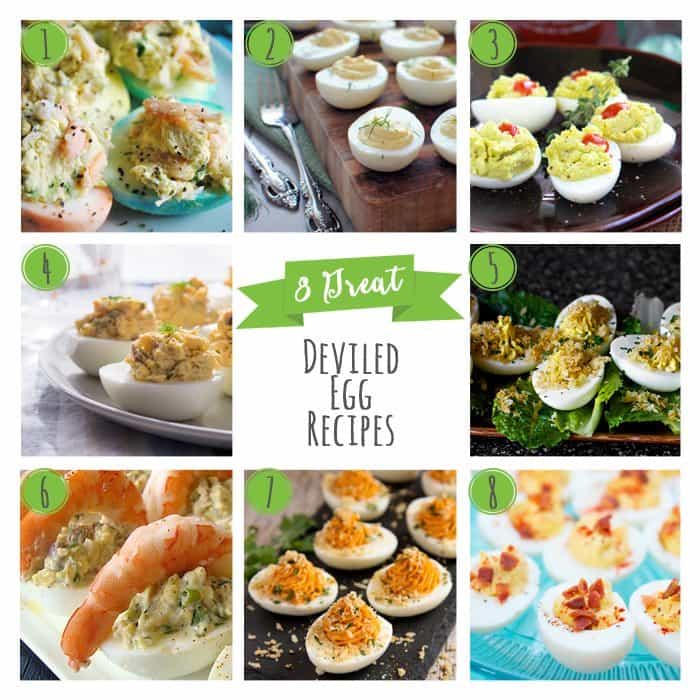 1. Crab and Lemon Pepper Deviled Eggs – Betsylife
2. Horseradish Deviled Eggs – Bev Cooks
3. Spicy Avocado Deviled Eggs – Cheeky Kitchen
4. Smoked Salmon Deviled Eggs – Jelly Toast
5. Caesar Salad Deviled Eggs – Smitten Kitchen
6. Shrimp Deviled Eggs – Mia's Domain
7. Sriracha Deviled Eggs with Garlic Toast Crumb Topping – A Farmgirl's Dabbles
8. Smoked Bacon Deviled Eggs – Big Red Clifford
If you don't find any of these recipes to your liking, try 2 of my egg recipes that are great uses for leftover boiled eggs – Egg and Potato Salad and the DEBLT (deviled egg BLT's in case you were wondering.)
SaveSave