May 17th is National Cherry Cobbler Day!  If you feel like celebrating this year, I've found some great cherry cobbler recipes for you!
Food holidays are so much fun – sometimes I need an excuse to make something and they give me the best reason.  You'll feel a lot less guilty eating a second piece of cobbler if it's on cherry cobbler day.
I feel like were all these television shows when I was a kid that talked about cherry cobblers.  Grandmas making them, moms making them, cobblers cooling on the windowsill next to some fresh backed apple pies.  Every time I think of them, it makes me want to make one of these cobblers.  I hope you enjoy these recipes!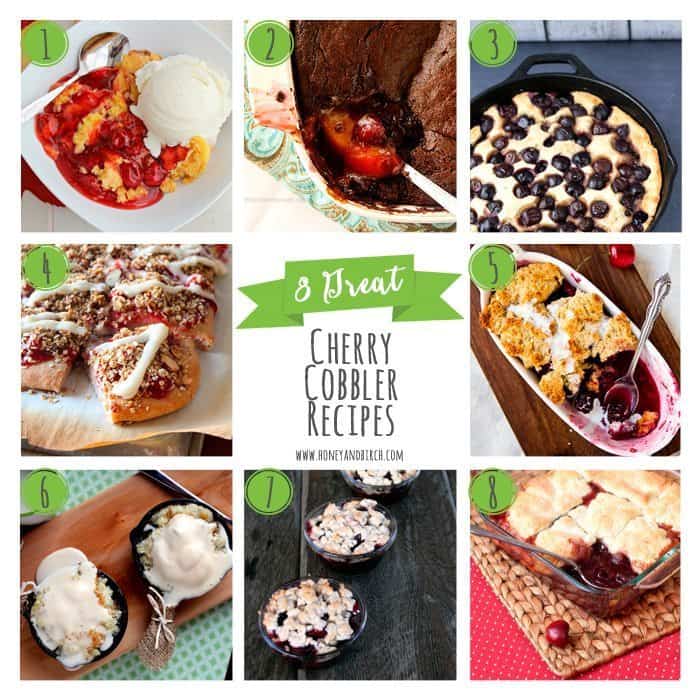 1. Cherry Cobbler in the Slow Cooker – Curry and Comfort
2. Peach and Cherry Gingerbread Cobbler – Chocolate Moosey
3. Skillet Cherry Cobbler (vegan) – This Gal Cooks
4. Cherry Cobbler Dessert Pizza – The Taste Tester
5. Blackberry Cherry Cobbler – Confections of a Foodie Bride
6. Cherry and Blackberry Cobbler (vegan) – Olives for Dinner
7. Individual Cherry Cobblers – My Life as a Mrs.
8. Fresh Cherry Cobbler – Tide and Thyme
xoxo,
Jenny B
SaveSave
Join the newsletter!
Subscribe to get our latest content by email.