This kitchen gift guide contains 40 gifts for the home cook – perfect for amateur chefs and foodies alike!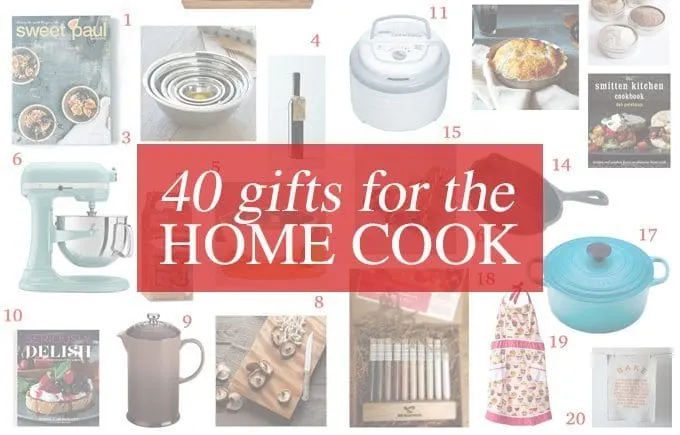 Is there a home cook on your Christmas list this year? This is great news!
Home cooks (like myself) are one of the easiest people to shop for – there are so many gadgets out there that we could use or that we want! Don't get overwhelmed this holiday season and use my gift guide to help you shop for your favorite home cook.
The gifts in this gift guide range in price from $7-$550 so really there is something for every budget. Whether you're looking for stocking stuffers or a big group gift, pick one of these 40 gifts for the home cook.
This post contains some affiliate links for your convenience. Click here to read my full disclosure policy.
---
40 Gifts for the Home Cook Gift Guide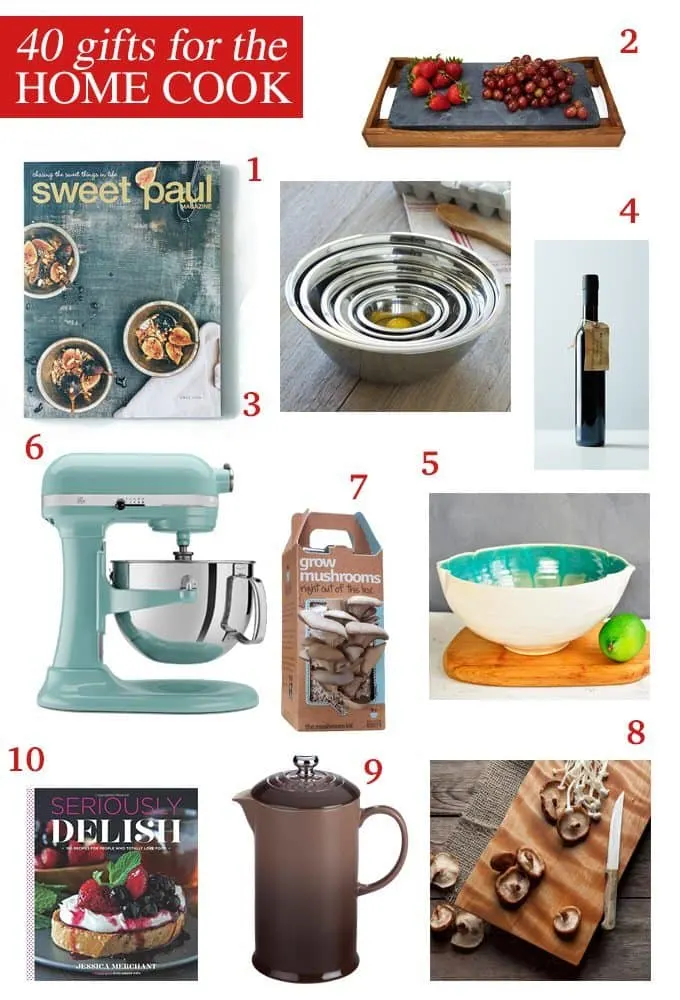 1. Subscription to Sweet Paul Magazine – Food52 – $18-$80
Sweet Paul is one of few sites that I maintain an email subscription to – his recipes are genuine and amazing. A subscription to his equally amazing magazine would make me very happy.
2. Oven to Table Entertainment Platter – Uncommon Goods – $64.95
Home cooks often entertain a lot – someone has to eat all of that food after all. This platter is perfect for hosting book club and dinner parties.
3. Stainless Steel Mixing Bowls – Amazon – $50
I would recommend this for the newer home cook because every cook needs a set of mixing bowls. This set comes in multiple sizes and is dishwasher and oven safe.
4. Sweet Balsamic Vinegar – Amazon Gold Leaf Supplies – $38
Artisinal foods are great as gifts because they are often more expensive than something you would buy for yourself. This pretty bottle of balsamic vinegar is made in Italy and sourced by St. Helena Olive Co.
5. Large Ceramic Serving Bowl – Etsy seller OneClayBead* – $57
Unique pieces make for unique gifts. This turquoise serving bowl is exquisite and hand thrown!
6. Kitchenaid Professional Mixer – Amazon ** – $399.99-$499.99
This is the same model I have, but mine is a different color. This baby will make any home cook very happy – I know I was ecstatic when I got mine. There are cheaper models, but if you're willing to splurge a little go with the "go big or go home" motto. Many colors available!
7. Mushroom Kit – Uncommon Goods – $19.99
In this day and age what better way to know where your food comes from than to grow it yourself. This grow-your-own mushrooms kit is perfect for the winter because it is grown inside!
8. Flame Birch Cutting Board – Etsy seller CattailsWoodwork * – $117.85
This cutting board is not only utilitarian, it is also stunning. Anything with birch in its name will always draw me in but the craftsmanship is what will get me buying.
9. Le Creuset French Press – Amazon – $85
I want my coffee maker to break so I can buy this. Immediately. Perfect for coffee lovers!
10. Seriously Delish Cookbook – Amazon ** – $18.96
Blogger Jessica of How Sweet It Is just published her first cookbook and it is full of fun and inventive recipes. What home cook doesn't want a new cookbook?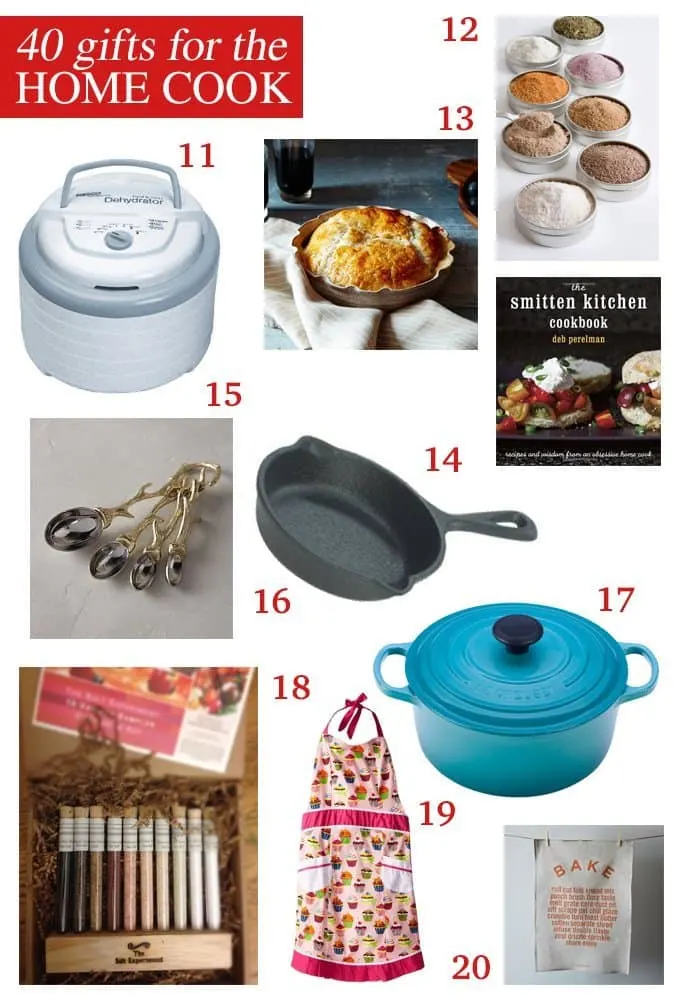 11. Nesco Snackmaster Pro Food Dehydrator – Amazon ** – $89.99
Canning was the fall food trend – I predict dehydrating to be next. I like it because you can throw your dehydrator foods in to sealed plastic bags and I find them easier to store than cans. Get this for the tight on space, thrifty cook.
12. Popcorn Spice Kit – Etsy seller dellcovespices * – $42.50
This gift sampler is perfect! You choose the flavors and it comes in a handy gift box!
13. Scalloped Brie Baking Dish – Food52 – $48
"What's better than brie? Warm brie." Enough said.
14. The Smitten Kitchen Cookbook – Amazon ** – $24.39
The Smitten Kitchen blog was one of the very first that I read and one I continue to read everyday. The author, Deb Perleman, creates food magic.
15. Twisted Twig Measuring Spoons – Anthropologie – $28
These spoons just might be too adorable to measure sugar with, but they'd be an adorable decoration in any home cook's kitchen.
16. 3.5-inch Mini Skillet – Amazon ** – $9.95
I see mini skillet corn bread and individual skillet chocolate chip cookies in the future of whomever gifts this cute mini skillet. Larger sizes are also available.
17. Le Creuset 4 1/2 Quart Round French Oven – Le Creuset – $260
A kitchen classic. We bought a similar one as my mom's X-mas present last year – she treats it like her prized possession. And the food she cooks in it tastes amazing (half the power of the cook, half the power of the pot.)
18. 10 Gourmet Cooking Sea Salts – Etsy seller TheSaltExperiment * – $36
A 10-piece collection of gourmet sea salts from around the world is a great addition to a kitchen! And it comes with a description card detailing uses for each salt, in case you aren't sure yourself.
19. Sweet Tooth Apron – Amazon ** – $21.95
I never thought I would wear an apron, yet this year I have had one on more than a few times. Flour everywhere! but not on my clothes thanks to one of the aprons I was gifted.
20. Bake Tea Towel – Food52 – $24
I used to wonder who would pay $20+ for a towel and why… then I bought one. Love it. My fave use is actually for rolling roll cakes, not cleaning up.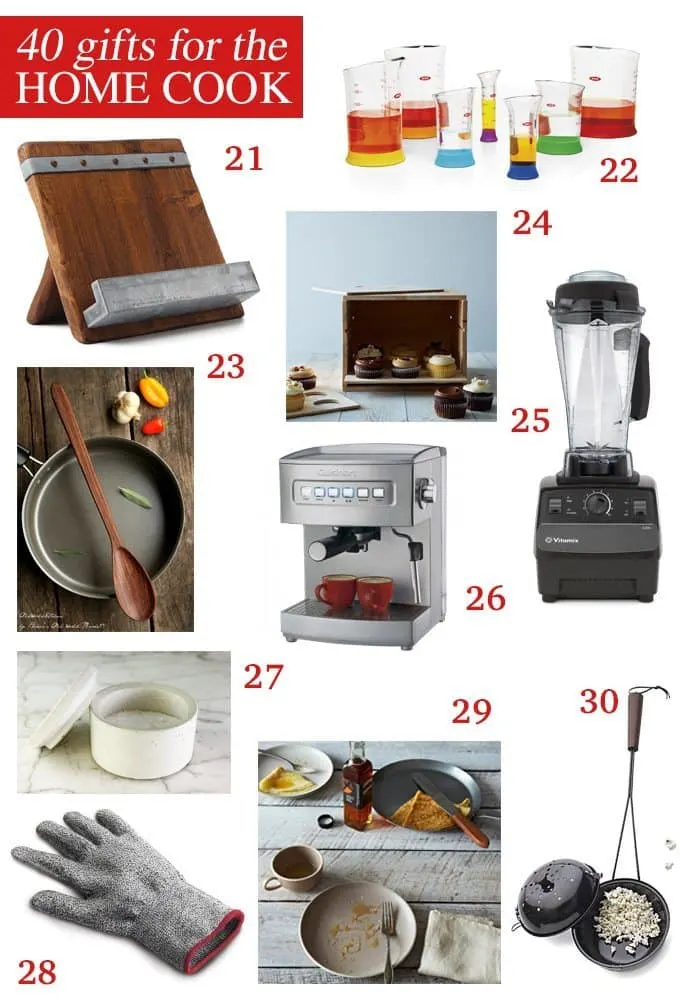 21. Reclaimed Wood Cookbook Stand – Uncommon Goods – $115
Sure, there are cheaper cookbook stands out there. But are they as gorgeous as this one?
22. OXO 7-Piece Measuring Beakers – Amazon ** – $19.99
I don't know why I am love with these measuring cups, but I am. Maybe it's because they're stackable. Maybe it's because they're colorful.
23. Ultimate Wood Cooking Spoon – Etsy seller OldWorldKitchen – $24
The seller calls the spoon "dreamware" and I bet they are right. I love stirring the pot… with a wooden spoon.
24. Cakebox – Food52 – $32-$75
If your gift recipient bakes cakes or cupcakes, this a great gift for them. They'll be able to transport baked goodies to your house in style and safety. You're welcome.
25. Vitamix 5200 Series Blender – Amazon **- $549.99
If you're looking for brownie points this Christmas, gifting a Vitamix will do it. It's pricy, yes, but it's worth every penny.
26.. Cuisinart Programmable Espresso Maker – Amazon ** – $365
Not everyone is a morning person. This espresso maker is perfect for the fuzzy-head-in-the-morning person. A little jolt of caffeine in the morning will perk you right up!
27. Small Concrete Salt Cellar – Etsy seller Culinarium * – $34
Simple, yet beautiful. This would like nice on any table or counter to help keep salt or sugar handy!
28. Cut Resistant Glove – Amazon ** – $15.59
For the clumsy cook. Like me. 🙂 You should only have blood touch your food in a medium rare steak.
29. Crepe Pan – Amazon Gold Leaf Supplies – $37-$59
Crepe-ing is a difficult task, but this pan makes it a little easier! This is the perfect gift for the home cook who never gives up!
30. Campfire Popcorn Popper – Crate and Barrell – $34.95
For the cook with a fireplace (or a temperate climate) – once you pop your own fresh popcorn you will never go back to the microwaved stuff!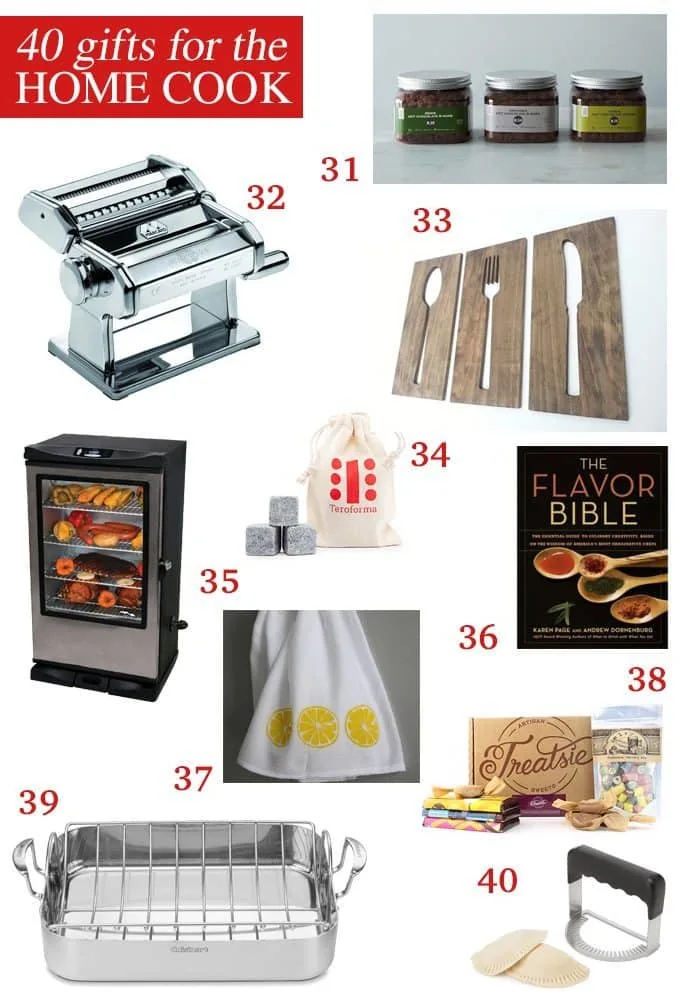 31. Spiced Chocolate Chips Gift Set – Food52 – $54
Great way to add a kick to hot cocoa, cookies, fudge, etc – basically anything where chocolate is a main ingredient.
32. Marcata Pasta Maker – Amazon ** – $99.99
Homemade pasta?! Yes, please. Authentic pasta can be homemade with this Italian-made machine.
33. Kitchen Art: Fork Knife Spoon – Etsy seller TimberArtSigns * – $29
If there is a bunch of empty space on the kitchen wall, this kitchen art will fill it nicely.
34. Whiskey Stones Beverage Cubes – Whiskey Stones – starting at $20
Because after all that cooking you may need a beverage. Whether it be whiskey or iced tea, it's better when it's not watered down.
35. Electric Smoker with Window – Amazon ** – $495.95
Maybe this one seems a little over the top, but an experienced home cook just may be ready to take it to the next level and smoke their own meat. You know your people better than me, but I know my people would want a smoker.
36. The Flavor Bible – Amazon ** – $38
As many home cooks know, great cooking goes beyond following a recipe. This book helps continue your education at "home culinary school." I keep it next to my computer and reference it several times a week.
37. Hand Screened Lemon Kitchen Towel – Etsy seller bazordesigns * – $7
This happy little towel is ready to be put to work – multiple towels are also available with different fruit.
38. Treatsie Box – Treatsie – starts at $12
Give the gift of sweets! Every month the vendors change for the perfect sweet indulgence.
39. Cuisinart Stainless Roaster Pan – Amazon – $180
I asked my mom, my favorite home cook, what she wanted for Christmas. She wants this roasting pan. Bam.
40. Empanada Fork – Uncommon Goods – $20
There is no way I would buy this for myself. However, if someone were to gift me with it, I would treat everyone to homemade empanadas.
---
* At the time of this gift guide's creation, these Etsy items were available. Because of the nature of Etsy and its handmade items, there is no guarantee that items I link to here will be available.
** I highly recommend joining Amazon Prime before ordering these items. Many are not only (way) cheaper if you are a Prime member, but also come with free 2-day shipping.
---
Did you enjoy the this kitchen gift guide? Check out some of my other gift guides:
She's Foxy! Fox-Inspired Gifts for Her Under $30
5 Etsy Shops for Food Gifts
Father's Day Gifts for Foodies
Disclaimer: 40 Gifts for the Home Cook was published in November of 2014. Price and availability were accurate at the time of posting. Honey and Birch was not paid by any company to recommend these items. Some links are affiliate links – if an item is purchased, Honey and Birch may receive a small commission. This helps keep the lights on.