Today's guest post is brought to you by Debbie from Dietitian Debbie Dishes.  Debbie is a registered dietitian and she is sharing her healthy food knowledge with everyone today. Here are 15 tips for packing a healthy lunch!

---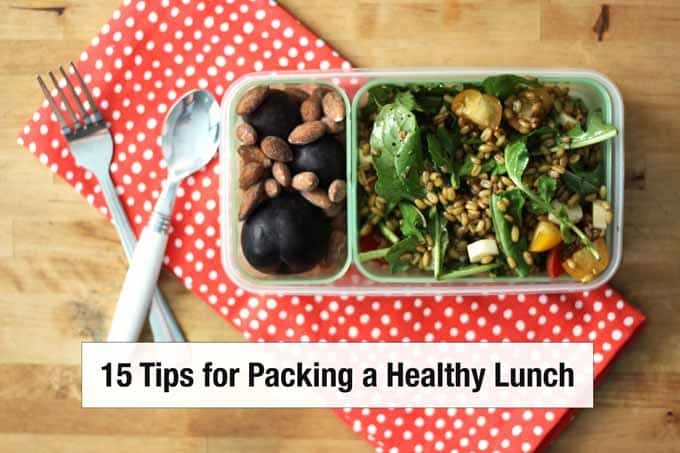 I am so excited to be sharing on Jenny's blog today! Let's talk lunch shall we? Do you have a go-to set of foods you usually pack in your lunchbox? Or do you typically buy lunch everyday? Growing up, I usually packed my own, except on the Mexican pizza days at school, because who would want to miss out on those?! In high school, I almost exclusively took my lunch with me to school and the habit has stuck with me to this day at work.
Honestly, I believe that packing a lunch can truly benefit anyone looking to make healthier choices and/or lose weight. It's so much easier to eat the healthy food you have prepared for yourself than cave to the temptation of the pizza and chicken tenders at the cafeteria or skip it entirely. Not sure how to get started? Here are my 15 tips for packing a healthier lunch:

1. Ditch the sandwich and create a hearty salad. The key to making a salad filling is a good balance of vegetables, protein, and healthy fats. For example, I like to use spring mix as my base and add beans (protein), cheese (protein/fat), and avocado (fat) add some other fun toppings and I have my filling salad. Honestly, I find myself making salads a lot because there is so much variety!
2. Add a side of fruit. As a side, I'll add a piece of fresh fruit. I usually have an apple with peanut butter, but if something catches my eye at the store – like a juicy pear or fresh berries, I'll bring those.
3. Incorporate protein into your sides: Yogurt is a great option for some extra protein and a little bit of sweet to finish off your lunch. Cottage cheese, string cheese, nuts, or trail mix are also great! The additional protein can help you feel full longer so you aren't heading to the vending machine later in the afternoon.
4. Drink some water: There is honestly no better beverage for you than plain water. I take my lunch break (if I get one) as an opportunity to reassess how much water I've had so far in the day, and fill up my bottle. Drop a couple of pieces of fresh fruit (like lemon or orange wedges or sliced strawberries) to make your water a little more exciting. Check out this orange ginger mint spa water for inspiration!
5. Leftovers make for an easy, packable lunch. Make a few extra servings of whatever you are having for dinner and portion out the extra for lunch the next day. Invest in a few good glass containers so you can reheat your leftovers without melting any plastic into your food. (Yuck.)
6. Cut up a bunch of vegetables over the weekend and store them in the fridge. This makes creating salads a breeze since everything is already washed, cut, and ready to go.
7. Get creative with your sandwich. Switch out the bread for a wrap, pita, or even lettuce leaf. Choose whole wheat rather than white varieties to get some additional fiber. Make sure to pile your sandwich high with lots of vegetables!
8. Make your own "lunchable". Make a healthier version of the classic lunchable by packing a few whole grain crackers, some nice cheese, washed grapes, a yogurt, and some sliced fruit. Not only will it taste so much better, but you will pass up all those food additives and preservatives in the original version.
9. Soup and salad is not just for Panera. Make a batch of soup or chili on the weekend and divide it into smaller serving containers. When you need to pack your lunch, just make a small salad, grab a container of prepared soup and head out the door!
10. Pack your lunch the night before. One of the most common deterrents for packing your lunch is thinking you have time to do it in the morning. Don't fool yourself. Take the 10 minutes to pack it the night before and you'll have no excuse for not taking a healthy, homemade lunch to work!
11. Try some finger foods. Don't feel like having a sandwich or salad? Do you need to use up some veggies hiding in your fridge? Chop up any vegetables you have on hand and pack them with something to dip them in like hummus or dressing. Pair this with an apple and peanut butter, a cheese stick, and some dark chocolate. Yum!
12. Try new grains. Whole grains make great additions to salads. Use the bulk bins to experiment with smaller amounts of grains to see what you like. Wheat berries, farro, quinoa, and buckwheat are great in salads!
13. Ditch the chips. Chips are a classic lunch side, but they don't have a lot to offer nutrient-wise. Swap out your chips for: kale chips, trail mix, or homemade popcorn.
14. Add something sweet. Okay, Little Debbie cakes are delicious but they aren't the best for you. However, you don't have to give up that sweet ending to lunch entirely! I find that just a couple chocolate chips or a piece of dark chocolate really does satisfy my craving for something sweet. Having that little something in your lunch will make it less likely that you head to the vending machine later for a king-size candy bar.
15. Find coworkers who also pack their lunch and join them! Just like finding an exercise partner makes you more likely to exercise, the same goes for eating lunch with other people who pack their own. They can keep you motivated to make your lunch and won't tempt you to leave your lunch in the fridge and go out the eat. You'll make new friends, save money, and become healthier all at the same time. 🙂
SaveSave
Join the newsletter!
Subscribe to get our latest content by email.