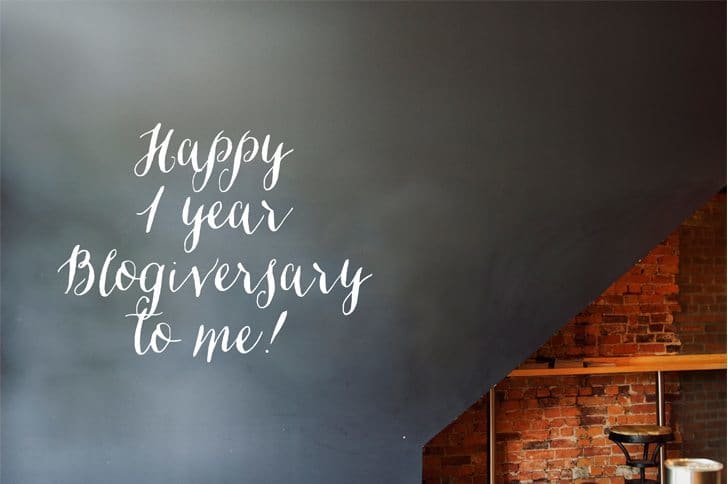 Holy cow!
I can't believe I've been blogging for an entire year and today is my 1 year blogiversary!
When I started this blog one year ago today, it was kind of on a whim – I felt void of creativity serving and bartending for so long and needed an outlet to help me spark my engines.  It was slow going and at first I wasn't sure I could devote the time to it but I continued on anyway.  I have found I truly enjoy writing again, cooking with the intention of sharing the recipe, and not just sharing the food, and photographing all my creations.  I am working my brain again, finally, and it feels so good.
Blogging has definitely been more challenging than I expected.  Part of me thought if I wrote it, they would come – I've seen Field of Dreams
too many times – and if any of you are bloggers, you know that isn't the case.  It gets discouraging when you pour your heart into a post or work really hard building a gift guide and no one checks it out.  But you know what? It's ok.  I'm blogging for me and that's what I'm going to keep doing.  And I hope you all stick around for the ride, even if you is just Mr. B and my mom. 🙂
The Numbers
The Favorites
I looked through all my old posts and my stats and picked out my favorites and yours (based on page views).  I wonder if any of these will make next years list…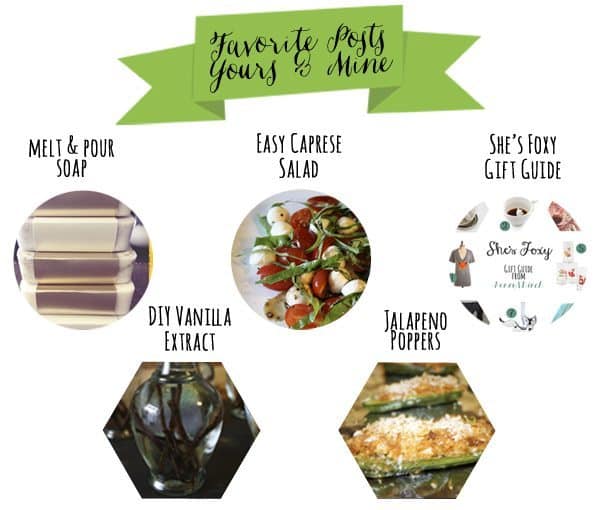 From Top to Bottom; Left to Right
DIY Melt & Pour Soap | Easy Caprese Salad | She's Foxy: Fox Inspired Gifts for Her | DIY Vanilla Extract | Chorizo and Chihuahua Cheese Jalapeno Poppers
The Giveaway
To celebrate 1 year of doing something I love, I am hosting a giveaway!
I thought long and hard about what kind of giveaway to do, and I decided to support a friend's small business – A.M.B. Jewelry!  As you'll soon find out in the next few months, I have big love for small business.  Amanda pours her soul into her lovely jewelry and I wanted to share a little piece of her work with my lovely readers.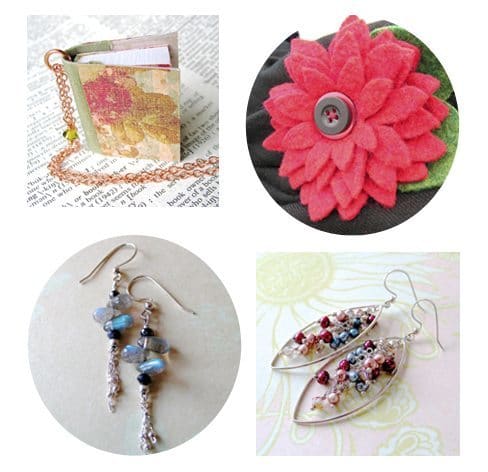 The winner of this giveaway will receive $25 worth of merchandize from A.M.B. Jewelry's Etsy shop – winner will be notified by email and upon responding will be directed to email their selections to me.  Please read the rules below and then enter with the Rafflecopter widget below.
Important information and rules:
To enter, use the Rafflecopter widget below. Everyone gets one easy entry – the other entry methods are optional.
The prize is $25 worth of merchandise to A.M.B. Jewelry.  After winner claims their prize, winner will be instructed to select merchandise from the A.M.B. Jewelry Etsy shop and email their selections to jennyb@honeyandbirch.com.  Honeyandbirch.com will be responsible for shipping merchandise to winner via U.S.P.S.  This giveaway is sponsored by Honeyandbirch.com and not affiliated with Etsy in any way.
This giveaway is open to US Residents only.
The giveaway ends on February 10, 2014 at 12:00 am CST and one winner will be chosen randomly via Rafflecopter.
The winner will be contacted via e-mail and has 72 hours to respond in order to claim their prize, so make sure you log into the Rafflecopter widget with a valid e-mail address! If the winner fails to respond in the allotted time I will select someone else.
I will be checking the validity of each entry, so make sure to enter the required information correctly. No cheating! 😛
Well, thank you everyone for stopping by and I hope you all have a wonderful year. 🙂  I will.
xoxo,
Jenny B
SaveSaveSaveSave
SaveSave
Join the newsletter!
Subscribe to get our latest content by email.