This blog post was sponsored by KING'S HAWAIIAN® but the opinions are all my own. #HostWithKH
This buffalo chicken pizza bread recipe is going to be a hit at your next party! It's made with KING'S HAWAIIAN® Sweet Bread Rolls for easy eating!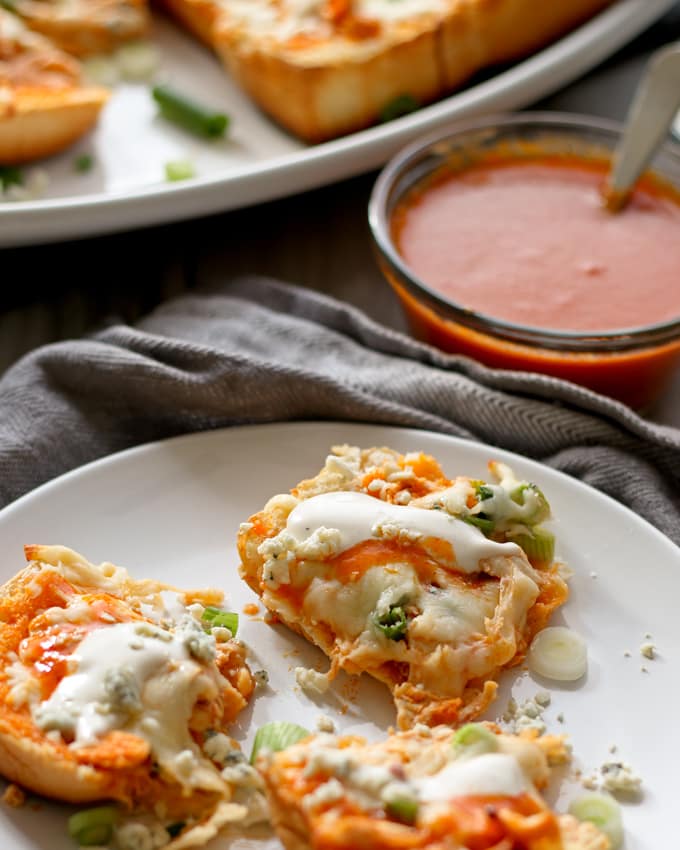 We are in the heart of party season and all I can think about is food. This is actually something I say often (at least once a month) but I really feel it's truth during the holidays.
Every party and event I attend always has the most delicious food. I think people are more indulgent in the month of December and food always seems to be more flavorful. It's all quite glorious. And delicious.
If you are hosting a party, you probably feel the pressure to make every food item you serve be as appetizing and delectable as possible. I totally know how you feel.
Earlier in the month, when I hosted my cooking baking party, I was in your shoes. I knew that even though we would be making some really great cookies, that wasn't all we could eat. So I got to thinking and created a really easy recipe  for Buffalo Chicken Pizza Bread using KING'S HAWAIIAN® Original Hawaiian Sweet Dinner Rolls.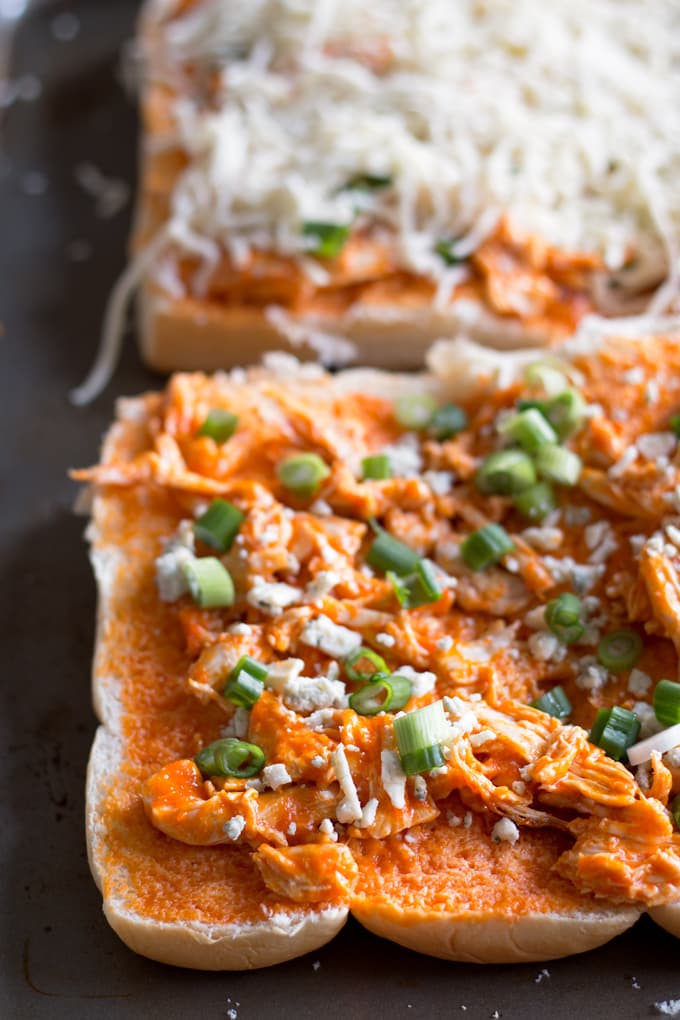 Buffalo Chicken Pizza Bread Recipe
My easy homemade buffalo sauce recipe and KING'S HAWAIIAN® Original Hawaiian Sweet Dinner Rolls were meant to be paired together; at least that is what I discovered when I started creating this pizza bread recipe. The tangy flavor of buffalo sauce compliments the sweet taste of the dinner rolls; add some blue cheese and green onions and you have a great snack on your hands.
Also, in your hands. Yum!
Open up a package of Sweet Dinner Rolls and peel the package away carefully so as not to separate any of the rolls. Using a sharp knife, cut the entire loaf of rolls in half so that you have two large pieces of bread to assemble your pizza on. Pour a little buffalo sauce in a bowl and toss the shredded chicken in it until covered. Then brush a thick layer of buffalo sauce on top of the bread.
After that you just assemble your pizzas and throw them in the oven. Because the rolls have already been baked and the chicken is already cooked, it doesn't take very long to bake your pizza bread. Super melty cheese is the goal here!
When you remove the buffalo chicken pizza bread from the oven, use a knife to score the cheese. After that, it's easy peezy because this is made with KING'S HAWAIIAN® Original Hawaiian Sweet Dinner Rolls. Your guests can easily pull them apart and believe me, they will.
It's hard to turn down buffalo chicken pizza bread.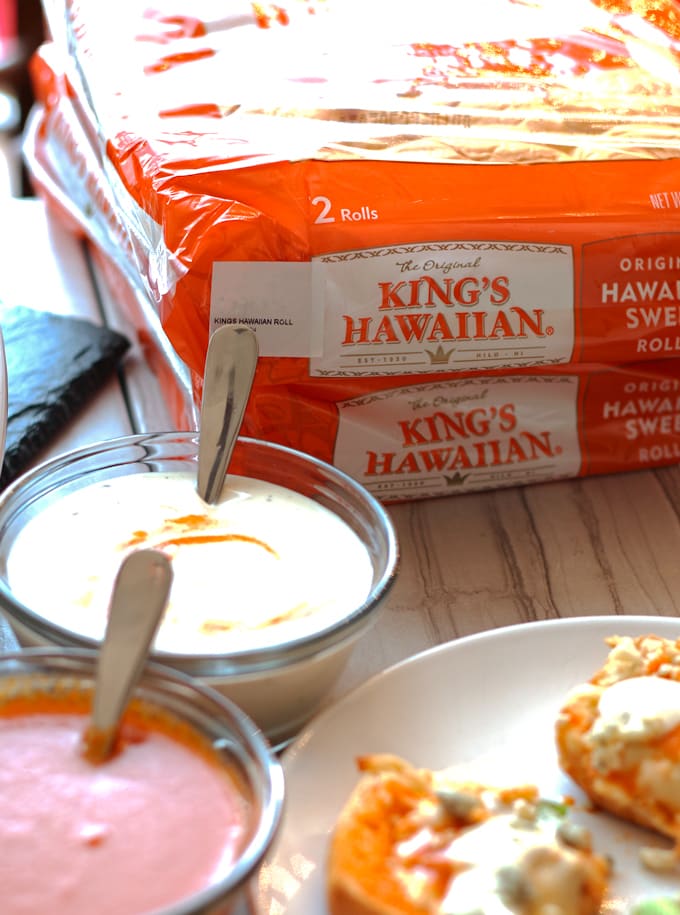 All of your holiday shopping essentials can be found at your local Walmart and make sure you don't forget the KING'S HAWAIIAN® products while you're there!
For more tips on holiday entertaining and recipe ideas with KING'S HAWAIIAN® head to Evite.com.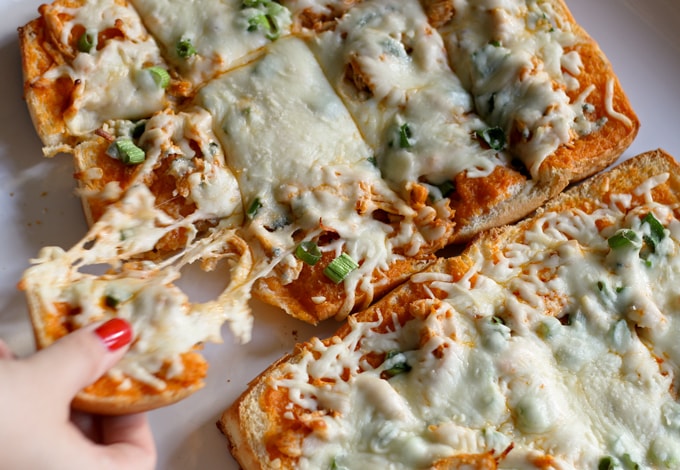 Honey and Birch / Jennifer Bullistron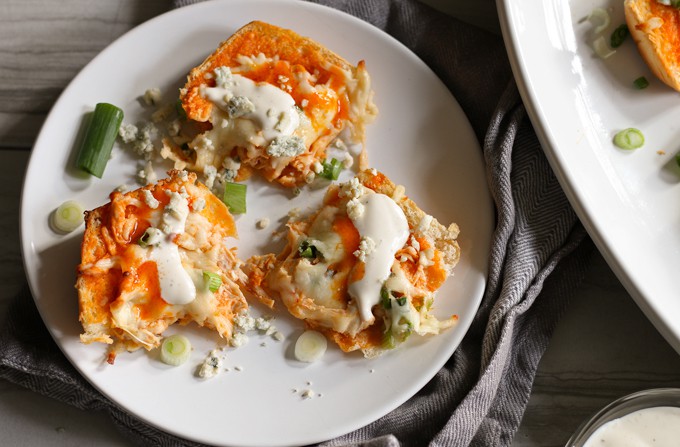 Thank you to KING'S HAWAIIAN® for sponsoring this post! 
---
Follow me!